'RuPaul's Drag Race' Profile: Aja
Aja
is a rapper and drag artist from Brooklyn, New York. They competed on the
ninth season
of
RuPaul's Drag Race
and 
RuPaul's Drag Race All Stars Season 3.
Name Origin
Aja took inspiration for their name from the 1982 Bollywood movie "Disco Dancer", which features a song in its corresponding soundtrack titled 'Jimmy Jimmy Jimmy Aaja'. They resonated with the lyric "Aja", and decided that Aja would be their name.
RuPaul's Drag Race
Aja

| Seasons Competed: | Season 9 | All Stars 3 |
| --- | --- | --- |
| Placement | 9th Place | 7th Place |
| Main Challenges Won | 0 | 1 (Ep. 1) |
| Mini Challenges Won | 0 | 1 (Ep. 5) |
| Times as Team Captain | 1 (Ep. 4) | 0 |
| Times in Bottom Two | 2 (Eps. 3, 7) | 2 (Eps. 3, 5) |
| Episode Eliminated | Episode 7 | Episode 5 |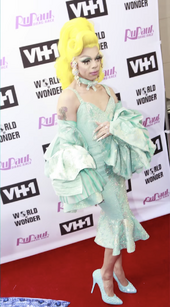 Season 9
Episode one: "Oh. My. Gaga!" Aja did well in the first challenge, landing them a "safe" spot. For the challenge, the queens had to showcase a hometown look and a Lady Gaga inspired look. For the hometown look, they did the Statue of Liberty, representing New York. The Lady Gaga look they chose was Gaga's Commes des Garcons dress, representing that 'Beauty has No Shape'. The judges gave both looks "okays" and Lady Gaga said, "This girl- she's gonna keep surprising you".
Episode three: "Draggily Ever After"- For the main challenge, the girls were asked to create a fairytale princess, and their sidekick, for the runway. Aja started off confident, because of their sewing skills. Their princess character was named "Disastah", and was based on a volcano eruption, and their sidekick was a smoke cloud. They were critiqued by Michelle Visage for not understanding what their look was, and their makeup being rough and dark for the last few episodes. Aja ended up in the bottom 2, lip syncing for their life. In the end, they sent Kimora Blac, keeping their place in the race. 
During work time, their makeup was clocked by Alexis Michelle. As well, they were really aggressive and bitter towards Farrah Moan and Valentina in Untucked, lashing out due to stress at being in the bottom two. 
Episode four: "Morning Bitches!" - Aja was chosen as the team captain as they survived the lip sync. They were apart of the winning group but didn't win the challenge.
Episode seven: "9021-Ho" - Aja was originally cast in "9021-Ho" as Grandrea, but became stressed and switched with Shea Couleé. Aja ended up with Bethany but was criticized for their line delivery and overall performance. Aja ended up in the bottom two against Nina Bo'nina Brown despite a praised runway look, and they ended up being eliminated in ninth place.
All Stars 3
Aja was the only Season 9 queen to be on All Stars 3 and had canceled their tour for this. After showing massive growth on and after Season 9, fans predicted that they would have a favorable edit and slay the runway when they returned.
Aja was confirmed as the first competitor on All Stars 3 in a Facebook Live interview with Michelle Visage.[1] 
On episode one, they impressed the judges with their performance skills in the All Star Variety Show and landed in the Top 2, but lost the Lip Sync for your Legacy to BenDeLaCreme.
Trivia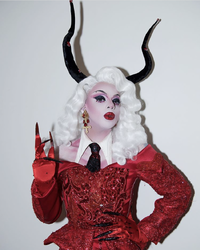 Memorable Quotes
Season 9
All Stars 3
Extras
Gallery
Season 9 Looks
All Stars 3 Looks
Videos
Music Videos
Discography
Singles
Year
Title
Artwork
Notes
2017
"Level Ya Pussy Up"
2017
"C.L.A.T. (feat. DJ Mitch Ferrino)"
with Alexis Michelle,
Peppermint,
& Sasha Velour
2018
"Finish Her! (feat. WNNR
& DJ Accident Report)"
2018
"Brujería (feat. Mitch Ferrino)"
2018
"Demons, Witches & Bitches"
with Shilow
& The Vixen
2018
"Art Jesus"
2018
"Jekyll and Hyde (feat. Shilow)"
2019
"Commercial"
2019
"I Ain't Left"
2019
"Mama Chola (feat. Amira Wang)"
with Shilow
Extended Plays
Year
Title
Artwork
Singles
Notes
2018
In My Feelings - EP

"Finish Her! (feat. WNNR
& DJ Accident Report)"
"Brujería (feat. Mitch Ferrino)"

2019

ALL CAPS - EP

"Commercial"
"I Ain't Left"

2019

Nail in the Coffin

"Mama Chola"

with Shilow
Long Plays
Year
Title
Artwork
Track List
2019
BOX Office

Tutankhamun
Decepticon
Monster Jam
Breakfast at Tiffany's (feat. Shea Couleé)
Willy Wonka
Rocky (feat. Lady Luck)
Slytherin
Chango (feat. Winstar & Momo Shade)
Ghost
Jekyll & Hyde (feat. Shilow)
Yōkai
Anarchy
Clowns (feat. Rico Nasty)
Safari Zone (feat. Cupcakke)
Kill Bill

2019

CROWN

TBA

TBA
Social Media
References
Community content is available under
CC-BY-SA
unless otherwise noted.