'RuPaul's Drag Race' Profile: Alaska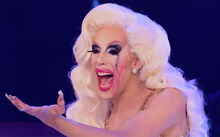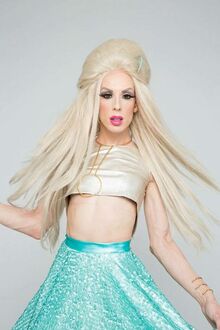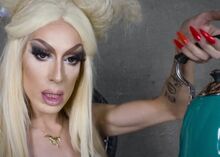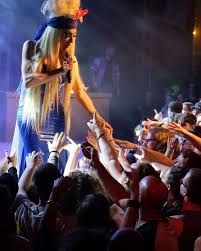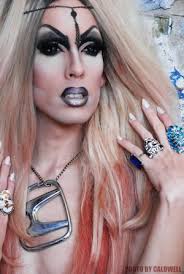 Alaska Thunderfuck 5000, also known as Alaska Thunderfuck, Alaska 5000 & Alaska Thunderfun or simply Alaska, is the stage name of Justin Honard, a drag queen, performer, acting and music artist known for being a Season 5 runner-up of RuPaul's Drag Race, as well as the All Stars 2 winner.
In 2017, Alaska guest judged on the fourth episode of the second season of The Boulet Brothers' DRAGULA.
Biography
Alaska studied Theater at the University of Pittsburgh. After graduation, she moved to Los Angeles, California to get more acting jobs and there started doing drag professionally.
Alaska met Sharon Needles during a holiday break. Sharon went back to Pittsburgh and shortly after they met, she moved back too. They were in a relationship for 4 years.
During Season 4, Sharon explained that Alaska had auditioned for every single season of "RuPaul's Drag Race", but that Sharon had made it through on her first try. Alaska later explained that while she was upset at first about Sharon's success, she decided it was better to be her biggest fan. They were announced as the drag race "royal couple" and "super couple" until Alaska and Sharon announced their separation on December 19, 2013, explaining that it was the best thing to do, but they are still friends.
Name Origin
"Alaska Thunderfuck" comes from Alaskan Thunderfuck, a strain of cannabis.
Drag Family
Alaska's drag mother is Jer Ber Jones, who mentored her when she moved to Los Angeles. She also has 3 drag daughters, Nebraska Thunderfuck (who was put in drag for the first time by Alaska during Season 5's makeover challenge), Nevada Thunderfuck and Florida Thunderfuck.
RuPaul's Drag Race
Alaska
Season Competed:
Season 5
All Stars 2
Ranking:
2nd/3rd
(Runner-Up)
1st
(Winner)
Mini-Challenges Won:
4 (Eps. 3, 7, 10, 11)
2 (Eps. 1, 6)
Times as Team Captain:
1 (Ep. 3)
0
Main Challenges Won:
2 (Eps. 8, 11)
4 (Eps 2, 4, 5, 6)
Times in Bottom Two:
0
1 (Ep. 7)
Eliminated:
Episode 14
N/A
Entrance Quotes
Season 5
"HIEEEE!"
All Stars 2
"Greetings, my message for the human race is really quite simple... HIEEEE!"
Memorable Quotes
"HIEEEE!"
"Are you red... y for me?"
"I live for Chaz Bono. Chaz Bono came out of Cher's vagina."
"It is so good, I just wanna spray it all over mah body right now."
"Michelle Visage, you can take the girl out of New Jersey, but you can't keep the girl from giving blow jobs to homeless men along the New Jersey Turnpike."
"I don't even know what a Rolodex is."
"Down with communism."
"Your makeup is terrible!"
"I'd like everyone to meet: Lil' Poundcake. Her catchphrase is 'You're not my real dad and you never will be'. Lil' Poundcake enjoys ridin' dirty and bein' a straight up motherfuckin' dick pig."
"Alyssa... she's dressed like a businesswoman of the eighties who doesn't want romance without finance."
"How do I feel about queens who've had plastic surgery? Jealous. If I had my way, my upper lip would look like this: *does a weird face*"
"Detox, you're so seductive. Unfortunately, it's illegal to do it with you because most of your parts are under 18 years of age."
"Long story short, the season of the fish smells like trout." (closing Season 5's "Reading is Fundamental" challenge)
"Well Julie, I just wrote ANUS." (as Lady Bunny on "Snatch Game")
"Let's get all star-ted!"
"Anus-thing is possible."
"Don't worry, if drag doesn't work out, you will always have something to fall back on: your backrolls." (to Alyssa Edwards during an "All Stars 2" stand-up comedy challenge)
"My name is Alaska, whats yours?"
"I'll give you 10,000 dollars via PayPal... after taxes, because I NEED to stay in this competition" (to Detox)
"When I'm good, I'm good but when bad I get a serious vanareal disease arnggghhh!" (as Mae West on "Snatch Game")
"I beat around the bush all the time what are ya' talking about arnggghhh!" (as Mae West on "Snatch Game")
"Why don't you come up and fuck me in the ass sometime, arnggghhh!" (as Mae West on "Snatch Game")
Trivia
Alaska started doing drag in 2007;
She and Latrice Royale are the only queens in herstory to win the 'Reading is Fundamental' challenge twice (In their main seasons and All Stars seasons respectively).
Alaska is a part of the "AAA Girls (American Apparel Ad Girls)", alongside Courtney Act and Willam;
Along with Trixie Mattel and RuPaul, she was made into a Funk Pop! figurine; this was later joined by Jinkx Monsoon, Katya and Sharon Needles.
As an acting artist, she played "Dr. Frank N. Furter" in the Woodlawn Theatre production of "The Rocky Horror Show" and starred in movies such as "The Quiet Room" and "The Last Sharknado";
She was on the cast of the VH1's reality show "Scared Famous";
She was featured in some editions of the album "Christmas Queens";
Alaska is the first queen to quit a mini challenge.
Despite placing low multiple times during Season 5, she never had to lip-sync for her life. This makes her one of ten queens to never lip-sync for her life while on the show;
Alaska is tied with Asia O'Hara for winning the second most mini-challenges from her original season, with a total of 4. She is only beaten Detox, who has won 5;
She had auditioned for every single season before making it onto Season 5;
After appearing on Season 5, she became addicted to drugs but was sober by the time of filming "All Stars 2";
She and fellow "All Stars 2" contestant Katya are one of seven pairs of queens to lip-sync against each other twice, The other pairs being BenDeLaCreme and Darienne Lake, BenDeLaCreme and Shangela, Eureka and Aquaria, Eureka and Kameron Michaels, Monique Heart and Trinity The Tuck and Yvie Oddly and Brooke Lynn Hytes
While on "All Stars 2" she was criticized (along with Detox) and labeled a "snake" for sending home stronger queens while keeping Roxxxy Andrews, despite Roxxxy placing in the bottom five times during the season;
She's the second runner-up who never placed in the Bottom 2 while the winner of her season did. The first was Nina Flowers, the third is Kim Chi, and the fourth is Divina De Campo on UK Season 1.
She is also the second queen to never place in the bottom two on her original season but be up for elimination at least once on her "All Stars" season, Nina Flowers also being the first queen to do so in "All Stars 1" with Tammie Brown (Team Brown Flowers);
She is the 2nd runner-up to not place in the bottom, following Nina Flowers, her original season same as Courtney Act, and Kim Chi.
She won 6 main challenges (2 in Season 5 and 4 in "All Stars 2");
Following Team Shad, Alaska is the 3rd person to win 3 challenges in a row;
She won every mini-challenge on All Stars 2.
She appeared in the most seasons out of all the winners, appearing on seven seasons in total. Alaska first appeared on the Season 3 casting special, 2nd on Season 4, 3rd on Season 5, 4th on Season 7, 5th on "All Stars 2", 6th on "All Stars 3," and 7th on "All Stars 4". She is followed by Chad Michaels, who appeared in six seasons.
Her Season 5 pageant queen, Lil' Poundcake, was turned into a doll that you can buy and speaks when it's stomach is pressed.
She is the only All Stars winner to win every lip-sync for your legacy she was in.
She is only the second All Stars winner to win every lip-sync she was in.
She is one of few to win every lip-sync for your legacy she was ever in. Joining her are Roxxxy Andrews, Alyssa Edwards, Kennedy Davenport, Shangela, Naomi Smalls, Latrice Royale and Valentina.
She is one of few to win every lip-sync she was ever in joining with Rebecca Glasscock, Jujubee, Raja, Alexis Mateo, Sharon Needles, Chad Michaels, Willam, Jinkx Monsoon, Roxxxy Andrews, Adore Delano, Ginger Minj, Pearl, Bob the Drag Queen, Naomi Smalls, Sasha Velour, Aquaria, and Yvie Oddly.
When judging Episode 4 of the second season of the The Boulet Brothers' DRAGULA, she asked contestant Erika Klash if she was a bio queen because her voice sounded "hot".
Gallery
Season 5
All Stars 2
Videos
Discography
 Solo Albums
"Anus" (2015)

(Tracklist: 1. Hieee 2. Anus 3. Pussy 4. Beard 5. This is My Hair 6. Nails - Piano Introduction ft. Jeremy Mark Mikush 7. Nails 8. Gimme All Your Money ft. Laganja Estranja 8. Everything Tonight 10. Best Night Ever 11. The Shade of It All ft. Courtney Act & Willam 12. Legendary 13. Killer 14. Your Makeup is Terrible)

"Poundcake" (2016)

(Tracklist: 1. The T ft. Adore Delano 2. Let's Do Drag ft. Lady Red Couture 3. Slaytina 4. Stun ft. Gia Gunn 5. Puppet 6. O, Brasil... 7. Come to Brazil 8. Diamond in The Rough 9. High 10. Chicken ft. Miss Fame 11. Race Chaser 12. I Invented That ft. Jackie Beat 13. It is What It Is ft. Nick Laughlin & Jeremy Mark Mikush)

"Vagina" (2019)

(Tracklist: 1. Vagina 2. Leopard Print 3. Everybody Wants to Fuck Me 4. Walk into the Club 5. Getting Kicked out (Of Mickey's on a Monday Night) 6. Cellulite ft. Big Dipper 7. Drip (Jodie Harsh Mix) 8. Snaked (Ellis Miah Mix) 9. Frances 10. Pride 11. Twisted 12. The Land of the Midnight Sun
Part of Alaska & Jeremy
"Amethyst Journey" (2018)

(Tracklist: 1. Aliens 2. Truth in the Light 3. So Far Gone 4.The Wind 5. Son of a Mother 6. The End of the World 7. Ascension 8. At the End of the Day)

ㅤ
Solo Singles
"Ru Girl" (2013)
"Valentina" (2017)
"Snaked" (2018)
ㅤ
The AAA Girls' Albums
"Acess All Areas" (2018) (Tracklist: 1. AAA 2. A Lacefront Like This 3. Dear Uber Driver 4. Pride or Die 5. Heather? ft. Stacy Layne Matthews 6. Tuck Tape 7. When The Water Runs Clear 8. Meet & Greet)
ㅤ
The AAA Girls' Singles
"Dear Santa, Bring Me A Man" (2014)
ㅤ
Appearances
"Let's Get Something Started" (2013) by Candy Apple Blue ft. Alaska
"Can I Get An Amen?" (2013) by RuPaul ft. Drag Race Season 5 Cast
"Kai Kai" (2013) by Sharon Needles ft. Ana Matronic & Alaska
"I Look Fuckin' Cool" (2014) by Adore Delano ft. Alaska
"American Apparel Ad Girls" (2014) by Willam ft. Alaska & Courtney Act
"Ride for AIDS" (2015) by Willam ft. Alaska
"Miss Fame" (2015) by Miss Fame ft. Alaska
"Read U Wrote U" (2016) by RuPaul ft. Alaska, Detox, Katya & Roxxxy Andrews
"Yet Another Dig" (2017) by Bob The Drag Queen ft. Alaska
"Shade" (2018) by Cake Moss ft. Alaska
"All This Body" (2018) by Jiggly Caliente ft. Alaska & Ginger Minj
"America's Sweetheart" (2018) by Blair St. Clair ft. Alaska
"La China Mas Latina" (2018) by Gia Gunn ft. Alaska
"Where Are The Jokes?" by Trinity The Tuck ft. Alaska
Social Media
Community content is available under
CC-BY-SA
unless otherwise noted.