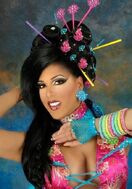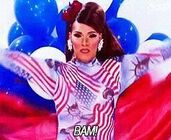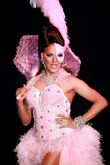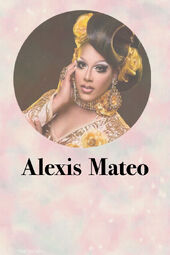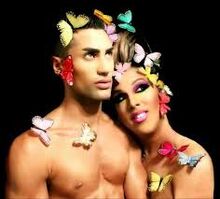 Alexis Mateo is the stage name of Alexis Mateo Pacheco was a contestant on Season 3 of RuPaul's Drag Race and then RuPaul's All Stars Drag Race. After auditioning for every season, Alexis eventually earned her place in Season 3 and went on to come third place (second runner-up) in the finale.
In 2012, Alexis returned for RuPaul's All Stars Drag Race where she paired up with fellow Season 3 queen, Yara Sofia. Together they made "Team Yarlexis". They were eventually eliminated in episode 4 after losing their lip-sync against "Team Rujubee" (Raven and Jujubee).
Performance on the Show
Alexis Mateo

| Seasons Competed: | Season 3 | All Stars 1 |
| --- | --- | --- |
| Placement: | 3rd | 5th/6th |
| Main Challenges Won: | 3 (Eps. 3, 4, 9) | 1 (Ep. 2) |
| Mini Challenges Won: | 1 (Ep. 11) | 2 (Eps. 3, 4) |
| Times in Bottom: | 3 (Eps. 7, 11, 13) | 1 (Ep. 4) |
| Times as Team Captain: | 0 | 0 |
| Episode Eliminated: | Episode 15 | Episode 4 |
Alexis did well on the show, winning three challenges (the same number as Raja and Manila), however, she also landed in the bottom three times. She landed on the bottom for the first time against Stacey Layne Matthews on Episode 7, Face, Face, Face of Cakes, then for the second time on Episode 11, RuPaul`s Hair Extravaganza, along with Shangela, and for the third and last time against Yara Sofia on Episode 13, Make Dat Money.
Alexis is one of the only queens to place in the bottom 2 in their season a number of 3 times and not be eliminated for the third lip-sync. The others to do this are Jujubee of Season 2, Coco Montrese of Season 5, Darienne Lake of Season 6 and then came Kameron Michaels of Season 10 and Ra'Jah O'Hara from Season 11.
Alexis won three challenges. She won the main challenge on Episode 3, Queens in Space, along with Shangela, the main challenge on Episode 4, Totally Leotarded, and the main challenge on Episode 9, Life, Liberty & the Pursuit of Style.
She also won the mini-challenge on Episode 12, Jocks in Frocks.
On All Stars, Alexis and Yara formed "Yarlexis".
"Yarlexis" won one challenge, on Episode 2, RuPaul's Gaff-In, but were eliminated by Raven on Episode 4, All-Stars Girl Groups.
She appeared in New York City , the series premiere of this Netflix Original in a cameo as an unnamed Queen working at The Box, a drag club in the city that never sleeps. One of her lines includes saying her character saying Alexis' iconic phrase: "Bam!" to Ruby Red.
Memorable Quotes
"BAM!"
"Sickening, no?"
"I'm a FUCKING DRAG QUEEN!" (during her promo in the Season 3, Episode 9 challenge "Life, Liberty & the Pursuit of Style.)
"I don't like when they label you as 'the Latin queen'."
"Where's her body? Where's her hair? Where's her makeup? I don't see her at the same level as the rest of us." (referring to Raja)
"What the fuck? Who invited this girl here?"
"Yara no llores"
"Hannah Montana?!"
"Hi, Manila. I just saw Manila girl."
"I think the troops are gonna say 'Who the hell is this crazy ass drag queen.'"
"ONLY IN AMERICA A WOMAN LIKE ME HAVE A FREAKING CHORIZO!"
"Act a fool girl. Act a fool." (to Mimi Imfurst.)

"The sad part about this is that like Yara speaks Spanish and I speak Spanish but sometimes I don't understand her in either one of the languages."
"It's stupid because you bought your titties too." (to Michelle Visage)
"This is just soft porn. It's kinda hot." (during the Raja vs. Carmen Carrera lip-sync)
I just saw Manila girl.
she is one of the girls to never loose a lipsybc
Farewell Message
"Always know your place. The jig is up!!! Siempre, Alexis"

Trivia
Alexis was

a guest professor on the third episode of the third season of Drag Race spin-off series RuPaul's Drag U.
Alexis is the drag mother of Vanessa Vanjie, Jenavive, and Victoria Mateo. Vanessa was a contestant on Seasons 10 and 11 of Drag Race.
Alexis won several prestigious pageants including All American Goddess in 2016 (also won by India Ferrah in 2008, Alyssa Edwards in 2010 and Asia O'Hara in 2012).
She is rumoured to be a contestant on All Stars 5.
Gallery
Season 3 Looks

All Stars 1 Looks
Follow Alexis
Community content is available under
CC-BY-SA
unless otherwise noted.