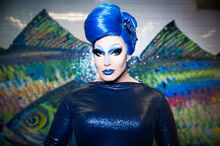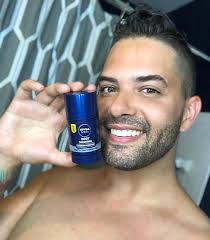 Alexis Michelle is the stage name of Alex Michaels, a drag performer from New York City, New York. She was one of the 14 queens who competed on the ninth season of RuPaul's Drag Race. She finished in fifth place.
RuPaul's Drag Race
Alexis Michelle

| Season Competed: | Season 9 |
| --- | --- |
| Ranking: | 5th |
| Mini-Challenges Won: | 1 (Ep. 5) |
| Times as Team Captain: | 0 |
| Main Challenges Won: | 1 (Ep. 6) |
| Times in Bottom Two: | 2 (Eps. 8, 11) |
| Episode Eliminated: | Episode 11 |
Episode 1: "Oh. My. Gaga!"- For the main challenge, the girls had to compete in a charisma, uniqueness, nerve, and talent pageant, serving up a hometown look and a Lady Gaga look.
For the hometown look, she chose a pop-up cape with the statue of liberty and "I Heart NY" symbols on it, and a swimsuit with civil right messages, representing New York City. She was critiqued for the messages on her swimsuit not being written very clearly. For the Gaga look, she chose Gaga's 2015 Golden Globes Awards outfit. She received praise from all judges.
Episode 5: "Reality Stars: The Musical" - Alexis won the sexy selfie mini-challenge, and as a result got to choose the roles the queens had to play for the lip-sync challenge "Kardashian: The Musical". Alexis chose Kris Jenner and performed well in the challenge, landing in the top three, but ultimately did not win due to her 'basic' runway outfit. In Untucked she blamed the other queens for not telling her to change her outfit, which she received backlash for.
Episode 6: "Snatch Game" - Alexis chose to impersonate Liza Minnelli for the Snatch Game, a choice RuPaul was very excited about. Alexis's Madonna runway for the episode was inspired by Madonna's Dick Tracy character Breathless Mahoney. Alexis performed very well and got good critiques, both on her Liza and her Madonna runway, and she was declared the winner of the challenge.
Episode 8: "RuPaul Roast"- In the Reading is Fundamental mini-challenge Alexis was thrown off by the reads involving her size (mainly by Nina Bo'nina Brown and Farrah Moan). Farrah later apologized to Alexis for her reads. Alexis painted herself green for the roast as it is Michelle's least favorite color, but bombed her routine, landing her in the bottom two against Farrah. Alexis won the lip-sync, and Farrah was eliminated.
Episode 9: "Your Pilot's On Fire"- In the TV Pilot challenge, Alexis was criticized for not standing out in her Pilot, and her Club Kid look, but Trinity and Peppermint both received positive reviews. She was in the bottom 3 but did not have to lip-sync for her life and was declared safe.
Episode 10: "Makeovers Crew Better Work"- Alexis chose crew member Brody for the makeover challenge. Once again, Alexis received negative reviews on her runway look. Her runway seemed to look very similar to her entrance look and was not well received by most judges. However, Michelle Visage commented that her look was much better than that of Shea Couleé or Nina Bo'Nina Brown. Therefore, she was once more declared safe from elimination
Episode 11: "Gayest Ball Ever"- In the Village People look for the Gayest Ball Ever, Alexis chose the Native American. On the runway, all 3 of her looks were heavily criticized, and even some of her fellow contestants like Trinity Taylor and Sasha Velour agreed that she had mediocre looks. This caused much frustration with Michelle, and she accused them of being "shady whores". Due to her bad runway looks, she wound up in the bottom 3 along with Peppermint. While Michelle started strong in the Macho Man lip-sync, it was Peppermint who stole the show with her wig reveal and funky moves. As a result, Peppermint was saved, and Alexis was sashayed away, which gave her a placement of 5th out of 14 contestants.
Entrance Quote
"How you like them eggrolls, Mr. Charles?"
Memorable Quotes
"I love the muppets!" (to Shea Couleé)
"Did y'all catch the T on Coont?"
"Alexis Michelle is known for her theatricality, her lip-sync talent, her live vocals, and Uhm... being pretty thirsty."
"I'm a good girl, I am."
"I am all about body, curve, swerve, glamour, class, a little touch of prostitute, and of course, mug."
"Fucking shady whores..."
"If I see something, I say something."
"Well Tamar, have you ever watched the show?"
Trivia
Alexis is Jewish.
She is the cousin of singer Lisa Loeb.
She is known for riding the NYC subway to gigs, which is what inspired her 'Princess Subway Fish' outfit in the 'Draggily Ever After' sewing challenge.
She is a big fan of BH90210.
She has the same drag first name as Alexis Mateo of Season 3 and All Stars 1.
Alexis, along with Aja, Peppermint, and Sasha Velour, was interviewed for getoutmag and had to do a Broadway-themed look. Alexis chose to base hers on the musical Sweeney Todd. [1]

She is the second queen to wear a mustache while lip-syncing.
Alexis, along with Aja, Peppermint, and Sasha Velour, released a song on April 21, 2017 called "C.L.A.T."
Alexis Michelle once went on a date with Bob The Drag Queen, where they ended up watching each other's audition tapes for RuPaul's Drag Race.
Alexis is best friends with Season 10 contestant Dusty Ray Bottoms.

In the Snatch Game episode, she can be seen wearing a Dusty Ray Bottoms t-shirt.

Alexis is on "Drag Me Down the Aisle" together with Drag Race-alumni Bebe Zahara Benet, Thorgy Thor and Jujubee.
Social Media
References
Community content is available under
CC-BY-SA
unless otherwise noted.