'RuPaul's Drag Race' Profile: Bebe Zahara Benet
Bebe Zahara Benet is the drag queen name of Nea Marshall Kudi Ngwa, a performer, former male model, Season 1 winner of "RuPaul's Drag Race" and one of the contestants of "All Stars 3" (placed 3rd/4th).
Biography & Career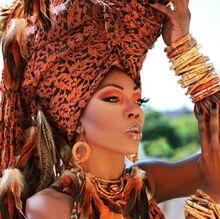 Growing up as a child, Bebe says she was always curious about fashion and makeup, even sneaking into her parent's room after they left the house and playing around with her mother's shoes and makeup products.
Bebe worked as a model in Paris, France, and in the US. In her modeling career, she once walked the runway as a woman after one of the models failed to show up at a Paris fashion show. At this time, she didn't know that what she was doing was considered drag.
In 2009, Zahara got another big break. She was approached by casting directors for the inaugural season of "RuPaul's Drag Race" three times. Declining twice, she was eventually persuaded to join the show after RuPaul herself approached her and told her that her voice, point of view and aesthetic was needed in the show. After competing in the show, she was crowned as the 1st "America's Next Drag Superstar", beating her fellow competitors.
Prior to 2018, Benet was invited back to appear on "All Stars 3". Skeptical of joining the show once more, she eventually accepted the invitation and was introduced to a now-massive audience of the show she helped launch. Bebe made it to the final episode and placed 3rd/4th overall with her competitor Shangela.
Since 2006, Zahara have been the subject of a feature-length documentary titled "Being Bebe". The documentary will follow her journey: from early days in Minneapolis, to winning Season 1, to her inner struggles and all the way to competing on "All Stars 3". The documentary is expected to be released in 2019. Filmmaker Emily Branham met Bebe when she was just starting at the Gay 90s club.
Bebe continues to tour the world and produce her own shows and performances, influenced by her African culture, currently residing in Minneapolis.
Drag Name Origin
The name "Bebe" randomly popped up in her mind while driving and she has stuck with it since, saying it reprezents her American side. "Benet" represents her French side. "Zahara" came after she went to Las Vegas and was in awe of the beautiful scenery, which reminded her of Cleopatra and the Sahara desert. She also wanted a name that connected her to her African roots and flowed well with "Bebe Benet".
RuPaul's Drag Race
Bebe Zahara Benet

| Season Competed: | Season 1 | All Stars 3 |
| --- | --- | --- |
| Ranking: | 1st Place (Winner) | 3rd/4th |
| Mini-Challenges Won: | 0 | 0 |
| Times as Team Captain: | 0 | 0 |
| Main Challenges Won: | 2 (ep. 3, 6) | 2 (ep. 5, 6) |
| Times in Bottom: | 1 (ep. 5) | 1 (ep. 7) |
| Episode Eliminated: | N/A | ep. 8 |
Memorable Quotes
"I bring a lot of international influence, and right now I really feel like I'm ahead of the game."
"I want to win this because there is pride and dignity in what we do. Dressing up for a living does not make us less of a man."
"Face, face, face, I give face, beauty face!"
"Mother, another day; another slay. Who's first?" (to RuPaul)
"I'm not going to read Morgan McMichaels, life already has"
"I'm the only African here, but why does it look like you can sponsor Kennedy Davenport for 30 cents a day?"
"Hahaha, bitch you got jokes!"
"Paramedics! Paramedics, make sure she's okay because I was not ready!" (reacting to Aja's death drop)
"Miss Thorgy drew the... a very like, you know, a picture of what the...*laughs*...she drew a picture!"
"That's the gag of the season."
"So RuPaul, when are you going to FUCK?" (as Grace Jones on "Snatch Game")
"Oooh, the drama in the pageant!"
"Bitch, I'm a performah!"
"Who's Ornacia? I don't know who that is."
"Rrrrra-ka-ta-ti-ti-ta-ta, yeah, I'm pussy, bitch! Ooh la la la la la la, c'est bon, c'est bon! Do-go-choco-la-ta-la, you can't take my snatch, drag it up, wild it up, give me more, bring it to the ball!" (Bebe's lyrics in "Drag Up your Life")
Trivia
After winning, Bebe moved from Minneapolis to New York City;
According to Zahara, she never received her prize of $5,000 worth of MAC Cosmetics, though did receive everything else in the prize package;
Benet was cast as a new professor for "RuPaul's Drag U";
She was revealed to be the mysterious 10th queen on the premiere episode of "All Stars 3", confirming rumors. Thus, she is the first winner to compete in an "All Stars" season;
On both seasons she competed in, she won 2 main challenges, placed high once and was up for elimination once at the final 5;
She's the first black contestant to win "RuPaul's Drag Race";
She revealed on "All Stars 3" that she has a fear of heights;
Bebe is the first queen to win 2 ball challenges on 2 seperate seasons.
She's the only winner to earn a $20,000 cash prize, the lowest cash prize in series history;
As the winner of Season 1, she was given a featured cameo in the music video for RuPaul's song "Cover Girl (Put The Bass In Your Walk)";
She lip-synced alongside both Kalorie Karbdashian-Williams and Miz Cracker during the Season 10 finale;
Bebe is on "Drag Me Down the Aisle" together with Drag Race-alumni Jujubee, Thorgy Thor and Alexis Michelle.
Bebe, originally from Cameroon, is the first queen to hail from Africa, the second being Season 11 queen Mercedes Iman Diamond, who is from Kenya.
Gallery
Season 1 Looks
All Stars 3 Looks
Credits
Filmography
As herself
Discography
EPs
| Year | Work | Notes |
| --- | --- | --- |
| 2017 | "Kisses & Feathers " | |
Singles
| Year | Work | Album | Notes |
| --- | --- | --- | --- |
| 2009 | "I'm The Shit" | | |
| 2010 | "Cameroon" | | |
| 2012 | "Give That Body 2 The Music" | | |
| 2012 | "Dirty Drums" | | |
| 2014 | "Face" | | |
| 2017 | "Fun Tonite" | "Kisses & Feathers" | |
| 2017 | "Starting A Fire" | "Kisses & Feathers" | |
| 2017 | "Get Fierce (Lose Yourself)" | "Kisses & Feathers" | |
| 2018 | "Dirty Drums / Cameroon All Stars Mix" | | |
| 2018 | "Jungle Kitty " | | |
Appearances
| Year | Work | Artist | Album | Notes |
| --- | --- | --- | --- | --- |
| 2009 | "Cover Girl" | RuPaul | "Jealous Of My Boogie - The RuMixes" | Rap |
| 2018 | "Drag Up Your Life" | RuPaul Feat. The Cast of Rupaul's Drag Race All Stars, Season 3 | | |
| 2018 | "Kitty Girl" | RuPaul Feat. The Cast of Rupaul's Drag Race All Stars, Season 3 | | |
| 2018 | "Little Drummer Boy" | Bebe Zahara Benet | Christmas Queens 4 | |
Music videos
| Year | Song | Song Artist | Notes |
| --- | --- | --- | --- |
| 2009 | "Cover Girl" | RuPaul | Cameo |
| 2009 | "I'm The Sh*t" | Bebe Zahara Benet | |
| 2010 | "Cameroon" | Bebe Zahara Benet | |
| 2014 | "Face" | Bebe Zahara Benet | |
| 2017 | "Fun Tonite" | Bebe Zahara Benet | |
| 2017 | "Get Fierce (Lose Yourself)" | Bebe Zahara Benet | |
| 2018 | "Jungle Kitty" | Bebe Zahara Benet | |
| 2018 | "Little Drummer Boy" | Bebe Zahara Benet | |
Social Media