The Brit Crew, also known as the Britain version of The Pit Crew, are a group of muscular men who appear on each season of RuPaul's Drag Race UK. The men of the Brit Crew are typically dressed only in their underwear, assisting RuPaul and contestants in various challenges on the show. They usually have no dialogue on the show, mainly appearing as "eye candy" for viewers...and contestants.
The casting requirements included that they were at least six feet tall, attractive, "athletic and toned physique", no tattoos, aged 18-35, and comfortable in just underwear.
Current Members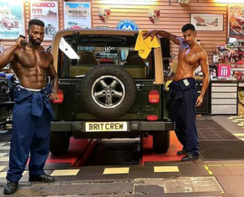 (Season 1 - )
Ashraf is a Go-go dancer and nightclub host from London. Jason first appeared on Season 1 of the show and is the longest remaining member, being the only one so far to appear on 2 seasons.
(Season 2 - )
Tony currently works as a gynaecologist and has helped deliver more than 250 babies over his career. He is originally from London and strutted into the workroom on the Season 2 premiere.
(Season 2 - )
Bas is working as a full-time singer-songwriter, and part-time model and made his first appearance during Season 2.
Former Members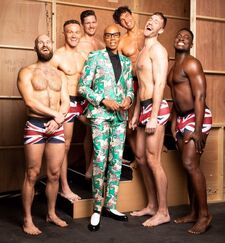 (Season 1)
AJ is an actor, model, and gamer who appeared in the 1st season of the show.
(Season 1)
Mitch is an openly gay part-time model, and filmmaker who strutted into the workroom in Season 1.
(Season 1)
Tom is a musical theater actor, and a drag queen in the quintet The Globe Girls, who appeared only on Season 1.
(Season 1)
Niko is half German and half Indonesian, openly gay, is a professional dancer, and actor doing musical theater, and represented Germany in the 2017 Mr. Gay Europe contest. He made his appearance in Season 1.
(Season 1)
Matt is a British slalom canoeist who competed at the international level from 2008 to 2015, predominately in the C2 class with Rhys Davies. He won two bronze medals in the C2 team event at the ICF Canoe Slalom World Championships, earning them in 2011 and 2013. He appeared as a member of Pit Crew in Season 1.
(Season 1)
Archie is a lawyer in the music industry who made his appearance in Season 1.
Members Timeline
Photo
Member
S1
S2
Ashraf Ejjbair
(Season 1 - )
AJ Bediako
(Season 1)
Mitch Marion
(Season 1)
Tom Scanlon
(Season 1)
Niko Wirachma
(Season 1)
Matthew Lister
(Season 1)
Archie Ahern
(Season 1)
Tony Fordham
(Season 2)
Bas
(Season 2)
Community content is available under
CC-BY-SA
unless otherwise noted.