The Brit Crew, also known as the Britain version of The Pit Crew, are a group of muscular men who appear on each season of RuPaul's Drag Race UK. The men of the Brit Crew are typically dressed only in their underwear,
assisting RuPaul and contestants in various challenges on the show. They usually have no dialogue on the show, mainly appearing as "eye candy" for viewers...and contestants.
Current Members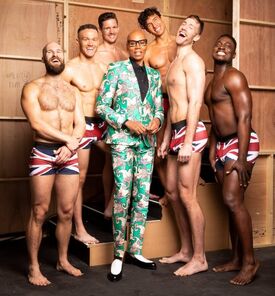 Ashraf Ejjbair
Aj Bediako
Mitch Marion
Tom Scanlon
Niko Wirachma
Matthew Lister
Archie Ahern
Members Timeline
Photo
Member
S1
Ashraf Ejjbair
(Season 1)
Aj Bediako
(Season 1)
Mitch Marion
(Season 1)
Tom Scanlon
(Season 1)
Niko Wirachma
(Season 1)
Matthew Lister
(Season 1)
Archie Ahern
(Season 1)
Community content is available under
CC-BY-SA
unless otherwise noted.