NOTE: Not to be confused with Drag Pop Star (Miss Fan Favorite), title exclusive to the second season of Drag Race Thailand.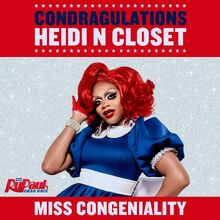 "Miss Congeniality" is the title awarded to the queens who are regarded as the kindest, most helpful ones on their respective seasons. Prior to Season 10 the fans determined which queen won the title, but due to the online voting being hacked, the queens now decide this amongst themselves.
Originally the winner of 'Miss Congeniality' was announced on the reunion special (Season 1, 2, & 3), which would air after the grand finale. Starting in Season 4, where the grand finale and the reunion were combined, the crowning of the season's 'Miss Congeniality' would take place right before the crowning of America's/Thailand's Next Drag Superstar. This continued for all season's other than Season 9, as the Season 8 Miss Congeniality, Cynthia Lee Fontaine, had competed on Season 9. She handed off the title at the Reunion Special a week before the Grand Finale.
There have been 12 Miss Congenialities on the American version of RuPaul's Drag Race, and 23 overall. (The Switch Drag Race Season 1, Drag Race Thailand Season 1 and Season 2, Canada's Drag Race Season 1, Drag Race Holland Season 1, RuPaul's Drag Race UK Season 1, RuPaul's Drag Race UK Season 2 and both seasons of La Más Draga and Camp Wannakiki)
All Stars Seasons do not crown a 'Miss Congeniality', as none of the competing queens are new, and many Congeniality Winners compete on All Stars.
RuPaul's Drag Race UK, Canada's Drag Race and Drag Race Holland did not adopt the 'Miss Congeniality' award; however, RuPaul's Drag Race UK, Canada's Drag Race, and Drag Race Holland have had unofficial 'Miss Congeniality' winners who were either voted by the fans or their fellow queens of their premiere seasons announced via social media: Blu Hydrangea, Tynomi Banks and Ma'Ma Queen respectively. As the second season of RuPaul's Drag Race UK also did not feature an officially voted 'Miss Congeniality', it is assumed that all queens voted 'Miss Congeniality' on international seasons (outside of Drag Race Thailand) will be unofficial.
Miss Congeniality
NOTE: On The Switch Drag Race, the title is instead called "Mejor Compañera" (lit. "The Best Companion"). The title was only featured on the first season.
NOTE: On La Más Draga, the title is instead called "La Más Querida" (lit. "The Most Beloved")
Controversies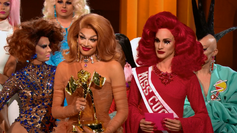 Season 9's Miss Congeniality, Valentina, was dubbed to be a 'fan-favorite', rather than congenial by the other season 9 girls, as they felt she played up the role to the camera, but was not actually congenial with the rest of the girls during, and after the filming of the season. This 'Miss Congeniality versus Fan-Favorite' controversy also brought up winners of previous seasons (mainly Pandora Boxx, BenDeLaCreme, and Katya) as even though they were congenial, the fans felt that other queens in their seasons were more congenial, but the winners were more beloved by the fans and they felt that the queens were eliminated too early.
This made fans want a fan-favorite and congeniality divide, where fan-favorite was voted for by the fans and Miss Congeniality was chosen by the queens on the season.
Season 10's voting also sparked controversy, as the voting had been hacked by robots, which resulted in The Vixen taking the lead. The hacking was later resolved by the show, which, after the hacking, insisted the Season 10 queens voted themselves. This also showed that the producers listened to the fans after last season's controversy and allowed the queens to choose their own 'Miss Congeniality'. The queens continued to choose Miss Congeniality after Season 10.
Placements
Queen
Photo
Original Season
Place
Returning Season
Place

RuPaul's Drag Race

Nina Flowers
Season 1
2nd
All Stars 1
9th/10th
Pandora Boxx
Season 2
5th
All Stars 1
11th/12th
Yara Sofia
Season 3
4th
All Stars 1
5th/6th
Latrice Royale
Season 4
4th
All Stars 1
7th/8th
All Stars 4
5th
Ivy Winters
Season 5
7th
N/A
BenDeLaCreme
Season 6
5th
All Stars 3
6th
Katya
Season 7
5th
All Stars 2
2nd/3rd
Cynthia Lee Fontaine
Season 8
10th
Season 9
10th
Valentina
Season 9
7th
All Stars 4
7th
Monét X Change
Season 10
6th
All Stars 4
Winner
Nina West
Season 11
6th
N/A
Heidi N Closet
Season 12
6th
N/A
TBA
Season 13
TBA
N/A

The Switch Drag Race

Jessica Parker
Season 1
10th
N/A

Drag Race Thailand

B Ella
Season 1
4th
N/A
Maya B'Haro
Season 2
11th
N/A

RuPaul's Drag Race UK

Blu Hydrangea
Season 1
5th
N/A
Bimini Bon-Boulash
Season 2
2nd/3rd
N/A
TBA
Season 3
TBA
N/A

Canada's Drag Race

Tynomi Banks
Season 1
9th
N/A
TBA
Season 2
TBA
N/A

Drag Race Holland

Ma'Ma Queen
Season 1
3rd/4th
N/A
TBA
Season 2
TBA
N/A
Congratulatory Images
Trivia
Other Contestants
Other queens that came close to the title on their respective seasons include:
Trending pages
All items (34)
Community content is available under
CC-BY-SA
unless otherwise noted.