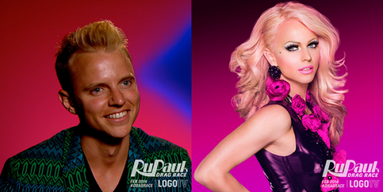 Courtney Act is the stage name of Shane Jenek, a drag queen, performer, music/acting artist, one of the "Wigs by Vanity" owners and "The Bi Life" TV show hostess, known for being a contestant on Season 1 of "Australian Idol" and Season 6 of "RuPaul's Drag Race", as well as the Season 21 winner of "Celebrity Big Brother UK," and the runner-up of "Dancing with The Stars Australia".
Biography
Courtney Act born in Brisbane, Australia to Gill Jenek and Annette Jenek and grew up with 2 siblings. She attended Sandgate District High School and later moved to Sydney, Australia at the age of 18. Initially, Act had went to audition for theatre schools but found herself in a year-long contract with Nickolodeon as a movie night host. After the contract expired, she started selling candy as a drag queen at nightclubs to make money.
In 2003, Courtney (as Shane Jenek) auditioned for the 1st season of "Australian Idol" without much success. She came back the next day and auditioned again (as Courtney Act) and made it through to the next rounds. She was considered to be "strangely, the sexiest woman on the show". She became a semi-finalist and was the third singer of the competition to release a solo single, "Rub Me Wrong".
In December 2013, Logo TV announced that Courtney Act was amongst 14 drag queens who would be competing in the 6th season of "RuPaul's Drag Race". Doing so, she ended as a runner-up.
In February 2018, she was announced as the Season 21 winner of "Celebrity Big Brother UK".
Name Origin
"Courtney Act" is a play on "caught in the act", as pronounced in a non-rhotic accent like Australian English.
RuPaul's Drag Race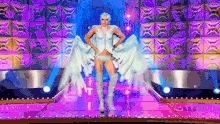 Courtney Act
Season Competed:
Season 6
Ranking:
2nd/3rd
(Runner-Up)
Mini-Challenges Won:
0
Times as Team Captain:
0
Main Challenges Won:
2 (Eps. 4, 9)
Times in Bottom Two:
0
Episode Eliminated:
Episode 14
In the beginning Season 6, Courtney was criticized by RuPaul, who told her to "turn it up" since she was "resting on pretty", a comment on which Act felt offended by since she considered other contestants in the competition to be "resting on ugly". However, since this happened, she improved a lot and won 2 main-challenges (on Episodes 4 and 9).
Act, alongside fellow contestant Bianca Del Rio, went on to place in the Top 3 without ever placing in the Bottom 2 on any episode. This was the 1st time two contestants have accomplished this during the same season. Although she didn't win the competition, she did place as a runner-up with fellow contestant Adore Delano, who coincidentally was a "American Idol" contestant.
Entrance Quote
"Is this America's next top model? Sorry..."
Memorable Quotes
"I don't do dairy, but for Milk I'll make an exception."
"Courtney... The first time, every time."
"My voice is really high I could be lying?"
"I can look good, I can sing good, I can dance well."
"Sewing is not my forte but... everything else is."
"Well, everyone is resting on ugly, why can't I rely on being pretty?"
"In her own unique way, so no." (answering if she thought Bianca Del Rio was pretty)
"I wanna see this on BLOGS, I wanna see this on FACEBOOK, ain't nobody gonna top this." (referring to her "animal kingdom" runway look on Season 6)
Trivia
Courtney is a part of "The AAA Girls", a musical group with Alaska and Willam. Together they appeared in the music video for "Power" by Little Mix;
Act's 5' 9" (1,75 m) tall;
She's pansexual;
She has webbed toes;
She's vegan and loves to eat Vegemite. When she has to wake up really early for an event/interview, keeps 1 or 2 squares of dark chocolate beside her bed to motivate her to get up;
Courtney is one of the four runners-up who never placed in the bottom two, along with Nina Flowers, Alaska and Kim Chi, but unlike them, the winner of her season also never placed in the Bottom 2.
She once appeared on episode 52 of UNHhhh hosted by Katya Zamolodchikova and Trixie Mattel.
In 2018, she was declared the Winner of the 21st season of "Celebrity Big Brother UK".
In 2019, she competed on the 16th season of "Dancing With The Stars Australia" where she finished as a Runner-Up.
Discography
Solo Albums
"Kaleidoscope" (2015) (Tracklist: 1. Kaleidoscope 2. Ecstasy 3. Ugly 4. Body Parts 5. Boys Like Me 6. Inhale)
ㅤ
Solo Singles
"Rub Me Wrong" (2004)
"Welcome to Disgraceland" (2010)
"To Russia with Love" (2014)
"Mean Gays" (2014)
"Wigs by Vanity Jingle" with Vanity Faire (2014)
"Fight for Love" (2018)
ㅤ
The AAA Girls' Albums
"Acess All Areas" (2018) (Tracklist: 1. AAA 2. A Lacefront Like This 3. Dear Uber Driver 4. Pride or Die 5. Heather? ft. Stacy Layne Matthews 6. Tuck Tape 7. When The Water Runs Clear 8. Meet & Greet)
ㅤ
The AAA Girls' Singles
"Dear Santa, Bring Me A Man" (2014)
ㅤ
Appearances
"Downton Abbey... Snore" (2013) by Jimmy Ray Bennett, Stephen Guarino & Jeff Hiller ft. Willam, Vicky Vox & Courtney Act
"Oh No, She Better Don't" (2014) by RuPaul ft. Drag Race Season 6 Cast
"American Apparel Ad Girls" (2014) by Willam ft. Alaska & Courtney Act
"The Shade of It All" (2015) by Alaska ft. Courtney Act & Willam
"Dance Again" (2017) by Bielfield ft. Courtney Act
Social Media
Community content is available under
CC-BY-SA
unless otherwise noted.