"Drag Tots" is a WOWPresents+ Exclusive animated show about Drag Queen Toddlers.
The show features Ru-Girls like Bianca Del Rio, Valentina, Latrice Royale and more!
The show mainly focuses on the basics of being a Drag Queen, in an exaggeratedly light-hearted, kid-friendly way.
Corny the Unicorn (RuPaul) teaches the toddlers "Reading" (Reading is Fundamental) and many other things.
Cast
Episodes
| Episode | Title |
| --- | --- |
| 1 | Reading |
| 2 | Locker 69 |
| 3 | All-A-Day |
| 4 | Wig Farm |
| 5 | Bish Wish |
| 6 | I Can't Do A Death Drop |
| 7 | Lip Sync |
| 8 | Coat of Many Colors |
Episode 1- Reading!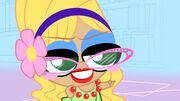 Synopsis: Roxy Moron doesn't understand the reading assignment and takes it literally. Whilst she falls on her books, they explain to her, the drag meaning of reading, Dina Saur gives her an example and Roxy quickly learns and reads all the girls. Dina is so shook she gets a coffin and falls in.
Episode 2- Locker 69
Synopsis: There's a rumour about somewhere in the school where a place is called the upside down started by Lady Liber T. Corny confirms this and says don't look in Locker 69 which they do. It takes them to a dark place where the evil version of Crony is. They try to make it better with glitter which doesn't work so they try good lighting which turns the evil corny into an actual unicorn and loves it. They exit and turns out- evil corny appears whenever there is no lights.
Community content is available under
CC-BY-SA
unless otherwise noted.