Contestant Spotlight: Eureka O'Hara
Vandalism Warning

Vandalism, bullying, insults, trash talking, and inappropriate edits or deleting will NOT be tolerated. Pages on this site are designated for constructive and factual contributions. Please reserve all personal opinions for the comments section.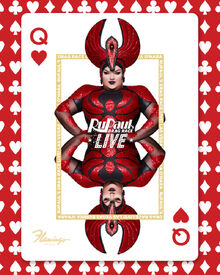 Eureka O'Hara, known simply as Eureka, is the stage name of David Huggard, a drag performer from Johnson City, Tennessee. She is one of the 14 queens who competed on the ninth season of RuPaul's Drag Race. So far, she is the only queen to ever leave the competition due to a medical reason, after injuring her leg in the cheerleading challenge. She then received an open invitation by RuPaul to return on the tenth season of RuPaul's Drag Race, where she placed 2nd/3rd with Kameron Michaels.
Entrance Quotes
Season 9
"Come on, give it up for the big girl... serving pure catfish."
Season 10
"Ohhh Like a Phoenix from the ashes... Eureka is BACK!"
Holi-Slay Spectacular
"I came to deck the halls, so get the fa-la-la-la-la out of my way, bitch!"
RuPaul's Drag Race
Eureka O'Hara
Season Competed
Season 9
Season 10
Ranking:
11th Place
2nd/3rd Place
(Runner-Up)
Mini-Challenges Won:
0
2 (Eps. 7, 10)
Times as Team Captain:
0
0
Times Placed High
2 (Eps. 1, 4)
4 (Eps. 3, 7, 10, 11)
Main Challenges Won:
0
2 (Eps. 5, 6)
Times Placed Low
0
0
Times in Bottom:
0
2 (Eps. 2, 9)
Episode Eliminated
Episode 5
Episode 14
Season 9
Eureka expressed in the first episode that all she wanted from the pageant challenge was to beat rival and fellow competitor Trinity Taylor. Eureka's hometown look was inspired by a redneck woman, and her Lady Gaga look was the striped latex dress from the Telephone video. She was named as one of the top three of the challenge but did not win.
On episode three, Draggily Ever After, the maxi challenge was to create a princess and sidekick for it. Eureka decided to do a sewer princess. Her sidekick was a dog. Her princess name was You-Reek-Of-Daria, which sounds like her name. RuPaul decided that Eureka wasn't too bad nor too good, making Eureka safe.
On episode five, Reality Stars The Musical, Eureka was chosen to be North West. Due to her knee injury from the cheerleading challenge, she couldn't move very well during the performance and had to use crutches for her runway. Eureka was originally safe during critiques but was asked to step forward after the lipsync. RuPaul eliminated her from the competition to heal but promised her a spot on Season 10. Cynthia Lee Fontaine and Farrah Moan (the bottom two) both remained in the competition.
Season 10
Eureka O'Hara accepted the open invitation to join season 10 and appeared on T.V. on Thursday, March 22 when the series premiered.
On Episode 2, Eureka landed in the bottom two with Kalorie during the Pharmarusical challenge. Eureka did not know the words during the challenge and told Alyssa Edwards (whilst she was choreographing) that the performance aspect of the challenge was bringing back memories of her knee. Luckily, she pulled through in the lipsync and stayed for another week.
On Episode 3, Eureka placed high after the acting challenge where the queens performed adverts for dating apps. Eureka played an over-the-top character, and her performance was praised highly by the judges for her use of Eurekaisms and for the return of the old Eureka.
On Episode 5, Eureka was paired with Aquaria by The Vixen for the "Bossy Rossy Show" where the queens' improv skills are put to the test. Their segment was "Look At Me! I'm A Sexy Baby!". Eureka won the challenge.
On Episode 6, Eureka won her second consecutive challenge after her performance in the drag con challenge and her runway were successes. This makes Eureka the only Season 10 queen and returning the queen to win back to back challenges.
On Episode 9, after a poor performance in the Breastworld acting challenge, Eureka landed in the bottom with Kameron Michaels. At first, Eureka thought she was eliminated after Kameron got the shantay but RuPaul announced that she also is still in the competition in a double shantay. This makes Eureka and Kameron the second pair to have a double shantay and make it to the finale after Sharon Needles and Phi Phi O'Hara in Season 4.
She appeared in New York City, the series premiere of this Netflix Original in a cameo as an unnamed Queen working at The Box, a drag club in the city that never sleeps.
Farewell Message
Season 9
"Well... Biggie is out but this is NOT the last of Me!! I need all of you to ALWAYS (lol) #beyourselftofreeyourself ♡ Eureka H!! :p"
Lip Sync Battles
Trivia
Eureka's knee popped while performing the cheer battle, which caused her later elimination. She later discovered she had a torn ACL, which she needed surgery for.
Contrary to popular belief, Eureka O'Hara and Phi Phi O'Hara are actually not in the same drag family.
She is the second queen in herstory to walk the runway on crutches (the first being Max during the nude illusion runway on Season 7).
Eureka is the only queen so far to ever be sent home due to an injury.
Eureka is the second queen to be eliminated by RuPaul without lip-syncing on that episode, the first being Willam Belli.
Eureka is the third queen to compete on two regular seasons, after Shangela and Cynthia Lee Fontaine. She was succeeded by Vanessa Vanjie Mateo.
Eureka identifies as genderfluid and lived as a transgender woman for a period of time.
Eureka made Trinity Taylor her rival during Season 9.
Eureka got her drag name from her biological mother's name.
Eureka is the first returning queen to win two consecutive challenges.
Eureka is the first-ever returning queen to reach the finale.
Eureka is the second queen to be in a Double Shantay twice (the first being Alyssa Edwards) and is the only queen to do it in the same season.
Eureka is the second queen to lip-sync twice against two different queens (Aquaria and Kameron Michaels), the first being BenDeLaCreme.
Miz Cracker revealed in her YouTube show Review with a Jew that during the Snatch Game, Eureka drew a penis on her chest. The directors had to black it out before she showed it on screen.
Eureka is the second queen to appear in the premiere episode of three consecutive seasons (9, 10 and 11) after Shangela (2, 3 and 4).
Eureka has participated in the most Rusicals, with three. In Season 9 she performed as North West in "Reality Stars: The Musical", and in season 10 she portrayed a pharmaceutical salesperson in "Pharmarusical" and the Punk/Rock-era Cher in "Cher: the Unauthorised Rusical" later in the season.
Eureka was a contestant on RuPaul's Drag Race: Live in Las Vegas. Other contestants include Aquaria, Coco Montrese and Yvie Oddly.
Eureka is half German on her mother's side.
Memorable Quotes
Season 9
"I'll eat you." (to Valentina)
"Oh, wow."
"So your drag's like STD's: you never know what you're gonna get." (to Nina Bo'nina Brown)
"What story are you telling with this unibrow?" (to Sasha Velour)
"Gag. C'mon big girl!"
"It looks good and it tastes good!" (during the morning talk show challenge)
"Why you gotta push it straight to negativity?"
"Shut it down!" (when Farrah Moan walks in)
"Be yourself to free yourself."
"Well you found it once and you'll find it again."
''You don't know me, baby.''
Season 10
"Feeling PHAT, with a PH, Pretty Hot And Tasty!" (Meeting Eureka.)
"Ohhhh. Like a phoenix from the ashes, Eureka is back." (Season 10 entrance)
"Big Girls Big Girls Coming Through, Watch Out Bitches 'cos We'll Eat You" (Eureka & Kalorie Karbdashian-Williams)
"Girl, I Feel Fat"
"It's Okay To Have Feelings" - (Untucked) 
"Proportionizing!"
"Who would be open to being my lesbian lover?" 
"I'm ready to hit another bitch!"
"I bet that says 'Fuck y'all'." (referring to Yuhua's lipstick message after her elimination.)
"And I'm going to be pointing at her Puswatcha. It's her vagina"
"I drew a picture of a bunny. I'm such an artist." (As Honey Boo Boo in the Snatch Game.)
"Eureka...I found it!"
Other
"If I'm guilty of anything when it comes to racism, it's 'I wish I was black', bitch, so fuck you."(during an Instagram Live stream.)
"God, I wish I was black." (while addressing vixen drama)
Gallery
Season 9 Looks
Season 10 Looks
Holi-Slay Spectacular Looks
Follow Eureka
Community content is available under
CC-BY-SA
unless otherwise noted.