Fred van Leer is a Dutch stylist and television host. He is mainly known for appearing on several TV shows; such as "Say Yes To The Dress Benelux", "Holland's Next Top Model" and also for being the host of Drag Race Holland.
During the '90s and '00s, Van Leer worked as a drag queen for over 15 years in Rotterdam. He's had numerous drag names over the years, most notably 'Tineke Ontstoken Speklap'. (transl. Tineke Inflamed Bacon).
Career
From 2009 on, Fred worked on television programs. The first series of Dames in de Dop became his national television debut. This was followed by RTL Boulevard, X-Factor. In 2011 he was a coach in the RTL 5 program Holland's Next Top Model. Every week he assisted the participants in their fight to the final.
In 2012 Van Leer came up with his own daily program on RTL 5, Shopping Queens. In this, candidates competed with each other to be the best-dressed of the week. Van Leer decided which candidate had won and commented on the purchases. He was regularly heard on Giel Beelen's radio program, who often called him to ask for his opinion and advice on clothing.
During his career, Fred's been featured in countless Dutch tv-programs, such as Wie is de Reisleider? (Who is the Tour Guide?) Holland's Next Top Model, and Ranking the Stars. Van Leer also presented Shopping Queens VIPS which was broadcasted on RTL 5.
In 2020, it was announced that Van Leer would host Drag Race Holland.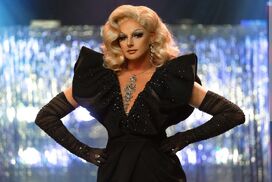 Memorable Quotes
"Heren, start uw motoren, en moge de beste dame winnen!"
"Stilte! Ik heb mijn beslissing gemaakt. Bring back my girls!"
"Succes, en verneuk het niet!"
"Drag Race is helaas voorbij. Voor jou, niet voor mij."
"Toen jullie nog een zaadcel waren stond ik al ergens op een hak."
"Vrouw! Heerlijk!" (referencing Janey Jacké's Queen Look)
"Snap je schat?"
"Dag schat!"
"Hup hup!"
"Kosten noch moeite gespaard om deze prachtige tiara te regelen."
"Ik ruik paling" (to Janey Jacké)
"StewardAbby OMG!"
"Ze draagt m'n favoriete kleur: luipaard!" (to Ma'Ma Queen)
"I keep you in de gaten." (to Janey Jacké in the finale of Season 1)
Trivia
Fred is very good friends with Nikkie Plessen, who judges Drag Race Holland alongside him.
Fred's makeup for the show was done by famed Dutch drag queen and makeup artist The Countess.
Fred is the only retired drag queen to host a Drag Race program.

Though he is a retired queen, he hosts the show in full drag.

Fred has written several books on styling and lifestyle.
Though he mostly performed in Rotterdam during his career as a drag queen, Fred also performed worldwide, including in Mexico.
Fred thinks that the most fun part of drag is getting into drag.
When asked what the most exciting thing he had ever done in drag was, Fred stated that he could not answer that question; he did reveal that it involved Drag Race Holland Season 1 contestant Megan Schoonbrood.
Fred joked on Videoland's Instagram Story that the best way to learn walking in heels is to chug down a bottle of gin and start taking baby-steps.
Prior to hosting Drag Race Holland, Fred appeared in another Videoland project: "Fred: Het Andere Gezicht" ("Fred: The Other Face"), where he shows the darker and emotional side of his usually extravagant lifestyle.

Gallery
Drag Race Holland 1 Looks
Social Media
Community content is available under
CC-BY-SA
unless otherwise noted.