Wiki Targeted (Entertainment)
Play Sound
Iviza Lioza is the stage name of Francisco Rafael Ayala Pulido, a Mexican drag queen and performer, best known for being a contestant on Season 3 of the YouTube show La Más Draga.
Drag Name Origin
TBA
Track Record(s)
Iviza Lioza
Seasons Competed:
LMD 3
Ranking:
8th Place
Points Total / Average:
69
9.9
Maxi Challenges Won:
0
Mini Challenges Won:
1 (Ep. 4)
Times Placed High:
0
Times Placed Low:
3 (Eps. 1, 4 ,6)
Times in Bottom Two:
1 (Ep. 7)
Episode Eliminated:
Episode 7
Memorable Quotes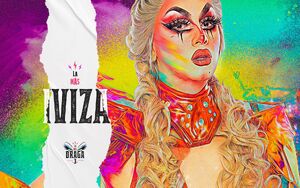 "A mi también se me hizo muy injusto que de repente llega este hombre y dice "No, es que no te entiendo porque tu no eres lo que yo conozco" entonces no es mi culpa que tu mente sea limitada, mi amor." (About Apio Quijano's nasty critiques)
"Como que durante algún tiempo yo la vi como que muy metidita aquí en la ciudad, yo dije mmm, eso está raro pero pues mira, ya la vi aquí, dije traz, aquí esta el señor." (About Regina Bronx)
"¿Qué pinche miedo le tienen a la palabra ano?"
"Yo, mi táctica de ligue es "toma, ahí te van 500, vámonos"." (evil laugh).
"Prefiero ser la menos perra entre todas las mas perras que ser la reina de las churpias."
"Y hermanas, no se obtengan, así es esto. Les mando un beso, y háganme justicia en redes, díganle a La Más Draga que cometió un error. Ja! No es cierto."
Trivia
She's the first ever queen on a drag show to have braces during the season.
Iviza has never had a boyfriend.
She struggles with alimentary disorders, like anorexia and bulimia nervosa.
Gallery
La Más Draga 3 Looks
Filmography
Web Series
Social Media
Community content is available under
CC-BY-SA
unless otherwise noted.