Jaymes Mansfield is the stage name of James Wirth, a drag performer from Milwaukee, Wisconsin. She was one of the 14 queens to compete on the ninth season of RuPaul's Drag Race. She was the first queen to be eliminated and ended up finishing in 14th place.
Like many of the stronger "first-out" queens of later seasons, Jaymes developed many devoted followers despite her minimal time on air. Myriads of her fans say they were captivated by her bubbly wit and expressed dismay at her elimination. A post-elimination video she posted to her YouTube channel received over 150,000 views in two days.
Some fans went as far as to criticize the so-called 'over-refinement' of later seasons of Drag Race for seeming to "prey" on on-camera nervousness. A trait that in itself, others added, is not a flaw. After her elimination, Tempest DuJour welcomed Jaymes to the "elite club" of first-outs on Twitter.
Indeed, the outpouring of support for Jaymes (just like that for Tempest and Kelly Mantle in the years before her) has lead to further fan speculation that it is often better to be a popular first-out queen that left audiences "wanting more," than a contestant eliminated second, third or fourth.
Entrance
Season 9
"Hi shapeshifters!"
RuPaul's Drag Race
Jaymes Mansfield

| Season Competed | Season 9 |
| --- | --- |
| Ranking: | 14th Place |
| Mini-Challenges Won: | 0 |
| Times as Team Captain: | 0 |
| Times Placed High | 0 |
| Main Challenges Won: | 0 |
| Times Placed Low | 0 |
| Times in Bottom: | 1 (Ep. 2) |
| Episode Eliminated | Episode 2 |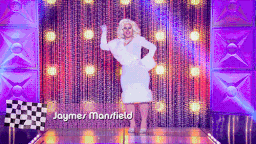 In the first episode
"Oh. My. Gaga!"
, Jaymes was critiqued for being too shy and scared, and the other queens gently brought this to her attention. Jaymes was safe, as it was a non-elimination episode, but many fans considered her one of the worst along with
Kimora Blac
.
In the second episode
"She Done Already Done Brought It On",
Jaymes once again struggled to come out of her shell and struggled with the table read, flubbing her lines and requesting to switch characters with
Alexis Michelle
. Despite this, her runway look was relatively well-received. Jaymes landed in the bottom two for her performance and had to lip-sync to The B-52's hit "Love Shack" against
Kimora Blac
. Kimora was saved and Jaymes was unfortunately sent home first. Many fans are divided between whether Jaymes or Kimora Blac should have went home first.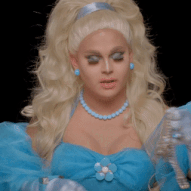 Memorable Quotes
"I auditioned for RuPaul's Drag Race because of many simple reasons, but the main one is I wanna kidnap the Pit Crew."
"I came in first!" (Upon Elimination)
"Some dreams just aren't really meant for you."
"These are my summer diamonds. Some are diamonds and some are not." (This is a line made famous by Wayland Flowers and Madame )
"She left her phone number, too. She didn't have to do that, I could just go to any bathroom in New York and find it." (After seeing Aja's phone number on the note she left)
"I had a really good read for Valentina, but I can't remember the words!"
"*squeak*!"
Gallery
Season 9 Looks
Trivia
The name 'Jaymes Mansfield' is both a pun on and a tribute to the late movie star Jayne Mansfield, who serves as a heavy influence to Jaymes' drag style.
Jaymes has a YouTube channel where she uploads sewing and craft tutorials, comedy videos and educational videos about LGBT history.
According to Alexis Michelle, RuPaul, and the producers of the show, Jaymes had one of the funniest auditions that they have ever seen.
According to the other Season 9 queens, Jaymes did have more to say during the Reunion, including other hilarious reads, but nearly all of it was cut out.
Jaymes is experienced with puppeteer-ing.
Jaymes is willing to participate in All-Stars.
Jaymes is the 3rd ever queen from Wisconsin to be on the show.
Jaymes and Nina Bo'nina Brown noticibly comment on nearly every video each queen makes supporting each other which the viewers of their channels seem to love.
She reached 100,000 YouTube subscribers on May 15th, 2020.
Follow Jaymes
Community content is available under
CC-BY-SA
unless otherwise noted.