Jessica Wild is the stage name of José David Sierra, a drag queen, dancer, choreographer, makeup artist and singer from San Juan, Puerto Rico.
RuPaul's Drag Race
Jessica Wild

| Season Competed | Season 2 |
| --- | --- |
| Ranking: | 6th Place |
| Mini-Challenges Won: | 0 |
| Times as Team Captain: | 0 |
| Times Placed High | 3 (Eps. 2, 3, 5) |
| Main Challenges Won: | 1 (Ep. 6) |
| Times Placed Low | 0 |
| Times in Bottom: | 1 (Ep. 7) |
| Episode Eliminated | Episode 7 |
Jessica Wild was known for her fashion, her makeup skills, her hair styling, and her sweetness and charm that she brought to the show.
Elimination
Jessica Wild's elimination was one of the most heartfelt and controversial throughout Season 2.
Jessica was eliminated in the seventh episode.
The main challenge was to create an autobiography about themselves, present the book and the Absolut Berri Acai cocktail in a satellite interview and on the main stage.
First of all, Jessica had frustrations in the photoshoot for the book cover. Jessica was unsure of how to pose for the cover, and she didn't know how to portray her essence from the photoshoot into the biography she wrote. The photographers said "She came in defeated. If you come in defeated, then you are defeated." Jessica was critiqued for having faulty timing in the interview, mentioning her book too late and raving a little too much about the Berry Acai cocktail. Absolut's Jeffery Moran said Jessica's interview was "a little sloppy." Also, Jessica's book cover, "Dreams of a Golden Child" was critiqued to have looked too childish. Santino said, "It looks like a cover that a 9-year-old girl would buy."
Jessica Wild's English barrier played a small factor in her status in the bottom two because she was made fun of for saying what appeared to be "Dreams of a Golden Shower" when it was stated as "Dreams of a Golden Child."
So, Jessica Wild fell into the bottom two alongside her good friend and fellow contestant, Tatianna. Jessica's dance style was too over the top for the song that was chosen, "He's The Greatest Dancer". So Tatianna got to stay another week, while Jessica sashayed away.
Drag Name Origin
She wanted a name that is sexy and easy to remember. Jessica is the name of one of her best friends in high school and she thinks it is a sexy name. Wild is used to describe her character's personality and performance. She said, "I am a shy guy and I am wild on stage."
Memorable Quotes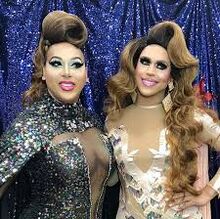 Discography
Since appearing on RuPaul's Drag Race, Wild appeared in a music video for popular reggaeton band Calle 13 and fielded offers to record a dance techno music album. He has performed live with the Puerto Rican rock band, Rebeldia.
In January 2011, Wild (in collaboration with DJ Ranny) released his first dance single "You Like it Wild" which is available for purchase via iTunes and many commercial music sites. The single debuted at number forty-two on the Billboard Hot Dance Club Songs before peaking at number thirty. Also, he recorded a duet with Mexican singer Fedro entitled "Maquillaje" which is part of the singer's new album. He has also performed on stage with Mexican singer, Gloria Trevi.
Trivia
Gallery
Season 2 Looks
Lip Syncs
Follow Jessica
Community content is available under
CC-BY-SA
unless otherwise noted.