Jujubee is the stage name of Airline Inthyrath, a professional drag performer, makeup artist, singer, and comedian from Boston, Massachusetts. He is best known for being a contestant on Season 2 of RuPaul's Drag Race. Her drag mother is Karisma Geneva Jackson-Tae.
She is a fan-favourite and is remembered for her true friendship with fellow Season 2 queen, Raven. After Jujubee came third in the second season, she returned to compete on All Stars 1, paired with Raven. Jujubee later came third/fourth place with Shannel, while Raven placed second.
Biography
Before competing on RuPaul's Drag Race, Inthyrath studied theatre in college.
Inthyrath is of Lao ancestry, something he has shown great pride in during his time on Drag Race. In addition to his fluency in Laotian, he is also fluent in Thai and utilized words from that language when he told fellow contestants about how his uncle called him "kathoey", meaning "Lady boy," and then again during the "reading" challenge. Jujubee is a native of Boston, where he lives with his fiancé Christopher, who have been together for 8 years. Since Drag Race, Jujubee has been performing throughout the United States and Canada as part of the RuPaul's Drag Race Tour. He also appeared in the music video for RuPaul's song "Jealous of My Boogie" and in Xelle's music video "Queen".
Jujubee is a huge fan-favourite and arguably one of the most popular contestants ever to compete on RuPaul's Drag Race.
She was known on the show for her occasionally good looking runways, her fashion-forward outfits, her makeup skills, her sense of humour and her lip-sync performances; eliminating three of her fellow competitors.
Her goal was to fulfil her dream of drag as a child and to prove to her deceased father that she can do it and become "America's Next Drag Superstar".
RuPaul's Drag Race
Jujubee

| Statistics | Season 2 | All Stars 1 |
| --- | --- | --- |
| Placement | 3rd Place | 3rd Place |
| Main Challenges Won | 0 | 0 |
| Mini Challenges Won | 1 (Ep. 7) | 2 (Eps. 2, 5) |
| Times in Bottom | 3 (Eps. 6, 8, 9) | 3 (Eps. 3, 4, 5) |
| Episode Eliminated | Episode 11 | Episode 6 |
Jujubee was eliminated on the "Grand Finale" episode, finishing in the Top 3.
The final challenge was to put together a music video for RuPaul's, "Jealous of my Boogie." and to show off their final runway outfits for the season.
Jujubee was criticized for having too much of an over-the-top performance in the shooting of the music video. Merle felt that Jujubee lacked leadership in "fashion and beauty" compared to Raven and Tyra. Jujubee's outfit was also the judge's least favourite of the week.
She was eliminated first and was pronounced as the second runner-up of her season. This left Raven and Tyra to be the Top 2, aiming for the title of "America's Next Drag Superstar".
Jujubee placed 3rd and was the 2nd runner-up in during her season. (Season 2)
Jujubee is the only queen to make it to the finale twice, without winning a single main challenge.
Jujubee placed in the bottom two on episodes 6 (Rocker Chicks), 8 (Golden Gals) and 9 (The Diva Awards).
In episode 6, she lip-synced against Sahara Davenport to the song "Black Velvet" by Alannah Myles, in episode 8 against Pandora Boxx to the song "Shake Your Love" by Debbie Gibson, and in episode 9 against Tatianna to the song "Something he Can Feel" by Aretha Franklin, each time she was saved from elimination.
Jujubee was not eliminated until episode 11, "Music Video Finale" where she did not have to lip-sync, and ranked 3rd place in the competition.
Jujubee's farewell message read: "You are your own worst critic... let go, forgive, & live. Love, Juju B.".
Jujubee is the only Laotian-American contestant to have ever competed on the show.
Aftermath
Following the show, Jujubee has become one of the most popular
Drag Race
alumni. She appeared in the music video for RuPaul's song "Jealous of My Boogie", alongside fellow season two contestants
Raven
and
Tyra Sanchez
. She also was nominated for a NewNowNext award in 2010 for "Most Addictive Reality Star".
Jujubee has been a professor on all three seasons of RuPaul's Drag U, and has appeared a total of ten times, tying with season two contestant Raven. Her first win was in Episode 8 of Season 1 with a makeover of actress Charlene Tilton, who played Lucy Ewing on the TV series Dallas. Tilton's drag name was Lisa Mercedes. In season two, her second win was with nurse Lanell under the name of Angel Esprit.
In 2012, Jujubee was announced as one of the twelve contestants of RuPaul's Drag Race All Stars. In the pair selection, she and fellow season two queen Raven picked each other as partners and chose the team name "Rujubee".
Drag Name Origin
Her drag mother Karisma Geneva Jackson-Tae proclaimed that Jujubee will be her name when she did an amateur competition and won. It turned out to be the fruit jujube. She didn't like the name, but kept it because of its significance to Karisma.
Memorable Quotes
Season 2
"What about me!? What about Jujubee?!?"
"Jujubee's just this fabulous Asian girl, she's very like poppy and like, fashion-forward. She loves accessories and she likes glitter, 'cause it's wicked sparkly!"
"I love women, I think they're amazing... I just don't want to sleep with them."
"I just want to show them that we're not stupid, we're not uneducated, we have jobs, and I can cook!"
"Everyone looks like a Country Diva, but then I see what Mystique is wearing. She looks like she's a big girl going out to a club."
"I feel like I'm superhero diva and my power is glitter."
"Tyra, she believes she's Beyoncé. And she doesn't want to hurt Beyoncé's feelings because somehow Beyoncé pays her bills."
"Every time Raven gets to choose something and every time Morgan gets to choose something, it's I pick Morgan, I pick Raven. Like I'm surprised we don't have a name for them yet. Rorgan, Maven, Hey Morvans. Douche-bags."
"Keep burning yourself bitch."
"Girl I know I'm gorgeous. You don't have to tell me anything, Miss Thing. Just get yourself some manners, so you don't look so damn stupid." (to Tyra on the main stage)

"I'm not nervous, I'll read a bitch. I will read ya ta filth!"
"Miss Tyra, was your barbecue cancelled? Your grill is fucked up!"
"Get my gist? Do ya understand?" (to Jessica Wild)
"And you, legendary you think you are. Legendary looks like Leg and Dairy." (to Raven)
"Memoirs of a Gay-SHA!"
"Meeeooww."
All Stars 1
"I'm Jujubee. I like long walks on the beach, big dicks, and fried chicken."
"I missed you bitch."
"You know I love y'all, but I'm gonna take you, bitches, down."
"I want fried chicken now."
"Mimi, did you find that dress for sale? Half off? 75% off? Did it keep going down? Did you have a coupon?" (about Mimi's runway dress, on Untucked)
"Girl, I'm a funny bitch, but I don't write no jokes."
"Alexis Mateo, you look is really ghetto".
Trivia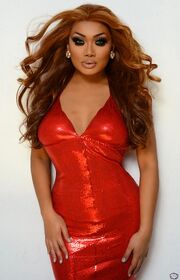 Airline went to the University of Massachusetts Amherst where he studied Theatre Arts.
Jujubee/Airline is of Thai and Laotian descent.
When not in drag, Jujubee loves to cook and sing.
Has two cats named Mister and Priss.
Is a Gay, Human and Animal-rights activist.
Loves to sleep.
Will eat anything you put in front of them.
Favourite diva is Toni Braxton.
Has a boyfriend named Chris?
If Jujubee would have been in the top two, she would have been the first queen to lip-sync for her life four times in one season, a landmark not hit until Coco Montrese in Season 5.
Jujubee is one of the four queens so far that has never lost a lip-sync (not counting winners)
Across both of her seasons, she was in the bottom 2 a total of 6 times. This means she is tied with

Roxxxy Andrews for most times being up for elimination across all seasons.

They were surpassed by Latrice Royale who appeard 8 times in the bottom two across her three season

Jujubee is one of the only queens to place in the bottom 2 in their season a number of 3 times and not be eliminated for the third lip-sync. The others to do this are Alexis Mateo of Season 3, Coco Montrese of Season 5, Darienne Lake of Season 6, and Kameron Michaels of Season 10.
Jujubee is the only queen to have made it to the top 3 without any challenge wins.
Despite her popularity and success, Jujubee has never won a challenge on drag race.
She has the lowest Dusted or Busted out of all finalists (along with Raven in All Stars 1) with -6.
Jujubee is the first queen to be eliminated by RuPaul, rather than another queen during a lip-sync, twice.
Jujubee is on "Drag Me Down the Aisle" together with Drag Race-alumni Bebe Zahara Benet, Thorgy Thor and Alexis Michelle.
Jujubee is the only queen to be drunk during a lipsync and win
She is rumoured to be a contestant on All Stars 5.
Gallery
Season 2 Looks
All Stars Looks
(as team with Raven)
Credits
Filmography
As herself
Acting roles
| Year | Series | Role | Notes |
| --- | --- | --- | --- |
| 2019 | Drag Me Down the Aisle | Queen | |
Discography
Appearances
| Year | Work | Artist | Album | Notes |
| --- | --- | --- | --- | --- |
| 2018 | "Santa Claus Is Coming To Town" | Jujubee | "Christmas Queens 4 " | |
Music videos
| Year | Song | Song Artist | Notes |
| --- | --- | --- | --- |
| 2010 | "Jealous of My Boogie" | RuPaul | Cameo |
| 2012 | "Queen" | Xelle | Cameo |
| 2018 | "Call My Life" | Blair St. Clair | Cameo |
Other credits
Awards and nominations
| Year | Award | Category | Results |
| --- | --- | --- | --- |
| 2010 | NewNowNext Awards | Most Addictive Reality Star | Nominated |
Lip Syncs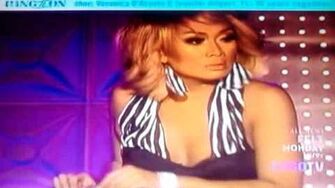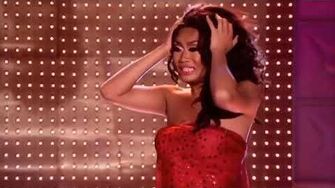 Social Media
Community content is available under
CC-BY-SA
unless otherwise noted.