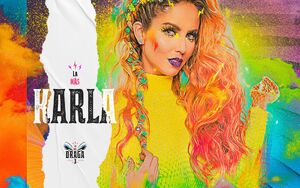 Karla Haydée Díaz-Leal Arreguín, commonly known as Karla Díaz, is a Mexican actress, singer, and TV host, known for her work in the youth pop group JNS and as the host of the third season of the YouTube show La Más Draga.
Career
Karla joined the youth pop group JNS (previously "Jeans") in October 1997 as Tábatha Vizuet's replacement, joining Paty Sirvent and Angie Taddei. When the group disintegrated, Karla also broke relations with the Sirvent family for various reasons, many of which were already known by almost all the other former members: lack of payments, psychological abuse, and abuse of contract.
In 2015, she was a part of the Jeans Reunion, with the reunion being made under the original band's name with legal permission from the Sirvent family. In July they recorded their live album Dèjá Vu that included their most popular hits and 3 unreleased songs. The group made official its reunion tour entitled Déjà Vu Tour in 2015.
The reunion of Jeans, under the baton of Karla, has been a huge success, before that, together with their current colleagues, they are studying the possibility of making future unreleased albums. In early 2017, the group officially changed its name to JNS. In addition, the band announced its new tour called: Metamorphosis Tour.
In 2013, she signed with Entertainment A&R MEDIA Music, based in Los Angeles, California, for the recording of his first album, which would be a crossover in English produced and directed by Arturo G. Álvarez, going on sale, not only in Mexico. Also in the United States, Canada, Brazil, Israel and Europe, Karla's first single called "Tell me", with electronic sounds.  At the same time the video clip of the single was released.  In March 2014, Karla released her first album "End of story".
Before joining the Jeans group for the first time, the singer had already participated in the soap opera Agudamientos de color de rosa and in various commercials and music videos.  began a career in modeling for various clothing catalogs, such as in the magazine "H" for men in October 2009.  In August 2014, she joined the TV Azteca program " Soy tu doble " as a contestant .  In 2015, she was a contestant on "La Isla: el reality", where she was the eighth exiled.  In 2020 she joined the reality TV show La Más Draga as host of the third season.
Filmography
Web Series
(2020) La Más Draga, on Season 3
Discography
With JNS (Previously "Jeans")
Albums
"Jeans" (1996)
"¿Por qué disimular?" (1998)
"//:Tr3s.Jeans" (1999)
"Cuatro para las Cuatro" (2001)
"Cuatro para las Cuatro II" (2003)
"Ammore" (2004)
"Porque Soy Libre" (2006)
"Metamorfosis" (2017)
"El Adiós de Jeans" (2008)
"Dèjá Vu" (2015)
"20 Años — En Vivo" (2018)
Social Media
Community content is available under
CC-BY-SA
unless otherwise noted.