Yekaterina Petrovna "Katya" Zamolodchikova (Екатерина Петровна Замолодчикова), or simply just Katya, is the stage name of Brian McCook. She was a contestant on the seventh season and All-Stars 2 of RuPaul's Drag Race. She finished fifth in her initial run but was later voted "Miss Congeniality" by fans in the reunited special.
She returned for All-Stars 2, where she and Detox ended up as runners-up to winner Alaska. She simultaneously released recap videos during her run on both seasons on her Youtube channel, which were well-received by the audience.
Katya was one of the breakout stars of Season 7, and alongside Trixie Mattel hosted the YouTube show UNHhhh on WOWPresents, followed by The Trixie & Katya Show on Viceland.
Katya Zamolodchikova

| Statistics | Season 7 | All Stars 2 |
| --- | --- | --- |
| Placement | 5th Place | Runner-Up |
| Main Challenges Won | 2 (ep. 6, 10) | 3 (ep. 2, 6, 7) |
| Mini Challenges Won | 1 (ep. 5) | 0 |
| Times in Bottom | 2 (ep. 2, 11) | 2 (ep. 3, 4) |
| Episode Eliminated | Episode 11 | Episode 8 |
Name Origin
Katya's "full name" is Yekaterina Petrovna Zamolodchikova. Katya has confirmed that "Zamolodchikova" comes from Russian gymnast Elena Zamolodchikova's last name, however, "Yekaterina" is just "Catherine" in Russian, and "Petrovna" is a middle name you would be given if your father's name is Peter.
Her last name "Zamolodchikova" was dropped from the show, and she was mononymously referred to as "Katya". This follows a succession of past contestants such as Detox Icunt, Alaska Thunderfuck 5000, and Willam Belli.
Prior to Drag Race back in Boston she used to perform Russian numbers under the Katya alias while using the name Katie Homophobia to perform pop numbers. This stopped before the filming of season 7.
Season 7
Episode One: Born Naked
The challenge was to create a nude illusion look with a resort style tearaway for the runway. Katya wore a "Russian red, hippie realness" tearaway and infamously bent over on the runway and showed the judges her asshole. Katya was declared safe from elimination.
Episode Two: Glamazonian Airways
After winning the mini-challenge,
Trixie Mattel
chose Katya to join her team. For the main challenge, they had to perform and lip-sync a mash-up of spoken word and song for a pre-flight safety video for Glamazonian Airways. After forgetting her words in the opening monologue of the routine,
Katya fell into the bottom two, despite a commended runway look. She lip-synced against
Sasha Belle
, and subsequently sent her home.
Episode Three: Shakesqueer
The queens had to act out versions of Shakespeare's literary classics. Katya was assigned to
K
ennedy D
a
venport
's team and they had to perform "MacBitch", a spoof of
Macbeth
. Katya was given the role of Mary MacBitch. After a disastrous rehearsal,
RuPaul
told them that he had never seen a bigger car crash in all seven seasons of
Drag Race,
and that he expected a vast improvement in the final performance, but that wasn't the case. For the runway, the queens were asked to be "Bearded and Beautiful", walking the runway with beards. Katya delivered a humorous Abraham Lincoln-inspired beard and outfit. She was declared safe from elimination.
Episode Four: Spoof! (There It Is)
For the main challenge, the queens were tasked with creating parody music videos for a song in RuPaul's discography. Despite being eager to work together, the team of Katya, Miss Fame, Pearl and Trixie struggled to come up with a concept for their spoof of "Dance with U", and after bickering amongst each other, decided to go with Trixie's idea of "Tan with U". This week's runway brief was "green". Despite rocky performances from the queens in "Tan with U", Katya was praised for holding the group together and being genuinely funny. She placed high that week.
Episode Five: The DESPY Awards
In a red carpet inspired mini-challenge, Katya wore an interpretation of Björk's infamous Swan dress. For this week's maxi challenge, the queens took part in the first edition of the DESPY Awards. As the winners of the mini challenge, Katya and Mrs. Kasha Davis did not present an award, and instead acted as co-hosts for the ceremony. Katya was nominated for "Meatiest Tuck" which she won, and also had to give an acceptance speech for. She was praised for her witty performance as a host, but criticized for her outfit. She was declared safe.
Episode Six: Ru Hollywood Stories 
For the main challenge the queens had to act out
RuPaul
's,
Michelle Visage
's, and
Merle Ginsberg
's, version of events in "Whatever happened to Merle Ginsberg?". Katya played
Merle
in
Merle Ginsberg
's recollection, which was universally praised by the judges. Katya went on to win this week's challenge; her first challenge win in the season.
Episode Seven: Snatch Game 
Katya portrayed financial advisor Suze Orman, which was highly praised by the judges. In the workroom, Katya opened up to Miss Fame about her sobriety and the two shared their struggles. For the runway look, the queens had to wear "Leather & Lace". Her runway look was also highly praised, and overall Katya placed high this week.
Episode Eight: Conjoined Queens
All of the past eliminated queens from the season came back and were paired up with the competing queens. Together they had to create a conjoined twin look on the runway, and whichever team won, the eliminated queen could enter back into the race. Katya was assigned with
Mrs. Kasha Davis
and served a drunken sisters style look on the runway. It was highly praised by the judges, and Katya was placed high that week.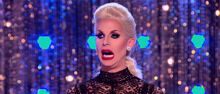 Episode Nine: Divine Inspiration
For the main challenge the queens had to act and perform in three Divine inspired comedy spoof sketches. Katya was paired with Kennedy Davenport, and together they acted in "Cha Cha Heels" a parody of Female Trouble. Their performance was commended by the judges and together they placed high this week.
Episode Ten: Prancing Queens
The queens had to pair-up and perform in a Dancing with Stars style live drag spectacular. Katya's dancing partner was Violet Chachki, and together they danced a mash-up of Tango and Vogue. Their performance was praised for being in sync, stylish and glamorous. For the runway, the queens had to give a dance half and half look based on their dance types, one side male and the other female. Katya and Violet both won this week's challenge, giving Katya her second win in the competition.
Episode 11: Hello, Kitty Girls!
For the main challenge, the queens had to create a Hello Kitty inspired runway look, and create a  new character to be Hello Kitty's new BFF. Katya was overcome with anxiety and stress and struggled to make an outfit. Both of Katya's runway looks garnered a lukewarm response from the judges, and she found herself in the bottom two against Kennedy Davenport. After a memorable lip-sync, RuPaul decided that Kennedy should be saved, and Katya was sent home. 
All Stars 2
Episode One: All Star Talent Show Extravaganza
Katya was the first queen to enter the workroom for the second time. Their first mini challenge of the season was the iconic Reading Is Fundamental challenge where she lost the mini challenge to
Alaska
. For the all stars talent show, Katya decided to do a gymnastics number. It was also during this episode where Tatianna performed The Same Parts, a number that Katya references many times after the competition. After the show,
RuPaul
announced that it was true that she wasn't going to eliminate a queen. But that the queens would have to eliminate each other. She was deemed safe from critiques along with
Detox
and
Alyssa Edwards
.
Episode Two: All Stars Snatch Game
The maxi challenge was Snatch Game. As the queens were preparing their characters,
Adore Delano
decided to leave the competition voluntarily and all the remaining queens gave Adore a hug while trying not to smudge their makeup. Katya portrayed Björk in Snatch Game and was deemed top 2 along with
Alaska
because of their funny impersonations. Katya lost the lip-sync for her legacy to Alaska and was safe from elimination. and joined the rest of the girls at the back of the stage.

Episode Three: HERstory Of The World
After the last episode, It was revealed that Katya would have chosen Tatianna to go home because she didn't do well in the challenge. The main challenge was to perform a lip-sync number of historical women. Katya was chosen to be Princess Diana. She was in the bottom two along with fellow Season 7 competitor Ginger Minj. The winners of the challenge, Alyssa and Detox lip-synced for their legacy with Alyssa winning. It was revealed that Alyssa chose to keep Katya and eliminate Ginger. It was a shock to the contestants because they agreed to eliminate the weakest performer of the week when they fall in the bottom and Katya was deemed the weakest of the week by the other queens.
Episode Four: Drag Movie Shequels
This week, the queens are partnered up and assigned movie shequels of well-known movies which they have to act. Katya was partnered with Detox and the two were assigned the movie shequel, Velma & Weezy. Katya stumbled with her lines at the beginning but mananged to perform well in the challenge. Nonetheless, she ended up on the bottom with competitors
Alyssa Edwards
and
Roxxxy Andrews
. The winners, Alaska and PhiPhi lip-synced for their legacy with Alaska winning and eliminating Alyssa.
Episode Five: Revenge Of The Queens
In this episode, all the eliminated queens come back to fight for another chance in the competition. The challenge was to perform a stand-up comedy act as a duo. The eliminated queens chose their partners. Katya was chosen by Ginger Minj and the two performed a good comedy act but were not the best pair of the night. Alyssa's and Tatianna's comedy acts were deemed the best and the two lip-synced for their lives. The two delivered an unforgettable performance and both stayed and the two chose to eliminate PhiPhi.
Episode Six: Drag Fish Tank
This week, the queens are challenged to create a product and a commercial that represents their brand. In the workroom, the guest judge told her to change her product but in the end she did not. Despite the  risks, Katya strived in the challenge with her commercial that truly represented her absurd humor and her outfit in the pants runway became one of Katya's iconic looks. She and Alaska won in the episode and the two lip-synced for their legacy. Those in the bottom were Roxxxy and Tatianna. Katya lost again and Alaska chose to eliminate Tatianna.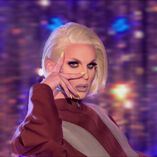 Episode Seven: Family That Drags Together
After last episode, it was revealed that Katya had chosen to eliminate Roxxxy. In this episode, the queens' mothers and sisters are brought into the workroom. The queens had to makeover their family members and perform a vogue routine with them. Katya and her mother Pat or otherwisely named as Svetlana Borisnova delivered phenomenally and they win the challenge along with Detox and her sister. The queens who did not win were automatically placed in the bottom. Katya and Detox lip-sync for their legacy with Detox winning and eliminating Alyssa. 
Episode Eight: All Stars Supergroup
This week, the queens were tasked to write original rap lyrics and perform RuPaul's song "Read U Wrote' 'U"  as the ultimate girl group. Afterwards, each queen gave a speech on why they should be inducted into the Hall of Fame. Katya delivered a heartfelt and tear-jerking speech thanking RuPaul for giving her the chance to show others she was good enough and for allowing her to believe in herself. Roxxxy was eliminated by RuPaul and Alaska, Detox and Katya lip-sync to "If I Were Your Woman". Alaska is crowned and Detox and Katya are the runner-ups.
Entrance Quotes
Season 7
"Давай cезон семь!"
"(C'mon season seven!)"
All Stars 2
"Счастливые голодные игры! Суки!".
"(Happy Hunger Games! Bitches!)" (sic)
Memorable Quotes
"I'm just your average run-of-the-mill Russian bisexual transvestite hooker."
"Katya is at the intersection of glamour and comedy. You can find her right on the corner, selling her ass."
"I don't know what Miss Crab Lady (Tempest DuJour) is doing in that lip-sync but the bearded hoe (Kandy Ho) is turning it out!"
"I am sweating like a hooker in church."
"Ginger's transformation is pretty remarkable. She goes from Kathy Bates to Bob Hoskins."
"I'm not a dancer, per se, but I can move my body in a compelling way – it usually compels people to leave the room."
"When in doubt, show them your asshole."
"I'm not actually that young, I'm just ignorant."
"I believe it was the great American painter Bob Ross who said, 'The key to a swollen vagina is... courage.'"
"The Snatch Game is when we all dress up in latex frog costumes and go through a fiery obstacle course."
"I'm trying to just serve sexy and confident whore slutty cougar on the prowl. 3rd rate Faith Hill impersonator. 80% sexy, 20% disgusting."
"In Russia, death and sex are the same. Cold, wet, dark and painful."
"In Russia, money, power and wealth are the keys to experiencing the full depth and breadth of lesbianism."
"In America, talk is cheap... in Colombia talk is... Spanish."
"I'm the visual depiction of untreated mental illness."
"Without dirty thoughts, there are only dirty dishes."
"I don't know! I'm not a scientist!"
"My pussy is trending on Craigslist."
"You know you want this crocheted pussy."
"I am my own worst enemy."
"Why try new things, when you can try nothing?"
"I don't take anything personally, except most things."
"I do not jump for joy. I frolic in doubt."
"I touch myself so you don't have to."
"It's going to be a disaster."
"When do I get to blow them? - I can't say that?"
"I would trample my dying grandmother to win this fucker."
"I definitely needed to make a statement, so I try to pound my vagina into that stage so hard the building shakes."

"You know I'm not going to fall asleep until you make out with me." (to Trixie Mattel)
"Woo! I'm a mountain biking vampire witch from the future!"
"Fuck my pussy with a rake, mom."
"Please look at me. Hi. I'm a nice, hot alien looking for a good, sexy fucking. Let me kaleidoscope my dick into your pussy hole, MOM."
"Will you settle for a guy who just wants to stick it in?"
"Time to chance props, mom."
"Mother, I'm [insert action here] again..."
"You're telling me that in addition to the $100,000 prize, we get $10,000 for each lip sync we win? That means I could walk out of here with at least $300,000... What, I didn't go to fucking school for math."
"Roxxxy Andrews, I think about you all the time, specially in the morning... at the bus stop."
"I'm here to show America that I've become a total fucking monster."
"My mother? I hate that fucking cunt! ...Just kidding!"
"Party."
"Charisma, Uniqueness, Nerve, Talent– what do these qualities have in common? I don't know I am not a scientist. I stand here, a charismatic woman, of grace and dignity, with a unique sense of humor and point of view. In season 7, you let me show the world that I'm good enough and here, you let me believe it myself and I can't thank you enough for that. As they say in Russia "я звезда - навсегда. спасибо большое.""
"I have a carburetor outside that I just have to do some work on."
"я звезда - навсегда. спасибо большое." [engl. I'm a star - forever. Thank you so much.]
"Care for a fucking?"
"If you haven't been running for the school bus crying with a choker on at 13, 14 or 15, you don't know shit about the 90's."
"Were you dirt wagon dusty ass musty oakey smokey poor?"
[Spelling out] "H E A R bitch, I am HERE!"
"Kennedy's RuPaul was the weirdest fucking thing ever."
"I am bombarded with a cacophony of demonic voices in my head telling me; 'You're not good enough!'"
Farewell Message
Season 7
"Девочки! Я вас люблю! (Girls! I love you!) If you need me, you know where to find me. (The 'dumpster out back) XOXO Katya AKA The Brooke Hogan of drag AKA Diarrhea Perlman ♥♥♥
Trivia
Brian is 5'10.
She originally auditioned for Season 3.

During Season 7, she revealed that she had a previous history of alcohol and drug addiction.
Her drag persona, Katya, is characterized as bisexual, but Brian himself is gay.
Her favorite meme is "On my way to steal your man."
She has stated that she has never been in a long-term relationship.
After her entrance in Season 7, some of the other queens thought she was actually Russian. She has mentioned that her audience occasionally mistakes her for being Russian as well.
Katya and Trixie Mattel both star in a web series called "UNHhhh" on WOWPresents' official YouTube channel, where they talk about 'anything they want', as quoted by them.

Katya's favorite movie is Contact and her love for it has become a running gag in UNHhhh.

Katya frequently references lines from The Same Parts by Tatianna and she has usually expressed her adoration for it.
In All Stars 2, she was the only queen in the Top 5 to not be from the fifth season.
Her and Alaska are one of the few pairs of queens to lip sync against each other twice (on All Stars 2), the other pairs being BenDeLaCreme with Darienne Lake and Shangela.
Both of Katya's entrance quotes were taken from entrance quotes said by queens on previous seasons, except translated into Russian.Her Season 7 entrance was a reference to Laganja Estranja's entrance quote. Her All Stars 2 entrance was originally said by Chad Michaels during her All Stars 1 entrance.
Katya is one of the few RuPaul's Drag Race alumni to reach 1 Million followers on Instagram.
Katya is a main character in the sequel to Hurricane Bianca and plays as Bianca's love interest.
In January 2018, Katya announced a short break from drag to take care of her mental health and addiction. Her performances have been postponed until 2019. 
Following Katya's hiatus, she has a podcast called Whimsically Volatile , wherein she and Craig discuss her different topics each episode.
Katya is, so far, the queen with the most 'LipSync for your Legacy' losses with 4 ('Le Freak' by Chic and 'Cherry Bomb' by Joan Jett and the Blackhearts against Alaska, 'Step It Up' by RuPaul and Dave Audé and "If I Were Your Woman" by Gladys Knight & The Pips)
Katya along with Trixie Mattel, Jinkx Monsoon, Rupaul, and Alaska were made into Funko Pop! Figurines
Gallery
Season 7 Looks
All Stars 2 Looks
Videos
Social Media
Community content is available under
CC-BY-SA
unless otherwise noted.