Yekaterina Petrovna "Katya" Zamolodchikova (Russian: Екатерина Петровна "Катя" Замолодчикова), or simply just Katya, is the stage name of Brian McCook, a drag queen, performer, comedian, acting, artist, and one of the Season 7 contestants of RuPaul's Drag Race (placed 5th and winner of the "Miss Congeniality" title), as well as one of the All-Stars 2 runners-up.
Following her success on the show, she started releasing well-received recap videos during her run on both seasons, and later, alongside Trixie Mattel, begun hosting the YouTube show UNHhhh on WOWPresents, followed by The Trixie & Katya Show on Viceland, and released their book Trixie and Katya's Guide to Modern Womanhood[1], as well as doing cameos on other TV shows/movies, and touring around the world.[2]
Drag Name Origin
"Yekaterina Petrovna Zamolodchikova" comes from the gymnasts Yekaterina Lobaznyuk 1st name, Eugenia Petrovna Kuznetsova middle name, and Elena Zamolodchikova last name. "Katya" is a nickname for "Yekaterina".[3]
Katya's last name, "Zamolodchikova", was dropped from the show, and she was mononymously referred to as "Katya". This follows a succession of past contestants such as Detox Icunt, Alaska Thunderfuck 5000, and Willam Belli.
Before being on Season 7, back in Boston, she used to perform Russian numbers under the name "Katya", while to perform pop numbers, "Katie Homophobia". This stopped before the filming of the show.[4]
RuPaul's Drag Race
Katya
Season Competed
Season 7
All Stars 2
Ranking:
5th Place
Miss Congeniality
2nd/3rd Place
(Runner-Up)
Mini-Challenges Won:
1 (Ep. 5)
0
Times as Team Captain:
0
0
Times Placed High
4 (Eps. 4, 7, 8, 9)
0
Main Challenges Won:
2 (Eps. 6, 10)
3 (Eps. 2, 6, 7)
Times Placed Low
0
0
Times in Bottom:
2 (Eps. 2, 11)
2 (Eps. 3, 4)
Episode Eliminated:
Episode 11
Episode 8
Season 7
In Episode 1, "Born Naked", already on her entrance, Katya caused a great impact amongst fellow Season 7 contestants, and the fans due to her non-sense comic personality mixed with a Russian accent that, at 1st, made it seem she was actually from Russia. The main challenge was to create a nude illusion look with a resort-style tearaway for the runway. Katya wore a "Russian red, hippie realness" tearaway and infamously bent over on the runway and showed the judges her asshole. She was declared safe from elimination.
In Episode 2, "Glamazonian Airways", after winning the mini-challenge, Trixie Mattel chose Katya to join her team. For the main challenge, they had to perform and lip sync a mash-up of spoken word and song for a pre-flight safety video. After forgetting her words in the opening monologue of the routine, Katya fell into the Bottom 2, despite a commended runway look. She lip synced against Frisbee Jerkins (known as Sasha Belle at that time) and subsequently sent her home.
In Episode 6, "Ru Hollywood Stories", for the main challenge the contestants had to act out RuPaul's, Michelle Visage's, and Merle Ginsberg's, version of events in "Whatever Happened to Merle Ginsberg?". Katya played Merle in Merle's recollection, which was universally praised by the judges and, after a few weeks placing safe/high, she finally won a main challenge. After her 1st winning, she placed once again high in the next 3 consecutive weeks.
In Episode 10, "Prancing Queens", the contestants had to pair-up and perform in a "Dancing with Stars" style live drag spectacular. Katya's dancing partner was Violet Chachki, and together they danced a mash-up of Tango and Vogue. Their performance was praised for being in sync, stylish, and glamorous. For the runway, the queens had to give a dance half and half look based on their dance types, one side male and the other female. Katya and Violet both won this week's challenge, giving Katya her 2nd win in the competition.
In Episode 11, "Hello, Kitty Girls!", for the main challenge, the contestants had to create a Hello Kitty inspired runway look, and create a new character to be Hello Kitty's new BFF. Katya was overcome with anxiety and stress and struggled to make an outfit. Both of Katya's runway looks garnered a lukewarm response from the judges, and she found herself in the Bottom 2 against Kennedy Davenport. After a memorable lip sync, RuPaul decided that Kennedy should be saved, and Katya was sent home. The decision was criticized by many fans.
During her run until reach Top 5, Katya opened about her mental and sobriety issues. In the end, despite not ending as the Season 7 winner, she won the title of "Miss Congeniality".
All-Stars 2
In Episode 1, "All-Star Talent Show Extravaganza", Katya was the 1st contestant to enter the workroom. The mini-challenge of the season was the iconic "Reading is Fundamental" challenge where she lost the mini-challenge to Alaska. For the all-stars talent show, Katya decided to do a gymnastics number. It was also during this episode where Tatianna performed "The Same Parts", a number that Katya references many times after the competition. After the show, RuPaul announced that it was true that she wasn't going to eliminate a contestant. But that the contestants would have to eliminate each other. She was deemed safe from critiques along with Detox, and Alyssa Edwards.
In Episode 2, "All-Stars Snatch Game", the main challenge was "Snatch Game". As the contestants were preparing their characters, Adore Delano decided to leave the competition voluntarily and all the remaining contestants gave Adore a hug while trying not to smudge their makeup. Katya portrayed [Björk] in "Snatch Game" and was deemed Top 2 along with Alaska because of their funny impersonations. Katya lost the lip sync for her legacy to Alaska and was safe from elimination. and joined the rest of the girls at the back of the stage. In the 2 following episodes, Katya placed in the Bottom 3 but was safe by fellow contestants Alyssa Edwards (Episode 3), and Alaska (Episode 4).
In Episode 6, "Drag Fish Tank", the contestants were challenged to create a product and a commercial that represents their brand. In the workroom, the guest judge told her to change her product but in the end, she did not. Despite the risks, Katya strived in the challenge with her commercial that truly represented her absurd humor and her outfit in the pants runway became one of Katya's iconic looks. She and Alaska won in the episode and they lip-synced for their respective legacies. Those in the Bottom were Roxxxy Andrews, and Tatianna. Katya lost again and Alaska chose to eliminate Tatianna.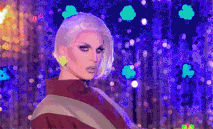 In Episode 7, "Family That Drags Together", it was revealed that Katya had chosen to eliminate Roxxxy. In this episode, one of the contestants' relatives is brought into the workroom. They had to makeover their family members and perform a vogue routine with them. Katya and her mother Pat or otherwise named "Svetlana Borisnova" delivered phenomenally and they win the challenge along with Detox and her sister. The contestants who did not win were automatically placed in the Bottom. Katya, and Detox lip sync for their legacy, with Detox winning and eliminating Alyssa.
In Episode 8, "All-Stars Supergroup", contestants were tasked to write original rap lyrics and perform RuPaul's song "Read U Wrote U" as the ultimate girl group. Afterward, each queen gave a speech on why they should be inducted into the Hall of Fame. Katya delivered a heartfelt and tear-jerking speech thanking RuPaul for giving her the chance to show others she was good enough and for allowing her to believe in herself. Roxxxy was eliminated by RuPaul. Alaska, Detox, and Katya had to do a final lip sync. Alaska was crowned winner while Detox and Katya ended as runners-up.
Memorable Quotes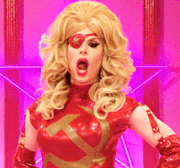 "Давай cезон семь!" (Russian for "C'mon Season 7!") (Season 7 entrance quote)
(in Russian accent) "Is this the Schulman bar mitzvah?"
"девочки!" (Russian for "Girls!")
"I'm just your average run-of-the-mill Russian bisexual transvestite hooker."
"Katya is at the intersection of glamour and comedy. You can find her right on the corner, selling her ass."
"When do I get to blow them?... I can't say that?" (referring to the Pit Crew)
"I don't know what Ms. Crab Lady is doing in that lip-sync but the bearded hoe is turning it out!" (referring to Tempest DuJour and Kandy Ho, respectively)
"I am sweating like a hooker in church."
"I definitely needed to make a statement, so I try to pound my vagina into that stage so hard the building shakes."
"Ginger's transformation is pretty remarkable. She goes from Kathy Bates to Bob Hoskins."
"When in doubt, show them your asshole."
"I'm not a dancer, per se, but I can move my body in a compelling way... it usually compels people to leave the room."
"I'm not actually that young, I'm just ignorant."
"I believe it was the great American painter Bob Ross who said: 'The key to a swollen vagina is... courage'."
"I feel confident, I feel sexy, I feel stupid."
"I'm feeling the Shark Week fantasy."
"'Snatch Game' is when we all dress up in latex frog costumes and go through a fiery obstacle course..."
"Honey, that wig was a bad investment." (as Suze Orman, to Miss Fame as Donatella Versace on "Snatch Game")
"I'm trying to just serve sexy and confident, whore. Slutty cougar on the prowl. 3rd rate Faith Hill impersonator. 80% sexy, 20% disgusting."
"In Russia, death and sex are the same. Cold, wet, dark and painful."
"Kennedy's RuPaul was the weirdest fucking thing ever."
"You know you want this crocheted pussy."
"Счастливые голодные игры! Суки!" (Russian for "Happy Hunger Games, bitches!") (All-Stars 2 entrance quote)
"I'm here to show America that I've become a total fucking monster."
"Roxxxy Andrews, I think about you all the time, especially in the morning... at the bus stop." (said during All Stars 2's "Reading is Fundamental" challenge)
"You're telling me that in addition to the $100,000 prize, we get $10,000 for each lip sync we win? That means I could walk out of here with at least $300,000... What, I didn't go to fucking school for math."
"It's a new day in the werkroom, um, I hate those new day in the werkroom confessions." *laughs*
"(...) I am bombarded with a cacophony of demonic voices in my head telling me: *does a devilish deep voice* 'YOU'RE NOT GOOD ENOUGH!'." (said during All Stars 2's "Drag Fish Tank" challenge)
"My mother? I hate that fucking cunt!... Just kidding!"
"Party." (to Alaska)
"H-E-A-R bitch, I am HERE!"
♪ "Yekaterina Petrovna Zamolodchikova, but your dad just calls me Katya. I'm the bright red scare with the long blonde hair, always keep 'em coming back for more. You're a basic ass hoe and it's your time to go, so, bitch, let me show you the door! 'Cause it's me who's getting laid, and I'm always getting paid. The only high-class Russian whore! I'm a scorching hot mess in a skin-tight dress, that's a rash, not a herpes sore! Lenin in the streets, Dostoievski in the sheets, baby, are you ready for this Cold War? Katya Zamolodchikova" ♪ (Katya's verse in, "Read U Wrote U")
"Charisma, Uniqueness, Nerve, Talent. What do these qualities have in common? I don't know, I'm not a scientist. I stand here, a charismatic woman, of grace and dignity, with a unique sense of humor and point of view. In season 7, you let me show the world that I'm good enough and here, you let me believe it myself, and I can't thank you enough for that. As they say in Russia: я звезда - навсегда. спасибо большое." (last part meaning "I'm a star, forever. Thank you so much.")
"I have a carburetor outside that I just have to do some work on." (to RuPaul, answering what "я звезда - навсегда. спасибо большое" means)
"In Russia, money, power, and wealth are the keys to experiencing the full depth and breadth of lesbianism."
"In America, talk is cheap... in Colombia talk is... Spanish."
"I'm the visual depiction of untreated mental illness."
"Without dirty thoughts, there are only dirty dishes."
"My pussy is trending on Craigslist."
"I don't know anything about science other than that it's really good for you."
"I am my own worst enemy."
"Why try new things when you can try nothing?"
"I don't take anything personally, except most things."
"I do not jump for joy, I frolic in doubt."
"I touch myself so you don't have to."
"I would trample my dying grandmother to win this fucker."
"Woo! I'm a mountain biking vampire witch from the future!"
"Fuck my pussy with a rake, mom!"
"I used to pray to God to take away my ass hair." (said during UNHhhh, episode 77)
"I don't like eating a butt that's dirty." (said during UNHhhh, episode 81)
turns around* "Care for a fucking?"
"I have to say that there's a part of me that's feeling very intrigued, and aroused, and seduced by this new power. (laughs)" (said during All Stars 2 confessionals)
"It's a new day in the werkroom, and I'm feeling very good and sexy, and really grateful to be here"
Farewell Message
Season 7
" Девочки! Я вас люблю! (Girls! I love you!) If you need me, you know where to find me. (The dumpster out back) XOXO Katya AKA The Brooke Hogan of Drag AKA Diarrhea Perlman ♡♡♡"
Trivia
Katya Zamolodchikova graduated from Marlborough High School in 2000, and after attending Boston University for a year, decided to transfer to Massachusetts College of Art and Design, there discovering the art of doing drag[5].
Zamolodchikova is almost a polyglot (speaks English, Russian, French, and a little bit of a few other ones. like Japanese and Portuguese)[6].
As a drag persona, she's characterized as bisexual but, out of drag, identifies as a gay man.
Even though her drag persona is Russian, she's mostly characterized with USSR elements.
Her favorite TV series is Game of Thrones[8].
She turned Tatianna's spoken word talent show performance, "The Same Parts", into a running gag on UNHhhh[9].
She used to host a monthly drag show called "Perestroika" at the Jacques Cabaret[10].
In January 2018, she announced a short break from drag to take care of her mental health and addiction.
Following her hiatus, she started doing a podcast called Whimsically Volatile, where she discusses different topics each episode.
Along with Trixie Mattel, Jinkx Monsoon, RuPaul, and Alaska, she was made into Funko Pop! figurine[11].
She's one of the few RuPaul's Drag Race alumni to reach 1 Million followers on Instagram.
She's the most followed alumni on Twitter, surpassing 645 thousand followers.
She originally auditioned for Season 3.
During Season 7, she revealed that she had a previous history of alcohol and drug addiction.
After her entrance in Season 7, some of the other contestants thought she was Russian. She has mentioned that her audience occasionally mistakes her for being Russian as well.
She was the only All-Stars 2 contestant in the Top 5 to not be originally from Season 5.
She and Alaska are one of the few pairs of contestants to lip-sync against each other twice (on All Stars 2), the other pairs being BenDeLaCreme against Darienne Lake, and Shangela.
Both of her entrance quotes were taken from entrance quotes said by contestants on previous seasons, except translated into Russian. Her Season 7 entrance was a reference to Laganja Estranja's entrance quote. Her All-Stars 2 entrance was originally said by Chad Michaels during her All Stars 1 entrance.
She stated that All Stars 2's "Read U Wrote U" performance was difficult. She had to do her look (for the performance) in her hotel room, and during a take, she even dropped her fan.
She's the 3rd ever contestant to place for 2 consecutive weeks on Bottom, and later win a challenge, in the same season, the first two being Raven in Season 2 and Adore Delano on Season 6.
She's, so far, the contestant with the most "Lip Sync for Your Legacy" losses with 3.

She also is the only queen with multiple wins on an All Stars season, but not a single Lip Sync for Your Legacy win.

She was the highest placing Miss Congeniality competing for the 2nd time until Monét X Change won All Stars 4.
On June 15, 2020, Katya hit 2 million followers on Instagram, making her the fourth queen to hit this feat, after Bianca Del Rio, Trixie Mattel, and Adore Delano, as well as the first Miss Congeniality to hit this feat.
If Katya was a soup, she would be butternut squash. She answered this question at the UNHhhh Panel in DragCon LA 2019.[12]
Trixie and Katya co-hosted the YouTube Streamy Awards in 2020, and the two of them won the Streamy for Best Unscripted Series with their YouTube show title UNHhhh, which they were previously nominated for in the Show of the Year category but did not win.
Gallery
Season 7 Looks
All Stars 2 Looks
Videos
Discography
Appearances
"Drag U" (2015) by RuPaul ft. Katya
"12 Days of Christmas" (2015) from Christmas Queens
"Read U Wrote U" (2016) by RuPaul ft. RuPaul's Drag Race: All Stars 2 Cast (Alaska, Detox, Katya, Roxxxy Andrews)
"Thigh High" (2016) by Electric Street Queens ft. Katya
"Bossa Nova Christmas in Outer Space" (2016) by Jackie Beat, Katya from Christmas Queens 2
"The Night Before Contact" (2017) by Trixie Mattel ft. Katya
Filmography
TV
(2016) Gay for Play Game Show Starring RuPaul
(2016) RuPaul's Drag Race: All Stars 2
(2017) Playing House
(2017-2018) The Trixie & Katya Show
(2018) America's Next Top Model, on Cycle 24
(2018) Room 104
(2019) Tales of the City
(2019) Help Me, I'm Dying
(2019) RuPaul's Drag Race UK, on Season 1
ㅤ
Movies
(2016) Redmond Hand, Private Dick
(2017) Sebastian
(2018) Hurricane Bianca 2: From Russia with Hate
(2018) The Quiet Room
ㅤ
Web Series
(2015) Untucked, on Season 7
(2015) Transformations
(2015-2016) Katya's YouTube channel series RuFLECTIONS, RuGRETS, Irregardlessly Trish, I'm Not a Doctor with Dr. Katya, Drag 101, Total RuCall
(2015-2018) Fashion Photo RuView
(2016-Present) UNHhhh
(2017) Painted by Fame
(2017-2018) Pit Stop
(2019) Runway Rewind
(2019) The Queens
ㅤ
Music Videos
"Drag U" (2015) by RuPaul ft. Katya
"Thigh High" (2016) by Eletric Street Queens ft. Katya
Music
Tours
Headlining
(2018-Present) Help Me, I'm Dying
(2020) The UNHhhh Tour
ㅤ
Supporting
References
Community content is available under
CC-BY-SA
unless otherwise noted.