Who is Kennedy Davenport?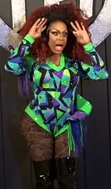 Kennedy Davenport is the stage name of Reuben Asberry Jr, a drag performer who competed in Season 7 of RuPaul's Drag Race and Season 3 of RuPaul's Drag Race All Stars.
Entrance
Season 7
"Well, hello!"
All Stars 3
"Round two, bitches! Haha!"
RuPaul's Drag Race
Kennedy Davenport
Season Competed:
Season 7
All Stars 3
Ranking:
4th
2nd
(Runner-Up)
Mini-Challenges Won:
2 (Eps. 3, 8)
0
Times as Team Captain:
1 (Ep. 3)
0
Main Challenges Won:
2 (Eps. 4, 7)
1 (Ep. 3)
Times in Bottom Two:
2 (Eps. 3, 11)
4 (Eps. 2, 4, 6, 7)
Episode Eliminated:
Episode 12
Episode 8
About Kennedy Davenport
Kennedy Davenport was Sahara Davenport's drag sister. She is in the drag family of Davenports. She is from Dallas, Texas and attended the BFA Dance program at University of North Carolina School of the Arts.
Kennedy has won several pageant crowns and is known for being a polished, professional queen, who is well-renowned for her incredible dance numbers and lip-syncing skills.
Drag Name Origin & Name Yodel
Her name was given by her drag mother, Kelexis Davenport, who said that Kennedy was a unisex name and appealed to different audiences. Davenport came from Divine's role as Dawn Davenport in Female Trouble.
On the mainstage Kennedy would often be introduced by RuPaul as "Newark, Laguardia, Kennedy Davenport", referring to John F. Kennedy Airport in New York City with the other two being names of airports in New Jersey and Queens respectively.
Memorable Quotes
"She's just a BITCH." (referring to Violet Chachki.)
"Opinions are like buttholes... everybody got one"
"IJS: I'm just sayin"
"Love is understanding, unconditional. Love is accepting, and never fails."
"Girl, please! Nope. Sorry. Next"
"I am team Jaidynn Diore Fierce!"
"Bitch, don't fuck it up!"
"Girl, no comment!"
"WOOOOOOO! Shut up!" (during Season 7 Snatch Game as Little Richard.)
"Wrong note, sugar." (to Ginger Minj as Adele in Snatch Game.)
"It is figured out."
"The struggle is real."
"I'm old school... With a touch of new school"
"After a long night of hooking, trade didn't like the session so he had gutted me..and set me on fire..but I didn't die..bitch, I crystalized…and now I'm a Glamazon bitch, ready for the runway" (Kennedy's description of her Death Becomes Her runway in Season 7, Episode 6 "Ru Hollywood Stories.)

"Oh, oh, oh, oh okay."
"Milk." - Kennedy while eliminating Milk
"I'm a man."
"Fuck my drag, right?" (after Milk stated that she wanted Thorgy Thor to stay instead of Kennedy in All Stars 3, Episode 2 "Divas Lip Sync Live.)
"They're gonna me-me your ass to death, bitch."
"But she's, Beautiful!"
Trivia
Kennedy is the second queen to win the Snatch Game of her season and be up for elimination for her performance in the Snatch Game in All Stars, the first contestant being Tatianna.
Kennedy is the third queen to be in the bottom at least four times in a single series. Coco Montrese was in the bottom four times in Season 5, Roxxxy Andrews was in the bottom five times in All Stars 2, and Ra'Jah O'Hara was in the bottom four times in Season 11.
Kennedy is the first queen to be in the bottom 4 times and be named the first runner up.
Kennedy is the only queen to have 1 win and make it to the Top 2/3 on an All Stars season. Although Roxxxy Andrews, Kennedy Davenport, and Naomi Smalls all made it to the Top 4 with only 1 win on an All Stars season.
Kennedy competed on America's Got Talent 2013. She was eliminated in the Vegas round.
Kennedy is the drag aunt of Season 11 queens A'keria Chanel Davenport and Honey Davenport, and the drag sister of Season 2 queen Sahara Davenport.
Kennedy won several prestigious pageants including Miss Gay USofA in 2019 (also won by Alyssa Edwards in 2006 and Asia O'Hara in 2007).
She competed on the 8th season of America's Got Talent and made it to the Vegas Round.
Alexis Mateo, Latrice Royale, Manila Luzon (All Stars 1), Roxxxy Andrews, Phi Phi O'Hara, Kennedy Davenport, and Latrice Royale are the only queens to received more wins on their original season than on an All Stars season. Queens who overall won more challenges on their original season than on their All Stars season is: Raven, Alexis Mateo, Latrice Royale, Manila Luzon (All Stars 1), Nina Flowers, Roxxxy Andrews, Phi Phi O'Hara, Ginger Minj, Adore Delano, Coco Montrese, Kennedy Davenport, Morgan McMichaels, and Chi Chi Devayne.
Follow Kennedy
Community content is available under
CC-BY-SA
unless otherwise noted.