'RuPaul's Drag Race' Profiel: Kenya Michaels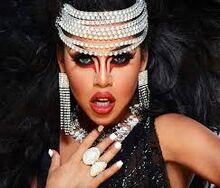 Kenya Michaels is the stage name of Kenya Olivera, a former drag performer, originally from Puerto Rico. She competed in Season 4 of RuPaul's Drag Race.
RuPaul's Drag Race
Kenya Michaels

| Season Competed | Season 4 |
| --- | --- |
| Ranking: | 5th Place |
| Mini-Challenges Won: | 2 (Eps. 3, 10) |
| Times as Team Captain: | 1 (Ep. 3) |
| Times Placed High | 2 (Eps. 2, 3) |
| Main Challenges Won: | 0 |
| Times Placed Low | 2 (Eps. 1, 4) |
| Times in Bottom: | 2 (Eps. 5, 10) |
| Episode Eliminated | Episodes 5 & 10 |
Kenya was first eliminated in Episode 5, Snatch Game, after doing a bad Beyoncé impression and landing in the bottom two alongside Milan.
She was eliminated again in Episode 10, DILFs: Dads I'd Like to Frock, after coming back (in the same episode), losing to Latrice Royale.
Name Origin
Kenya is from the African country, and Michaels is in honor of the choreographer Mia Michaels, a dance teacher in Puerto Rico whom Kenya loves.
Memorable Quotes
"Hi, Girls-ah!" *mug* *mug* - Entrance Quote
"I'm a little person, but I'm FIERCE... BITCH!"
"I like to MOVE my body!"
"Work! Work! Work!"
"Hola!"
"Mira mi Cabello! Perra!"
"I'm going to teach you Spanish right now!"
"I feel amazing!"
"RUN! GIMME! AH!"
"I say get your rebel on, and fight!"
"Mama, It is not what you say, it's what you do!"
"I'm gonna take a sweet dream right now!"
"I'm a survivor! I'm a survivor!" - While "imitating" Beyoncé on the Snatch Game.
"Reminds me of high school gym class..."
*clap*
"Jesus is a biscuit!" - speaking in accent after Phi Phi O'Hara's and Sharon Needles' fight.
Trivia
Kenya is a transgender woman. She is the third trans queen to compete on the show, after Sonique and Carmen Carrera.
At 5'0", she is the shortest queen to compete on RuPaul's Drag Race.
Her drag daughter is Amy Michaels.
She is the first queen born in the 90's to compete on the show.
She shares a birthday with Yara Sofia, India Ferrah and Soju (May 8).
Kenya performed in the "Pulse" night club during the June 12th terror attack. She posted an update on her Facebook page saying she is safe shortly after the attack. [1]
Kenya is planning on releasing her swimsuit line, "Flamingoes Swimwear".
Whenever Kenya lip-synced for her life, she was eliminated.
According to Kenya, it was the production staff's idea for her read everyone to filth in that infamous letter from episode 6 of Untucked ("Float Your Boat").
Kenya was performing her last show at Pulse gay nightclub based on Orlando, Florida the night of the terrorist attack that took the lives of 49 people but she survived the mass shooting.
Gallery
Season 4 Looks
Follow Kenya
Community content is available under
CC-BY-SA
unless otherwise noted.