'RuPaul's Drag Race' Profile: Kim Chi
Kim Chi is the stage name of Sang-Young Shin (신상영), a drag performer from Chicago, Illinois. She is one of 12 contestants to compete on the eighth season of RuPaul's Drag Race and finished the season as a runner-up alongside Naomi Smalls.
RuPaul's Drag Race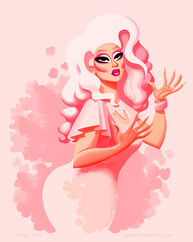 In Episode 1: "Keeping It 100", Kim Chi did well in the photoshoot mini-challenge, where the queens had to pose with previous winners. For the main challenge, she was assigned the "RuPaul's Hair Extravaganza" design challenge from Season 3. She won the challenge due to her photo and acclaimed Givenchy-inspired outfit, despite being critiqued on her runway walk by Michelle Visage.
In Episode 2: "Bitch Perfect", Kim Chi was chosen last and was placed on the team "Lady Bitches". On the main stage, she was in the bottom 3, due to her lack of dance ability (Bob The Drag Queen commented and said that she "was possibly the worst dancer in RuPaul's Drag Race herstory") and was critiqued again on her runway walk, but was saved from lip syncing by her outfit and personality.
In Episode 4: "New Wave Queens", Kim Chi formed a team with Naomi Smalls and Robbie Turner, who she labels as "Team Best Friend Race". She names the team containing Naysha Lopez, Derrick Barry and Chi Chi DeVayne "Team Leftovers", as they are the remaining members who weren't instantly made a team. Kim Chi, Robbie Turner and Naomi Smalls were Team Punk and were the winning team, with Robbie being the winner of the New Wave Queens Challenge.
Kim Chi

| | |
| --- | --- |
| Season Competed: | Season 8 |
| Ranking: | 2nd/3rd |
| Mini-Challenges Won: | 0 |
| Times as Team Captain: | 0 |
| Main Challenges Won: | 2 (Ep. 1, 8) |
| Times in Bottom Two: | 0 |
| Episode Eliminated: | N/A |
Entrance
Season 8
"I came to chop suey the competition!"
Holi-Slay Spectacular
"I'm all about the second coming."
Trivia
Kim Chi helped Trixie Mattel get her first gig as a drag queen in Chicago, Illinois.
She was the first queen to win a main challenge in season 8.
She is the first queen to win the first main challenge and be in the bottom of the second challenge (excluding All-Stars).
Kim Chi first started doing drag with Pearl on Halloween.
Kim Chi was the only queen on season 8 to not lipsync before the music video challenge.
Kim Chi is also one of seven queens (excluding All Stars seasons) to place in the bottom three on a challenge, but not have to lipsync. The other six are Nina Flowers, Tyra Sanchez, Alaska, Courtney Act, Violet Chachki and Sasha Velour.
She is also one of the only queens to win the first and the last challenge in their season, along with Violet Chachki and Sharon Needles.

Unlike Sharon and Violet, Kim Chi did not win her season.
She is also the only one to not win a challenge in between the first and last challenges.

Her mother does not know she does drag.
Kim Chi has a show with Naomi Smalls on World Of Wonder called 'M.U.G.'.

Kim Chi was the first queen to use the Shade Tree on Season 8.
Kim Chi is Alaska's drag mother as of May 11th 2017.
Kim Chi is sometimes nicknamed "Shade Chi" by fans on Reddit due to her tendency to post shady comments on Twitter.
Kim Chi is the third runner-up who never placed in the bottom two while the winner of her season did, the others are Nina Flowers and Alaska.
Kim Chi is 7 feet tall in heels.
Kim was born in the United States, but lived in South Korea as a child.
Before Kim Chi and Trixie Mattel were on Drag Race, they once had to share enough change to buy a foundation shade that would work best for both of them.
According to Trixie Mattel, Kim's original drag name was 'Jizzney Princess'.

Kim Chi's favorite video game franchise is Danganronpa.
Kim is the second queen to win on a Hair Ball challenge, after Yara Sofia.
Kim Chi's favorite music group is "LOOПΔ"
It is rumored that Kim Chi was asked to be on All Stars 3, but declined.
According to Trixie Mattel she and Kim Chi used to share a bed and even make out with each other
Season 11 queen Soju was confused for Kim Chi, who later helped the new queen get some outfits.
Memorable Quotes
"I came to DESTROY EVERYONE, with my make-up."
"Naysha is dancing like a soccer mom. You can get the ball in the goal, kids!"

"I'm not going to be ashamed of being hungry, I am hungry!"
"I think you're kind of hot for a black guy, Naomi."
"Naomi Smalls, your wardrobe reminds me of a legendary Drag Race queen (pauses) Nicole Paige Brooks." (from the Reading is Fundamental challenge, Season 8).
"My name is Kim Chi, and say hello to yellow!"
"This ad was paid out of my own pocket because no one cares. Do you?"
Gallery
Season 8
Holi-Slay Spectacular
Follow Kim