Lady Bunny (born Jon Ingle, August 14, 1962)[1] is an American drag queen, nightclub DJ, promoter, and founder of the annual Wigstock event. She is a longtime friend of RuPaul. She has also released disco singles such as "Shame, Shame, Shame!" and "The Pussycat Song". She has appeared in films such as Party Girl, Wigstock: The Movie, Peoria Babylon, Starrbooty and To Wong Foo, and currently hosts the podcast Ebony and Irony with Monét X Change.
Biography
Lady Bunny has been a staple in New York nightlife since the 1980s, alongside other drag queens such as RuPaul and Linda Simpson, who had both started to gain popularity at the same time. She is known for her often irreverent and politically incorrect style of comedy combined with her Southern gregariousness, as well as her iconic large hair.
Lady Bunny began her career alongside Larry Tee and RuPaul as a fixture on the Atlanta gay scene[2] and appeared in a variety of low-budget films with them, including the Starrbooty series. Moving to New York City in 1984, Lady Bunny and RuPaul found support from the Club Kids, a group of young nightclub personalities known for their vivacious attitudes and eccentric fashion. Notable Club Kids include founder and convicted criminal Michael Alig, James St. James, Amanda Lepore and Richie Rich. Alig kept both her and RuPaul busy with gigs throughout the 80s and early 90s. Bunny is quoted as saying "Michael paid my rent for 10 years."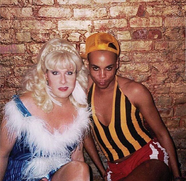 In 1985, Lady Bunny organized Wigstock[3], an annual outdoor drag festival. The festival was an impromptu creation of drunken drag queens, which included drag icon Lypsinka, who performed for an audience of homeless people in East Village. Wigstock would continue to grow in success, as would Lady Bunny, until it was discontinued in 2005. However, in September 2018, Wigstock was revived by her and Neil Patrick Harris. The idea to resurrect the festival came from Harris' husband, David Burtka.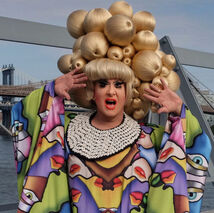 Bunny was featured in the web series Queens of Drag: NYC by gay.com in 2010. The series featured fellow New York drag queens Bianca Del Rio, Dallas DuBois, Hedda Lettuce, Mimi Imfurst, Peppermint, and Sherry Vine.
Bunny frequently performs at XL Nightclub with Bianca Del Rio, and continues to perform her comedy routines that come with a forewarning: "This show is raunchy and offensive by nature, so if that's not your cup of tea then skip it." Despite her offensive humor and rejection of political correctness within the LGBT+ community, she is often unsure of her gender identity and considers herself to be far-left in regards to politics.
Career
Music
Her style of drag performance usually involves lip-syncing to a compilation of karaoke versions of popular songs over which she has recorded her vocals singing parodies of the original lyrics. The new lyrics are usually sexually explicit, revolve around food, or both. For instance, her parody of the Gwen Stefani song Holdback Girl has the lyric "I shit a banana/a banana in my ass!"
Lady Bunny has released video parodies of "Santa Claus is coming to town" and California Gurls titled West Virginia Girls. Her January 2011, parody of "Harper Valley PTA", entitled "The Ballad of Sarah Palin", lampooned the American politician as portrayed by Palin imitator Dorothy Bishop. On July 1, 2013, Lybra Records released remixes of Lady Bunny's collaboration with Wayne Numan,[4] "Take Me Up High"[5] which became her first Billboard Club/Dance hit peaking at #17 in September 2013. In October 2014 she released "Lately" (Remixes) her collaboration with New York City Producers and club DJ's Sean Grasty and DJ Rikky Rivera better known as Groove Addix. Lady Bunny's vocal of "Lately" is already creating a buzz globally in the underground club scene (pre-release) with explicit lyrics "Pussy this good/Don't wait around for no man-Pussy this good/Don't wait for no nobody." "Lately" is being released on the UK House label Enriched Records which is owned by Rich B a well known Dj/Artist on London's gay club scene.
RuPaul and Lady Bunny have collaborated on music several times over the years, including "Throw Ya Hands Up", which was included on RuPaul's 2009 album Champion while a 2015 Ellis Miah remix was featured on Realness, and the 2013 single "Lick It Lollipop". She was also featured on a track from Ginger Minj's 2021 album Gummy Bear.
Television
In 2005, she was a roaster on the Comedy Central roast of Pamela Anderson and released her first DVD, Rated X for X-tra Retarded. Bunny disclosed that she "bombed" the Pam Anderson roast due to production wanting her to roast the other comedians more than Pamela Anderson.[6]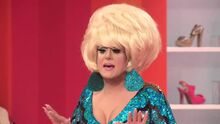 RuPaul asked Lady Bunny to be a judge on RuPaul's Drag Race. Bunny declined, but took interest in the spin-off series, RuPaul's Drag U. Bunny served on the judges' panel of RuPaul's Drag U, which aired on the Logo TV network from 2010 to 2012. Lady Bunny was Dean of Drag and had the role of a judge in the first season. In Season 2 of RuPaul's Drag U, the Dean of Drag role was expanded into a segment called Lady Lessons. As Dean of Drag, she was offering the contestants advice on beauty, fashion and social skills. Bunny's advice is always peppered with semi-clever double entendres and a segment will often end with an insinuation that she will be having her way with one of the experts that was part of the lesson.
Alaska impersonated Lady Bunny during Season 5's Snatch Game, winning praise from Ru and the other judges, and a place in that week's top three.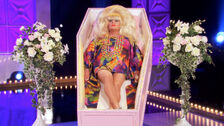 In 2003, Lady Bunny made a guest appearance in the Sex and the City episode "Boy, Interrupted", as the emcee at the LGBT prom.
In 2019, Lady Bunny made her first appearance on RuPaul's Drag Race, in All Stars 4. In the episode, the queens read her in a funeral-style roast.
Touring
In September 2017, Lady Bunny toured across the UK and The Netherlands on the Queens of Comedy Tour alongside host Bianca Del Rio, Alyssa Edwards, BenDeLaCreme, Charlie Hides, and Katya. She has also performed for the Werq The World Tour in 2017 and 2018.
Podcasting
Lady Bunny has guested on many drag-related podcasts including RuPaul: What's the Tee?, Hi Jinkx!, Sloppy Seconds, Race Chaser and The Bianca Del Rio Podcast. Although reportedly originally hesitant to start a podcast of her own, in January 2021 she began co-hosting the news-focused podcast Ebony and Irony with Monét X Change, produced by Starburns Audio. Episodes of the podcast have included guests such as Peppermint, Tammie Brown, Katya, Kelly Mantle and Latrice Royale.
Awards and nominations
Trivia
There was a story about RuPaul stealing Bunny's air conditioning window unit when RuPaul decided to move out of their apartment (refer to the Sibling Rivalry: The One With Bianca Del Rio)
She also was a phone sex operator as a woman under the alias, Pepper.
Her name has been through many iterations such as Lady Bunny Hickory Dickory Dock Cougar-Mellencamp[7], Bunny Hickory Dickory Dock, The Lady Bunny, and such.
Bunny has a knack of calling queens either to discuss politics or troll them (mentioned in various podcasts, case and point:

Ebony and Irony
Hi Jinkx - Ep. Lady Bunny
THe Bald and the Beautiful

Hard Turd Only with Monet X Change
If I'm Not Laughing, I'm Having Fun
References
External links