Laila McQueen is the stage name of Tyler Devlin, a drag performer from Gloucester, Massachusetts. She is one of 12 contestants to compete on the eighth season of RuPaul's Drag Race. She tied for 12th/11th place with Dax ExclamationPoint.
Rupaul's Drag Race
In Episode 1: "Keeping it 100", Laila did poorly in the photoshoot mini challenge with the past winners and her photo was deemed the worst of the group. She was described as looking like the "Hamburglar" for her walk and awkwardness in the photoshoot. For her throw-back runway she was assigned the "Rupocalypse Now!" design challenge from Season 4. Michelle Visage critiqued her bottom half of the look to be "basic" (however her look was well received by fans) and her photo secured her a spot in the bottom 2. She lip-synced against Naysha Lopez to "Applause" by Lady Gaga and her sexual and fiery performance earned her a second chance in the competition. "At least I won something in the 100th episode."
In Episode 2: "Bitch Perfect", Laila was chosen for the team "Lady Bitches". She under performed in the main stage challenge and the judges again critiqued her for not standing out and being too shy. After an underwhelming performance to "I Will Survive" by Gloria Gaynor against Dax ExclamationPoint, she was sent home along with Dax in the second ever double elimination in drag race herstory. In the corresponding episode of Untucked she is shown making her mainstage exit with one last #deathsplat. "This isn't the last you'll see of Laila McQueen."
Her farewell message reads: You're all the biggest pack of freaks and i'm so "happy" to call you "family." But actually I love you all & can't wait for the future with you! PS. 1 less MADONNA xoxo Laila!
Drag Name Origin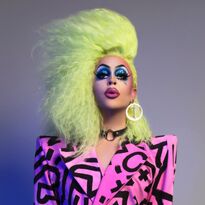 Her first name, Laila, came from her stripper friend who thought that it would be a pretty name for a stripper. It also means "night beauty" in Arabic. Her last name, McQueen, comes from Laila's admiration for designer Alexander McQueen. She got her name at the age of 17.
Laila McQueen
Season Competed:
Season 8
Ranking:
11th/12th place
(Double Elimination)
Mini-Challenges Won:
0
Times as Team Captain:
0
Main Challenges Won:
0
Times in Bottom Two:
2 (ep. 1 & 2)
Episode Eliminated:
Ep. 2
Entrance
Season 8
"Alright ladies, lets turn up the juice and see what shakes loose!"
Trivia
Laila's favorite songs to perform are "Tainted Love" by Marilyn Manson and "Bohemian Rhapsody" by Queen.
Laila did her first official gig the day after she turned 18.
She has the same birthday as her fellow Season 8 contestant and winner, Bob The Drag Queen.
Her favorite queens are Raja, Detox, Jackie Beat, Katya, Fena Barbitall, "basically the entire cast of season 8", Aquaria, Didi Maquiaveli, Rubber Child, and Divine.

Her biggest inspirations are Marilyn Manson, Freddie Mercury, Candy Darling, Divine, Keith Haring, Andy Warhol, and Beetlejuice.
Laila is an artist, she graduated from the New Hampshire Institute of Art in 2015. She does paintings (oil, watercolor), screen printing, digital art, print making, boot art, collages, and more. Her work can be found on her personal website: www.tylerdevlin.com
Before Drag Race, Laila used to hand-make all of her merchandise for her fans.
Laila has an anxiety disorder called misophonia, which means negative emotions, thoughts, and physical reactions can be triggered by specific sounds.
Laila is only 5'6.
Laila is one of only four queens who have been part of a double elimination, along with Dax ExclamationPoint, Vivienne Pinay, and Honey Mahogany.
Laila was eliminated 10th/11th but became 11th/12th due to Naysha Lopez returning.
Laila would have done either Betsy Johnson, Courtney Love, or Theresa Caputo for Snatch Game.
Follow Laila
Community content is available under
CC-BY-SA
unless otherwise noted.