Madison Basrey (shortened to just Madison on the show) is the stage name of José Ricardo Basrey Herrera, a Mexican drag queen and performer, best known for being a contestant on Season 3 of the YouTube show La Más Draga.
Drag Name Origin
"Basrey" comes from her real last name.
Track Record(s)
Madison
Seasons Competed:
LMD 3
Ranking:
2nd/3rd/4th
(Runner-Up)
Points Total / Average:
147
16.3
Maxi Challenges Won:
2 (Eps. 6, 8)
Mini Challenges Won:
1 (Ep. 3)
Times Placed High:
4 (Eps. 2, 3, 5, 7)
Times Placed Low:
0
Times in Bottom:
0
Episode Eliminated:
Episode 11
Memorable Quotes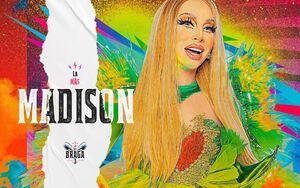 "Pues la verdad venimos a divertirnos, esto no es un catecismo." (to StupiDrag).
"¡Ea, ea, tiene gonorrea!" (singing).
"No puedes llegar así de, muy agvajardada." (refering to the bad attitude of Gvajardo).
"Cuando me transformo, todas quedan frías."
"Sacaste las cartas y qué dijiste, soy Mizada. ¡Jajaja!" (to Mista Boo and comparing her with Mizada Mohamed, a fortune teller).
"Y te mando un beso!" (impersonating María Félix)
Trivia
Madison is known for her impressive impersonation of Thalía.
Along with Raga Diamante, she's the first queen to never place "Low" or "Bottom" until the Finale.
She had one of the best Track Records ever on the show.
Madison interviewed the initials 31 contestants that were selected from the audition tapes before going on to the live audition in a special video called "Conoce a Las Feminosas" (lit. "Get to Know The Girls").
Gallery
La Más Draga 3 Looks
La Más Draga 4 Looks
Filmography
Web Series
Social Media
Community content is available under
CC-BY-SA
unless otherwise noted.