All Makeover Runways
Makeover Challenge Winners
Main Challenge Winners
Mini Challenge Winners
Makeover Challenge Eliminated
All Makeover Challenges
Episode 5: Drag School of Charm
The girls are brought professional female fighters to teach the secrets of drag. Rebecca Glasscock wins the mini-challenge and picks the "prettiest" girl (Tempele) for herself, and pairs up the other girls with their "drag professor."
BeBe emphasizes culture with Michelle, Rebecca makes over Tempele in her own image, Nina puts her own 'Nina' spin on Mia, Ongina plays the masculine role to Jarrett's feminine touch, and Shannel goes for high glam with Sweepee. The judges love Shannel and Rebecca's output and name Rebecca the winner.
Episode 8: Golden Gals
The main challenge consisted of the girls taking older gay men and transforming them into their drag mothers for the runway. The contestants were also expected to perform a lip sync with their mothers to RuPaul's song
"Main Event"
Tatianna, who won the mini-challenge, got to pick who each girl would be teamed up. Each girl had different problems they had to overcome while working with their drag mothers, from Raven's partner being overly hairy to Tatianna's partner having a bad leg. After their performances, the girls were judged based on their transformation of their partner into drag queens as well as their lip sync performance.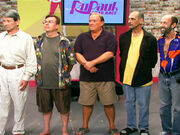 Episode 12: Jocks in Frocks
The queens must make over five masculine, heterosexual jocks as their drag sisters. Alexis Mateo gets to choose which queen gets which jock for winning the mini-challenge. As a twist, RuPaul reveals the queens must also dress their jocks as cheerleaders and perform cheers about safe sex. The jocks soon discover the challenges of drag as the queens teach them to walk, paint, and tuck their way to the top. Carmen decides to show off her jock's body as an expression of her own drag persona, Raja tries to bring out the fierceness in her quiet jock by using a classic movie look, Alexis is hit on by her jock as she transforms him in her own image, Yara works on getting her jock to match her spicy, sexy runway style and Manila is frustrated by her jock's antics but is helped by his eagerness to learn.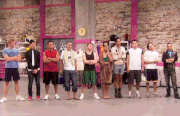 | Contestant | Looks | Placement |
| --- | --- | --- |
| Manila and Fuschia Luzon | | WINNER |
| Alexis and Avals Mateo | | HIGH |
| Yara and Drewlita Sofia | | HIGH |
| Raja and Enigma | | BTM2 |
| Carmen and Lolita Cruz Carrera | | ELIM |
Episode 10: DILFs: Dads I'd Like To Frock
The queens are paired up with dads for a maternity runway/makeover and striptease. It is revealed that Kenya has returned to the competition and wins the mini-challenge. Chad and Phi Phi fare well in the challenge, with Phi Phi being declared the overall winner.
Episode 10: Super Troopers
For the mini challenge, the remaining queens were exposed to drag boot camp by Storm (fitness trainer). Alaska won the challenge for outlasting the other queens, with her prize being to match the queens to a gay veteran for a drag makeover. Roxxxy was annoyed that Alaska picked Iszy, a short veteran for her, while Alaska gave Jinkx to the oldest veteran in order for her to perform badly due to her being Alaska's competition. On the main stage, the queens and veterans were challenged to perform a patriotic flag salute before walking the runway displaying their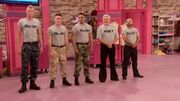 transformation
| Contestant | Looks | Placement |
| --- | --- | --- |
| Roxxxy and Isabella Andrews | | WINNER |
| Jinkx and Fortuna Monsoon | | HIGH |
| Alaska and Nebraska | | LOW |
| Detox and Beth Adome | | BTM2 |
| Coco and Horchata Montrese | | ELIM |
Episode 10: Drag My Wedding
For this week's mini-challenge, the queens were challenged to use their bodies to create abstract paintings representing marriage equality. Bianca wins and is given the task of assigning each queen a bride-to-be for this week's makeover challenge. However, in a twist, it is revealed that the queens will be making over the grooms into blushing brides, not the brides themselves.
Episode 8: Conjoined Queens
For the mini-challenge the queens had to create Orange Is the New Black-inspired look, using only prison uniforms and personal items the queens have, under the supervision of season four contestant Latrice Royale. The queens walk a make-shift runway in the workroom, and Kennedy Davenport is declared the winner. RuPaul gathers the queens to address his previous announcement of intending to bring one of the eliminated queens back into the competition. All the eliminated queens return. The main challenge for each queen still in the competition will be paired up with an eliminated queen, and create a conjoined twins-inspired drag look. The eliminated queen from the winning pair will then return to the competition, and once again be in the running for the title of America's next drag superstar. Because she won the mini-challenge, Kennedy gets to pair the queens up.
Episode 6: Wizards of Drag
The seven remaining queens must make over the stars of Little Women: LA in a Wizard of Oz themed makeover challenge.
Contestant
Wizard of Oz

Character

Queen's

Look

Makeover's

Look

Placement
Naomi Smalls and Jazzy Jems
Scarecrow

WINNER

Kim and Miso Chi
Wicked Witch

HIGH

Bob the Drag Queen and Rob the Faux Queen
Glinda
SAFE
Thorgy Thor and Thorgeous
Emerald Citizen
SAFE
Chi Chi and Ti Ti DeVayne
Dorothy

LOW

Derrick Barry and Terra Barr
Tin Man

BTM2

Robbie and Hedda Turner
Lion

ELIM
Episode 10: Makeovers: Crew Better Work
In episode 10, the six remaining drag queens were asked by RuPaul to give make-overs of themselves, and six crew members of RuPaul's Drag Race. During the judges' critiques, Trinity Taylor won the challenge alongside her partner, with Sasha Velour receiving high critiques. Peppermint was declared safe, while Alexis Michelle, Nina Bo'Nina Brown and Shea Couleé were criticized for their make-over looks. Alexis Michelle was declared safe from the bottom two, while Nina Bo'Nina Brown and Shea Couleé lip-synced against each other to Demi Lovato's "Cool for the Summer"; Shea Couleé won the lip-sync, and Nina Bo'Nina Brown was sashayed away by RuPaul.
Episode 10: Social Media Kings Into Queens
In episode 10, the final six remaining queens were challenged by RuPaul to change six social media kings into Drag Queens.
Episode 11: Bring Back My Queens!
On the eleventh episode of Season 11, the six remaining queens were tasked to make over queens that had previously been eliminated.
Episode 10: Superfan Makeover
On the tenth episode of Season 12, the six remaining queens were tasked to make over Drag Race super fans.
Episode 10: Freaky Friday Queens