Manila Luzon is a Filipino-American reality television personality and drag queen portrayed by Karl Westerberg. She rose to prominence after finishing as the runner-up of the third season of RuPaul's Drag Race.
During her debut season, Manila proved to be a force to be reckoned with. She showed a wide-set of different skills that solidified her status as a front-runner. Luzon took part in some of the show's most infamous moments; such as her well-known fashion statements, being apart of The Heathers clique and her lip-sync against Delta Work. These achievements proved her worthy of being a finalist for the crown, where she narrowly lost to good friend and Heather clique-mate Raja during the finale, where she came in second place.
Due to her talent, fashion and over-all charismatic presence, Manila was a solid lock for the series' first All Stars series. With little pre-established connections, Luzon was placed on team with season four's Latrice Royale. The two were seen as underdogs, as they were not as close to each other as other the other teams. Despite this, they won the first challenge. With a minor slip-up during the third week, Latrice and Manila were up for elimination against Raven and Jujubee. Luzon was soon defeated, eliminating both her and Royale. They finished in seventh/eight place.
Manila, along with her All Stars partner Latrice Royale, were invited back to RuPaul's Drag Race to compete on All Stars 4as individuals. Luzon solidified herself as a front-runner in the competition once again, winning three consecutive challenges. However, this winning streak came to an end after she struggled in the makeover challenge with her husband during the loved ones' visit. Being deemed a strong contender for the crown and a strategic threat in the eyes of the other remaining queens, Naomi Smalls, who won the challenge that week, pulled Luzon's lipstick and sent her home during her first time up for elimination; causing an uproar in the Drag Race fandom. She finished in sixth place.
RuPaul's Drag Race
Manila Luzon

| Seasons Competed: | Season 3 | All Stars 1 | All Stars 4 |
| --- | --- | --- | --- |
| Ranking: | 2nd Place | 7th/8th Place | 6th Place |
| Mini-Challenges Won: | 3 (Eps. 4, 9, 10) | 0 | 0 |
| Times as Team Captain: | 1 (Ep. 4) | 0 | 0 |
| Times Placed High | 4 (Eps. 2, 7, 10, 11) | 0 | 1 (Ep. 7) |
| Main Challenges Won: | 3 (Eps. 5, 12, 13) | 1 (Ep. 1) | 3 (Eps. 3, 4, 5) |
| Times Placed Low | 1 (Ep. 9) | 0 | 1 (Ep. 2) |
| Times in Bottom: | 1 (Ep. 8) | 2 (Ep. 2, 3) | 1 (Ep. 8) |
| Episode Eliminated | Episode 15 | Episode 3 | Episode 8 |
Season 3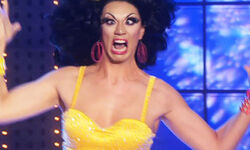 Manila did very well on the show, landing only in the bottom once, to the song "MacArthur Park". That very lip-sync is now considered legendary. It is considered by many to be 'the best lip-sync of all time" RuPaul stated, "That is what I call a lip-sync for your life!". Manila's hilariously dramatic interpretation of the song (about cake) ensured her stay in the competition.
Manila had a variety of memorable runway looks, most of which were made by Ivy Winters who eventually went on to compete in Season 5, which included a Sesame Street themed outfit, a pineapple design dress, a honeybee outfit made from wigs, China doll attire, a 1920's flapper girl, a carrot cake, and a Jessica Rabbit inspired Playboy outfit.
Manila won three main challenges. Episode 5, QNN news, as the hilarious Asian interviewer, Episode 12, Jocks in Frocks, after transforming a jock and herself into Chinatown Glamazons and Episode 13, Make dat Money, where she made and wore three looks.
Manila won three mini challenges. Episode 4, with Carmen Carrera, when they designed a workout leotard. In Episode 9, Life, Liberty and the Pursuit of Style, Manila won when her bedazzled bra, that featured torpedoes, that may not have killed Ru, but impressed him enough to choose her as the winner. She then received extra time to film her patriotic video to the troops. She won Rusical Chairs on Episode 10, and chose the order of the girls picking their musical genres, after she chose Disco.
The Heathers
During the course of Season 3, the Drag Queens eventually became known as two groups, the Heathers and the Boogers. The Heathers consisted of Manila, Raja, Delta Work, and Carmen Carrera. The name was inspired by the movie Heathers (1988). On the reunion show, where they were all wearing Heather necklaces, Manila specified that a Heather was a girl who was extremely well put together, and confessed to being a Booger when she first started doing drag in New York. However, the Heathers all said that they meant it as a joke and that it wasn't serious. They apologized to the "Boogers" if it had hurt anyone's feelings and Raja even gave Stacy her necklace.
Elimination
Manila was one of the Top 3 queens of Season 3 and lip-synced against fellow contestant Raja. After Alexis was eliminated, Manila and Raja lip-synced to RuPaul's song "Champion", and Manila was very controversially eliminated, only getting 2nd place. Although devastated, backstage she quipped that she would get the crown from Raja if she died of old age.
All Stars 1
Manila was brought back on RuPaul's Drag Race All Stars as one of the twelve contestants. She and Latrice Royale were paired in the first episode under the name "Latrila". Despite an early win in the first challenge, Latrice lip-synced for their lives in the second episode and won, sending home Tammie Brown and Nina Flowers (Brown Flowers) and Manila lip-synced in the third episode but lost to Jujubee and Raven (Rujubee). Their departure was extremely emotional, and Manila later said that it was not expected by either her or Latrice or their fans who picked both of them separately as front-runners.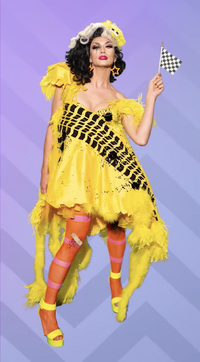 All Stars 4
On November 8, 2018, it was announced that Manila—along with All Stars 1 running mate, Latrice Royale would return to the competition on Season 4 of All Stars for another chance to win the crown.
On Episode 3, Manila excelled in the new rendition of Snatch Game, the Snatch Game of Love. She portrayed the talented singer/actress Barbra Streisand in an effort to win the heart of the Snatchelor: Keiynan Lonsdale. Her campy Boots the House Down runway ensured her spot in the top two along with Trinity The Tuck. The two Lip Synced for their Legacy and in the end Manila emerged victorious winning the lip-sync, the cash tip of $10,000, and the power to eliminate one of the bottom two queens. Despite considering eliminating Valentina, who Manila felt was the strongest competition and saw as an opportunity to get one of the biggest competitors out of the game, she ultimately eliminated Gia Gunn.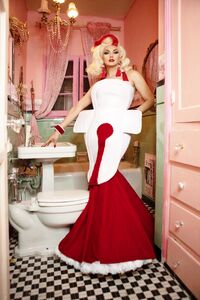 Episode 4 featured a new twisted main challenge entitled "Jersey Justice" featuring Michelle Visage. The queens were challenged on their improv skills in a Reality T.V. style court show based in New Jersey. Manila paired with Naomi Smalls in the court case "You made me look like a bitch, bitch" where Manila's character mistakenly received a hair styling from a dog groomer (Naomi's character). Manila's impressive acting coupled with her haute Curves and Swerves runway look ensured her a spot in the top two with Monique Heart, making this Manila's second challenge win–consecutively, no less. This elimination was also a point of contention as Manila's best friend Latrice Royale was in the bottom two, and she was determined to see her ally continue in the competition. She was noticeably emotional during the deliberation, crying with Latrice and making it very clear that if she won she was going to send home the other queen in the bottom two–Monét X Change. The two lip-synced for their Legacy, but in the end Monique rose to the top over Manila and sent home Latrice. She was once again very upset after the lip-sync, crying the entire time after she lost the lip-sync.
On Episode 5, Manila proved once again that with age comes experience. The episode featured a Roast challenge of the legendary Lady Bunny where the queens had to prepare a eulogy-roast for her. Manila was chosen to be last in the set by Monique because she knew it could throw Manila off. Manila took the challenge and made it her own by presenting one of the best roasts in Drag Race Herstory. Manila's stunning performance and stylish runway landed her in the Top 2 for the third week in a row—a feat previously only accomplished by Chad Michaels, Shannel, Alaska, and BenDeLaCreme—with Monét X Change. The Top 2 were allowed to choose any queen from the bottom four this week to be eliminated, making the pressure of track-record more bearing. Both Manila and Monét gave stunning performances in the Lip Sync for your Legacy, and in the end Ru chose both queens as the winner. Despite their dual win, Ru decided that no queen will be going home, sparring Valentina—who was chosen to be eliminated by both winners.
On Episode 6, Manila and Monét were immune to having to lip sync in the LaLaPaRuza due to both of them winning the lip sync on Episode 5—this is the first time any queen has been given immunity since Season 5. On the runway, she served haute spaghetti and meatball couture. She was ecstatic when Latrice returned to the competition.
On Episode 7, Manila, along with Trinity the Tuck and Latrice Royale were tasked to create and design a nightclub with a signature cocktail and late night entertainment. They decided to go for Bumble-Bee theme after Trinity saw they all had black and yellow outfits. Manila's designed background provided the club with creative decor and hexagonal patterns on the wall. Despite Manila's positive critiques for her contribution to the club and campy cellophane runway look, Trinity and Latrice were declared the Top 2 all stars of the week. During deliberations, Trinity stated that she would give one of her prizes to Manila as a say thank you for helping her reach the Top 2.
On Episode 8, Manila was tasked to makeover her husband in the Best Judy Makeover. Despite her steady track record on All Stars so far, the judges were unimpressed with her makeover's lack of family resemblance as well as over-the-top glamour. The negative critiques landed her in the bottom two for the first time this season along with Latrice Royale. With Naomi and Monét in the Top 2, both queens seemed to have Manila in a corner as they perceived her as the strongest competition. Inevitably, Naomi won the Lip Sync for you Legacy and chose Manila to be shockingly eliminated.
Manila's elimination is one of the most controversial eliminations of the series, as this was seen as another case of an All Star being robbed of her position in the Drag Race Hall of Fame. Despite the clear uproar from fans, Manila and Naomi have both made it clear there is no bad blood, and it is the name of the game. Additionally, Manila has since spoken out about her disdain for the hate Drag Race fans were leaving, stating that she did not condone the way they were behaving and the comments and remarks they were leaving toward Naomi were not appropriate.
AJ and the Queen Appearances (1/10)
On AJ and the Queen, she appeared in New York City, the series premiere of this Netflix Original in a cameo as an unnamed queen working at The Box, a drag club in the city that never sleeps. Her character initially laughs at Ruby Red being chastised for promoting her upcoming new club. However, she gets back to work when Ruby asks her if she wants some of the verbal smackdown. She says "no mam" and turns back around in her make-up station.
Name Origin
Growing up in Minnesota, most of the people she knew were white and most of the drag queens were either white or black. She thought that bringing Asian heritage to her drag would be fun. She wanted to celebrate her Filipino heritage so she chose Manila, which is the capital of the Philippines where her mother was born. She thinks it sounded pretty. She also liked the idea that "man" was in the name, and Manila has the same number of syllables as Madonna. Luzon is the island that Manila is located on, and is the largest and the most populous of the Philippines.
Post-Drag Race
After her appearance on the show, Manila has remained very active within the LGBT community. She has been a strong activist in terms of AIDS support and research-She headlined the University of Philippines Alumni in Minnesota. In a television ad called "Red Ribbon Runway", she appeared in a designer gown that was later auctioned by Logo to fund AIDS research. Buzzfeed ranked her of the 27 Filipinos who make you proud to be Pinoy.
Manila has released eight chart-topping bestselling musical singles, "Hot Couture", "The Chop" (with Latrice Royale), "Best XXXccessory", "Lady Marmalade" (Cover with the Heathers), "Bring it" (with Jinkx Monsoon), "One Night in Bangkok", "Eternal Queen" and "Helen Keller" (with Cazwell).
She also has appeared as a professor on RuPaul's Drag U. She is one of the most successful and popular queens from all the seasons of the show.
She was named the No.6 most liked queen and the No.8 fastest rising queen on Drag Official. She has been verified as a celebrity on Facebook and Twitter. Manila was voted on to All Stars by fans. Even Dragopolis, the Drag Race themed game, has a section where you can actually be Manila and fight puppets. Her wit, talent and upbeat attitude are very popular with her fans (nicknamed "Fanilas").
Relationships
Luzon was in a relationship with Season 2's Sahara Davenport for six years prior to his death. Davenport died at John Hopkins Hospital, Baltimore, Maryland on October 1, 2012, due to heart failure. The first episode of All Stars 1 was dedicated to Davenport and, during the episode, Luzon stated that she would do her best to carry on Davenport's legacy as well as thanking her friends, family, and fans for their support through the grieving. She then released the song "Eternal Queen" as a tribute to Davenport.
On November 16, after several years together, she proposed to her boyfriend, Michael Alvarez in the middle of a performance at LemonLab in Santiago, Chile. The couple wed at the Silver Bells Wedding Chapel, with an Elvis impersonator as the officiant on December 24, 2017.
Memorable Quotes 
"Besides, Sahara didn't win — and I'm going to!"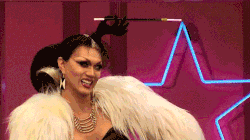 "What the hell is she thinking? You can't be lifting up drag queens."
"Shangelamight be jealous, but that's just because Shangela looked more like Rum Tum Tugger from Cats, then she did Tina Turner." (referring to Shangela's Snatch Game impersonation.)
"Shangela stacked the cards to put people under the bus. I don't believe a word she's saying and she's not keeping it real." (in Untucked Season 3, Episode 8 "Ru Ha Ha".)
"Don't compare yourself to us."
"Is 80s a look?"
"Without our fans, we're just like drag queens, boring drag queens."
"Come on, she can't touch this."
"Try something new - do it with an Indian guy!"
"Oh, I'm so glad you covered up your face."
"Is this bitch for real?!?"
"Wait a minute! How do you not know what you're signing up for? You're already did this girl!" (to Mimi Imfurst during Untucked All Stars 1, Episode 1.)
"Oh, Mimi's doing the costume change. The big reveal. THE BIG REVEAL! Oh… that's it?"
"I don't understand! What's she's talking about?"
"Gag!"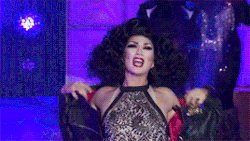 "No, I'm 6 feet tall and Ongina is the literal size of a fricking Barbie doll and she doesn't have hair. And nobody could confuse me with Jujubee because I had her killed."
"The thing I have, that you haven't seen on your show is that I'm Asian - and I am taller than 5'2!"
"WERK!"
"How dare you!"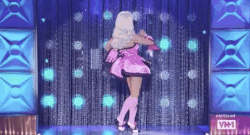 "She's always hallelooing" (About Shangela)
"Latrila is back in da house!" (All Stars 4 Entrance quote)
"You're an ass and your makeup is shit!" (to Monique Heart during the Reading is Fundamental challenge)
"What's up, Doc?"
"I swear. Shit." (

during the "Jersey Justice" challenge)

"Tiffani, with two Is, dotted with hearts." (

during the "Jersey Justice" challenge)

"I feel like a strippa!" (

during the "Jersey Justice" challenge)

"I look like a dog!" (

during the "Jersey Justice" challenge)

"They wouldn't even let me in the store because I wasn't a service animal!" (

during the "Jersey Justice" challenge)

"I've waited 20 years to come back looking like this sexy, hot, bitch, and now I just look like a frickin' bitch!" (

during the "Jersey Justice" challenge)
"Dearly beloved, and Michelle Visage. At least our poor Lady Bunny met her fateful demise doing something she loved (pause) when she choked to death at a hotdog eating contest. When the doctors performed the autopsy, they found that she was full of semen, and the aircraft carrier that they served on. Here I have Lady Bunny's last will and testicle. To Trinity the Tuck, the Lady Bunny has left her biggest synthetic wig to you, that she melted down so you could inject it directly into your ass. Monique Heart,

The Lady Bunny leaves you with her crusty, dusty, old lashes, because she thought you needed a newer pair. Valentina, Lady Bunny wanted you to know that before she passed, she called ICE and they're waiting for you after the service. And last, but not least, to Lady Bunny's oldest friend RuPaul, Lady Bunny wants you to know that finally, you're the pretty one. Thank you guys so much for coming, and enjoying out obituary, or in her terms, 'Oh bitch, you hairy.' Thank you." -Manila's Lady Bunny Roast.
"Correction Ru, that's always will be a double all-star!"
"Give it everything you've got, you rock, then things go wrong! Might not go the way you want, take it from me, Manila Luzon! If you fail, girl, so what? If you fall, get back up! Gotta try, try, try again!" (verse in Don't Funk It Up)
Trivia
Manila is the first and only queen to win the first challenge (AS1), the Snatch Game (AS4), the Makeover (S3), and the Ball (S3) throughout her entire Drag Race run.

She was the second queen to win all the 3 challenges that the fandom considers are the most important ones (The Snatch Game, Makeover and Ball) throughout her entire Drag Race run, with Chad Michaels being the first one.

Her other rejected drag names were :

Minnie Soda
Vagina Davis
Anna Mayporn

She stated in her "Feeling Fruity" episode, that she identified as bisexual, before realizing that she was gay.

In All Stars 4, she even shared names of some of her high school ex-girlfriends, whom she dated prior to officially coming out; These were: Christine, Elizabeth, and Alaya.
She had her first kiss with her high school girlfriend, who was a year older than her, due to Manila's romantic preference, at the time, being older women. She described the experience as "thrilling", but also admitted, that she would never kiss a girl again.
Her black and blond streak hair was not always her look, as she used to switch between black wigs and blond wigs. Her signature hair was actually suggested by Sahara Davenport before she was casted for Season 3.
She is lactose intolerant, as she stated on the behind the scenes on her music video for "Ice Cream".

She has no drag mother. But she considers RuPaul, Ongina, and the early NYC-scene as her inspiration in doing drag.
Manila is the first queen to have 3 challenges wins in a regular season and 3 challenge wins in an All Star season.

Manila's combined 7 challenge wins ties her with BenDeLaCreme and Trinity The Tuck for most number of challenges won across multiple American seasons.

If the international versions of Drag Race are counted she, BenDeLaCreme, and Trinity would be surpassed by Fernanda Brown of The Switch Drag Race, who has amassed 10 challenge wins, although the format is very different.

She is the fifth queen to win 3 consecutive challenges, after Chad Michaels and Shannel (Team Shad) in All Stars 1, Alaska in All Stars 2, and BenDeLaCreme in All Stars 3.
She was planning to wear a maxi pad dress for the Curves and Swerves: Padded for the Gods runway in All Stars 4 as a campy yet bold approach to the theme, but production told her not to wear it after she initially asked for permission. Her outfit on the show was her backup option. Ru also stated that the maxi pad dress was in "bad taste."

She later posted a picture of her modeling the dress on her Instagram page. This became, at the time, the most-liked Instagram post by any queen who had ever competed on Drag Race, having received over 368,000 likes.

Manila is the first queen to win a maxi challenge on three different seasons of Drag Race, and she has since been followed by Latrice Royale.
Manila, along with Monét X Change, is one of the first two queens to receive immunity following a win since Season 5, as well as the first queen to receive immunity in two separate seasons.
Manila, Detox, BenDeLaCreme and Miz Cracker are the only queens to get all three types of wins on an All Stars season: win both the challenge and the lipsync, win the challenge but lose the lipsync, and have a lip sync tie.
She reached 1 million followers on Instagram on February 10, 2019, becoming the 18th queen in herstory to reach this milestone.

She is also the first (and thus far, only) queen who competed on All Stars 1 that has at least 1 million Instagram followers.

Manila is the second queen to have been both a winner (Season 3) and eliminated (All Stars 4) on the makeover challenge, after Monét X Change.
Manila's Drag Niece (in-law) is Season 11's Honey Davenport.
Manila was one of the RuPaul's Drag Race "Legends" brought back for the photoshoot mini-challenge on Episode 1 of Season 11. She was paired up with her Drag Niece-in-Law, Honey Davenport.
She and her husband both appeared in Kahanna Montrese's music video for "Scores".
She is the first drag queen host of the Pit Stop not to have won a season.
She was the first queen to be revealed in the casting call for Season 3.
Manila currently co-hosts a podcast with All Stars 1 team-mate Latrice Royale called "The Chop", executive produced by Alaska and Willam, on the ForeverDog and Moguls of Media networks. The show (inspired by Alaska and Willam's Race Chaser podcast) reviews each episode of Canada's Drag Race and Drag Race Holland with the two queens each giving their "top" and "chop" moments of each episode. Both Alaska and Willam have appeared as guests on the podcast.
Gallery
Season 3 Looks
All Stars 1 Looks
All Stars 4 Looks
Videos
Follow Manila
Community content is available under
CC-BY-SA
unless otherwise noted.