Memo Reyri is the stage name of Guillermo Reyes del Río, a Mexican drag king and performer, best known for being a contestant on Season 3 of the YouTube show La Más Draga.
Drag Name Origin
His drag name comes from his own real name: Guillermo "Memo" Reyes del Río.
Track Record(s)
Memo Reyri
Seasons Competed:
LMD 3
Ranking:
5th/6th Place
Points Total / Average:
117
13
Maxi Challenges Won:
1 (Ep. 5)
Mini Challenges Won:
1 (Ep. 1)
Times Placed High:
2 (Eps. 1, 6)
Times in Bottom:
2 (Eps. 8, 9)
Episode Eliminated:
Episode 9
Memorable Quotes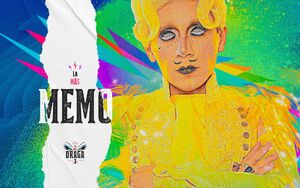 LMD 3
"Regrésame mi dinero, perra." (breaking the 4th wall and talking about a former friend who before the show offered to make him an attire but didn't give it to him, getting away with the money).
Others
"#TeamTuPerro #LMD4 🖤" (#TeamYourDog #LMD4 🖤) (On Instagram, replying to a user that said that if Memo's drag is considered drag, then their dog with some makeup on could be considered drag too)
Trivia
Memo is the first drag king to compete on the show.

He is also the first AMAB king to compete on any drag show.

Memo is the drag son of La Más Draga 1 contestant Margaret Y Ya.
Memo is the first contestant to share a win (with Regina Bronx) on Season 3.
Drag Family
House of Y Ya
Gallery
La Más Draga 3 Looks
Filmography
Web Series
Social Media
Community content is available under
CC-BY-SA
unless otherwise noted.