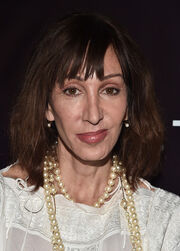 Merle Ginsberg is a fashion writer and television personality who was one of the judges on RuPaul's Drag Race in the first two seasons of the show. She was also one of the professional contestants on Bravo's Launch My Line.
Biography
Born in Atlantic City, New Jersey, and currently based in Los Angeles, she has written pieces on fashion for numerous magazines such as Women's Wear Daily, Harper's Bazaar, Rolling Stone, Seventeen, Maxim, The New York Times Magazine, and Cosmopolitan. She also works as the editor-in-chief of the website FashionRules.com and has appeared on several television shows.
On Drag Race
Dubbed the Paula Abdul of the judge's panel, fans loved how sweet and caring Ginsberg was, as she always tried to understand where the queens were coming from while critiquing them. Though she brought a ton of joy and humor to the beloved series, Ginsberg disappeared after Season 2, and for the longest time, no one really knew what had happened to her. While the show poked fun at Ginsberg's disappearance by telling the story of how Visage had killed her to take her place alongside RuPaul, the real reason wasn't explained in the series.
In Season 7, Merle was brought back as a guest judge on the Ru Hollywood Stories episode, which included 3 acting skits (1 for each team) about how Michelle took Merle's spot. Michelle Visage revealed the reasoning behind her replacing Ginsberg in an episode of the popular webseries 'Hey Qween!', hosted by Jonny McGovern. It turns out that Visage was initially chosen to be a permanent judge on the show since she had already worked with RuPaul for years on The RuPaul Show and various radio stations.
However, due to the media personality being on a five-year contract with a CBS radio, she had to pass on the opportunity to judge alongside her friend for the first two seasons of RuPaul's Drag Race. But, as soon as her contract was up, Visage joined the show as a permanent judge in Season 3, and she's been there ever since critiquing queens on regular seasons and All-Star seasons.
After Drag Race
After getting replaced by Visage on RuPaul's Drag Race, Ginsberg went on to appear in several television shows and continued her work as a credited journalist.
Over the years, she's written fashion pieces for numerous magazines such as Women's Wear Daily, Harper's Bazaar, Rolling Stone, Seventeen, Maxim, The New York Times Magazine, and Cosmopolitan. She's even the Senior Fashion Writer at Hollywood Reporter Magazine.
BeBe Zahara Benet (S1), Tyra Sanchez (S2), Raja (S3), Sharon Needles (S4), Chad Michaels (AS1), Jinkx Monsoon (S5), Bianca Del Rio (S6), Violet Chachki (S7), Bob The Drag Queen (S8), Alaska (AS2), Sasha Velour (S9), Trixie Mattel (AS3), Aquaria (S10), Monét X Change & Trinity The Tuck (AS4), Yvie Oddly (S11), Jaida Essence Hall (S12), Shea Couleé (AS5)

Nina Flowers (S1), Raven (S2, AS1), Manila Luzon (S3), Chad Michaels & Phi Phi O'Hara (S4), Alaska & Roxxxy Andrews (S5), Adore Delano & Courtney Act (S6), Ginger Minj & Pearl (S7), Kim Chi (S8) & Naomi Smalls (S8, AS4), Detox & Katya (AS2), Peppermint (S9), Kennedy Davenport (AS3), Eureka O'Hara & Kameron Michaels (S10), Monique Heart (AS4), Brooke Lynn Hytes (S11), Crystal Methyd & Gigi Goode (S12), Jujubee & Miz Cracker (AS5)

Nina Flowers (S1), Pandora Boxx (S2), Yara Sofia (S3), Latrice Royale (S4), Ivy Winters (S5), BenDeLaCreme (S6), Katya (S7), Cynthia Lee Fontaine (S8), Valentina (S9), Monét X Change (S10), Nina West (S11), Heidi N Closet (S12)
RuPaul (S1-), Santino Rice (S1-6), Merle Ginsberg (S1-2), Billy B (S3-4), Michelle Visage (S3-), Mike Ruiz (Guest Judge S1-7), Carson Kressley (S7-), Ross Mathews (S7-), Todrick Hall (AS2)

Kenyon Glover (S1), Keon Hunt (S1), Preston Taylor (S1), Emanuel Palmer (S2), Max "The Body" Philisaire (S2), Shawn Morales (S3-6), Jason Carter (S3-S13), Miles Davis Moody (S6-9), Simon Sherry Wood (S6), Bryce Eilenberg (S7-S13), Jared North (S9), Yadier Despaigne (S9), Bruno Carvalho (AS4-S13)

Dictionary • Snatch Game • Reading is Fundamental • Drag Makeovers • "Dusted or Busted" Scoring System • How To Win RuPaul's Drag Race • List of Lip Sync Performances
Community content is available under
CC-BY-SA
unless otherwise noted.