'RuPaul's Drag Race' Profile: Naomi Smalls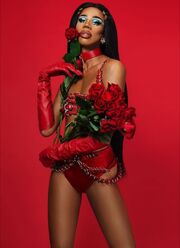 Naomi Smalls is the stage name of Davis Heppenstall, a drag queen, performer, model, and one of the Season 8 runner-ups of RuPaul's Drag Race (alongside Kim Chi), as well as one of the All Stars 4 runner-ups (alongside Season 10 contestant Monique Heart).[1]
Name Origin
"Naomi" comes from the model and actress Naomi Campbell's 1st name, while "Smalls" comes from the rapper Biggie Smalls' last name.[2]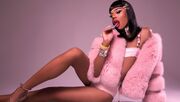 RuPaul's Drag Race
Season Competed:
Season 8
All Stars 4
Ranking:
2nd/3rd
(Runner-Up)
3rd/4th
(Runner-Up)
Mini-Challenges Won:
1 (Ep. 3)
0
Times as Team Captain:
1 (Ep. 3)
0
Main Challenges Won:
1 (Ep. 6)
1 (Ep. 8)
Times in Bottom:
1 (Ep. 5)
3 (Eps. 5, 7, 9)
Episode Eliminated:
Episode 10
Episode 10
Memorable Quotes
"Check your lipstick before you come for me." (Season 8 entrance quote)
"You can't spell 'LEGENDARY' without... 'leg'!" (All Stars 4 entrance quote)
"Naomi is a tall glass of water, she has legs all the way up to her asshole."
"I do not hate Derrick. I do not like his drag." (to Kim Chi)
"This thing is TOO BIG, and that's not normally a complaint." (referring to her boat inspired by Season 4, Episode 6 main challenge)
"I'm trying to give you 90s supermodel walk... and this boat is covering half of it!"
"It's about damn time a big girl won!" (unaired winner acceptance speech on Season 8's finale)
"Poke the bear. Poke the little care bear." (to Gia Gunn, referring to Farrah Moan)
"And what do we do with fashion? Pose!"
"You have her old nose." (to Monét X Change, comparing her to NeNe Leakes)
"Her name is PANINI!" (in All Stars 4, Episode 4 during the "Jersey Justice" challenge)
"Maybe since you couldn't save her, she left you that." (refering to Manila Luzon's comment)
*whispers* "Club 96!" (in All Stars 4, Episode 7 "Queen of Clubs")
"I eliminated Manila because... I wanted to."
"LIFE'S NOT FAIR."
"Honestly, she could tell Latrice what I said about her and I'd be like: 'Yeah that's exactly what I said'. I don't give a fuck. Honestly, I don't give a fuck."
"And what do we do with fashion? Pose!"
Trivia
Naomi Smalls is adopted, and has 11 siblings;
New York Magazine named Smalls one of the top 100 most powerful drag queens in America in June, 2019[3];
She has a show with Kim Chi called M.U.G. produced by World of Wonder;
She got cast on RuPaul's Drag Race after her 1st audition;
She was the youngest contestant of Season 8, aged 21;
Derrick Barry, Robbie Turner, and her are the only 3 Season 8 contestants to place in the Bottom 2, survive the lip sync, and then win the main challenge in the following episode;
On Season 8 Episode 5's Untucked, she told Acid Betty that didn't know the lyrics to the lip-sync song until her "Snatch Game" performance. She learned them right after because she knew she was going to be in the Bottom 2;
She's the 2nd contestant to place as runner-up in 2 separate seasons, after Raven;
She's the 1st contestant to win the makeover challenge twice.
Naomi Smalls holds the record for the longest time until a person wins their first maxi challenge on an All Stars season with the record being Episode 8.
Gallery
Season 8 Looks
All Stars 4 Looks
Videos
Discography
Non-Album Singles
ㅤ
Appearances
"Everybody Say Love!" (2018) by RuPaul's Drag Race: All Stars 4 Cast (Naomi Smalls, Monique Heart, Farrah Moan, & Monét X Change)
"Super Queen" (2019) by RuPaul ft. RuPaul's Drag Race: All Stars 4 Cast (Monét X Change, Monique Heart, Naomi Smalls, & Trinity The Tuck)
Filmography
Movies / Documentaries
A Queen for the People (2016)
ㅤ
TV
(2016) RuPaul's Drag Race, on Season 8
(2016) Gay for Pay
(2018-2019) RuPaul's Drag Race: All Stars 4
ㅤ
Web Series
(2016) Untucked, on Season 8
(2017) Fashion Photo RuView
(2017-2018) M.U.G.
(2018) Small's World
(2018) Sibling Rivalry, in Episode 10
(2018) Call Me Couleé
(2019) Runway Rewind
ㅤ
Music Videos
"The Realness" (2016) by RuPaul
"Pose" (2018)
"Go Fish" (2019) by Manila Luzon
Social Media
References
Community content is available under
CC-BY-SA
unless otherwise noted.