'RuPaul's Drag Race' Profile: Jasmine Masters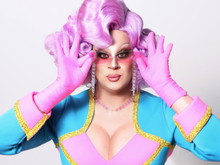 Nina West is the stage name of Andrew Levitt, a drag queen, performer, comedian, the 2008 national holder of the "Entertainer of the Year" title, as well as one of the Season 11 contestants of RuPaul's Drag Race finishing in 6th place and being voted Miss Congeniality.
Prior to Drag Race
Since starting her career in the theatre program at Denison University, back in 1999, Nina West has been performing for 20 years. She has been in over 35 main stage productions and currently writes and produces her own show. West auditioned for "RuPaul's Drag Race" nine times before she made it on this seasons competition. Besides drag, West started the Nina West Foundation and has raised more than $2 million dollars for organizations benefiting the LGBTQ youth and families. West is an advocate and leader for the LGBTQ community in Ohio.
Name Origin
"Nina" comes from the singer Nina Simone, while "West" comes from the fact that she's part of the "Haus of West".
RuPaul's Drag Race
Nina West
Season Competed
Season 11
Ranking:
6th
Miss Congeniality
Mini-Challenges Won:
2 (Eps. 3, 7)
Times as Team Captain:
1 (Ep. 3)
Times High
1 (Ep. 8)
Main Challenges Won:
2 (Eps. 3, 10)
Times Low:
3 (Eps. 1, 6, 7)
Times in Bottom Two:
1 (Ep. 11)
Episode Eliminated:
Episode 11
Nina West is a comedy queen and strives to be as authentic and true to herself as she can be in this televised setting. In an interview, Nina states how "[she] didn't want to feel like [she] was over-producing and [she] wanted to still be authentically [herself] but it's hard to be yourself in front of the camera."
Nina became known on the show for her kindness, her leadership skills, her social activism, and her comedy - all of which helped her snag 2 comedy challenge wins, and her eventual Miss Congeniality win. Despite receiving exceptionally high praise for her 'Facekini' look in particular, her runways were often criticized for being sloppy and unflattering, with the term 'proportionizing' (first used in her season by Michelle Visage) being to help her out in future runways.
Despite her vast improvements with her runways, she landed in the bottom 2 in Episode 11's makeover challenge with Silky Nutmeg Ganache. Unfortunately, both queens gave an underwhelming lip-sync performance to the song 'No Scrubs' by TLC, and in perhaps the most controversial elimination in Drag Race herstory, Silky was saved and Nina was asked to sashay away by RuPaul.
Entrance Quote
"Welcome to Season 11. It looks like things just got... elevengendary."
Memorable Quotes
Trivia
Nina West has been doing drag since 2001.
West is a national holder of the 2008 "National Entertainer of the Year" title. She won the title after her moving dress performance, which was later copied by Sia at the 2016 Coachella Festival (she gave Nina credit for the dress).
Before get cast for Season 11, she auditioned 9 times.
She's the 2nd oldest contestant on Season 11 after Shuga Cain.
She's the 3rd ever contestant to have the name "Nina", following Nina Flowers and Nina Bo'Nina Brown.
Her favourite past-contestant is "All Stars 3" winner Trixie Mattel.
She was paired with Raven for Episode 1's mini-challenge, a photoshoot.
She appeared in Kahanna Montrese's music video for "Scores".
She, Ivy Winters and Cynthia Lee Fontaine are (so far) the only Miss Congeniality winners to not return for an All Stars season. However, since Cynthia later competed on Season 9, Nina and Ivy are the only two Miss Congeniality winners to have competed on only one season.
She is the second queen to do two characters in Snatch Game, after Bob The Drag Queen.
Nina's Season 3 audition tape was shown on the casting extravaganza, along with Alaska, Katya Zamolodchikova and other future contestants.
Nina is the third Miss Congeniality to be eliminated in the Makeover Challenge, after Pandora Boxx and Monet X Change.
Despite being the most recent Miss Congeniality winner, she is already regarded by many fans and critics as the most deserving winner of the award in Drag Race herstory.
Gallery
Season 11 Looks
Social Media
Community content is available under
CC-BY-SA
unless otherwise noted.