Wiki Targeted (Entertainment)
Play Sound
Phoenix is the stage name of Brian Trapp, a drag queen and performer from Atlanta, Georgia. She competed on RuPaul's Drag Race Season 3, where she was eliminated 2nd, placing 12th in the competition overall.
Drag Name Origin
A phoenix is a mythological bird that rises from the ashes and recreates itself. She thinks the name is perfect for the type of drag she does as she is always recreating her look and pushing herself to the next level. She sees herself in drag to be very different from her boy self. She also has a fiery personality.
Her drag mother is Nicole Paige Brooks and her drag grandmother is Shawnna Brooks.
RuPaul's Drag Race
Phoenix

| Season Competed | Season 3 |
| --- | --- |
| Ranking: | 12th Place |
| Mini-Challenges Won: | 1 (Ep. 3) |
| Times as Team Captain: | 1 (Ep. 3) |
| Times Placed High | 0 |
| Main Challenges Won: | 0 |
| Times Placed Low | 0 |
| Times in Bottom: | 1 (Ep. 3) |
| Episode Eliminated | Episode 3 |
Season 3
When Phoenix entered the werkroom, she was wearing a similar outfit to India Ferrah, causing cattiness. She was safe in the Christmas sewing challenge in Episode 1. In Untucked, she told Stacy Layne Matthews that she was not competition to her, and fought with Venus D-Lite over the crushed ornament idea for their outfits.
In Episode 2, The main challenge was to split into teams to shoot a trailer for a fictional, sci-fi motion picture called "Drag Queens from Outer Space", and "Drag Queens from Outer Space 2: Return to Uranus."
Phoenix won the mini-challenge with Mariah Balenciaga, which allowed Phoenix and Mariah to be team captains. In the end, Phoenix's team was up for elimination, and Mariah's team won the challenge.
Phoenix was critiqued for being too difficult to work with on the set of the filming, as she apparently kept looking away from the camera as she was acting. She was also critiqued for being too shy and out of her element.
Phoenix was up to lip-sync for her life against Delta Work to perform Lady Gaga's "Bad Romance". Delta's performance took the judges and the queens' attention. India personally said that Phoenix looked like she was copying Lady Gaga's moves during the lip-sync, which she found tacky. Shangela said that Phoenix looked like a man doing movements.
Delta outshined Phoenix, and she was sent home.
Memorable Quotes
"I can play well with others, my mom raised me well. But, I definitely do have a bitchy side!"
"India is very like, painted. She's like old-school-drag. But it's cool to see that style of drag still amongst us."
"I just broke my Dior sunglasses so I better win this shit."
"Evidently I'm copying her amazing idea."
Farewell Message
"BE You Bitches (Boots) Loves, Phoenix"
Trivia
Gallery
Season 3 Looks
Lip Sync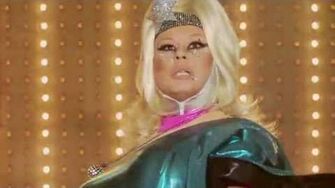 Follow Phoenix
Community content is available under
CC-BY-SA
unless otherwise noted.