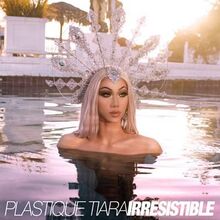 Plastique Tiara Edwards
, simply known as
Plastique Tiara
, is the stage name of
Duc Tran Nguyen
, a drag queen, performer, hairdresser, and content creator.
Plastique was announced as a contestant on Season 11 of RuPaul's Drag Race, finishing in eighth place.[1]
Name Origin
"Plastique Tiara" comes from the name of the My Little Pony character "Diamond Tiara". Tiara likes both the name and the character, but since a lot of people have "diamond" on their stage names, she chose "Plastique" as hers as an allusion to plastic, a cheap material used to make luxurious Barbie dolls. "Edwards" comes from her drag mother Season 5 and All Stars 2 contestant Alyssa Edwards' last name.[2]
Drag Family
As drag daughter of Alyssa Edwards, Tiara is a member of the "Haus of Edwards" alongside Shangela (from Season 2, Season 3, and All Stars 3), Laganja Estranja (from Season 6) and Vivienne Pinay (from Season 5).[3]
RuPaul's Drag Race
Plastique Tiara

| Season Competed | Season 11 |
| --- | --- |
| Ranking: | 8th Place |
| Mini Challenges Won: | 1 (Ep. 6) |
| Times as Team Captain: | 1 (Ep. 6) |
| Times Placed High: | 3 (Eps. 1, 2, 5) |
| Main Challenges Won: | 1 (Ep. 7) |
| Times Placed Low: | 0 |
| Times in Bottom: | 2 (Eps. 3, 9) |
| Episode Eliminated: | Episode 9 |
With a strong online presence, a RuPaul's Drag Race legendary alumna as her drag mother, as well as a lot of inspiration from Vietnamese pop stars and Asian culture translated into a flowy fashion feminine style, Tiara was considered to be an early favorite in the competition, later proving that she live ups to the "Edwards" name with her performance skills. During Season 11, she was particularly praised for her polished runway looks, landing Tiara her first (and only) main challenge win in Episode 7, after previously placing in the top for the Legendary Look Challenge and the Monster Ball. Tiara also performed well in the first comedy and acting challenges of the season, placing high in the blockbuster movie challenge and delivering solid performances in Trump: The Rusical and Snatch Game. However, she was criticized by the judges for her reliance on Asian stereotypes, and failed to create a convincing character in Episode 9's improvisation challenge. After losing a lip-sync to Vanessa Vanjie Mateo in that episode, she placed eighth overall.
Memorable Quotes
Season 11
"Xin chào các bạn, tôi là Plastique Tiara của Việt Nam." (Vietnamese for "Hello, I'm Plastique Tiara from Vietnam"; entrance quote)
"I like to describe my drag as 3 P's: polished, persistent, and pussy."
"I look the best, I smell the best, this is my runway."
"Charimnun." (pronouncing "charisnium" in Episode 2's "Why It Gotta Be Black, Panther?" sketch)
"ARIANA GRANDE!" (said with devilishy deep voice during Episode 3's "Diva Worship" sketch)
"THAT WAS A MICROPHONE PROBLEM! (said with devilishy deep voice during "Diva Workship")
"MA!" 
"Oh y'all thought I was done!?" *does a split*
"I'm not Japanese!" (to Silky Nutmeg Ganache)
Extras
"I'm a dancing queen, I'm a look queen, I can perform, I can beat my mug the house down, I can give you a death drop 1-2-8 count to a split if you want to, so, I'm everything." (said during her "Meet the Queens" interview)[2]
Farewell Message
"I love y'all so much ♡ Thank you for being so kind! Plastique ♡"
Trivia
Plastique Tiara was born and raised in Vietnam but moved to the USA when she was 11, there learning English.
Tiara is a fan of the anime Sailor Moon.
She likes K-pop and Ariana Grande's music.
A video of her quickly transforsming from boy to girl (drag queen) went viral online.[4]
She holds the title of "Miss Rose Room Rising Star 2016", a pageant often hosted by Season 10 contestant Asia O'Hara in Dallas, Texas.
She has made wigs for many drag artists like the youtuber PatrickStarrr, Season 10 winner Aquaria, Season 8 and All Stars 4 contestant Naomi Smalls, Season 10 and 11 contestant Vanessa Vanjie Mateo, and many others.
On Werq The World Tour, she and her lip sync number represent the dwarf planet Pluto.[5]
Her favorite RuPaul's Drag Race past contestant is Season 2 and All Stars 1 contestant Jujubee.[6]
She was well known on Instagram before being on the show, having the largest following out of any new contestant on her season (not including the returnee Vanessa Vanjie Mateo).

She holds the record for the most Instagram followers among any contestant prior to their first regular season appearance. 

Much like Aquaria, she is the youngest contestant of her season at 21, had a large social media following before the cast reveal and is the drag daughter of a successful alumni. 
For her "Orange Alert" runway look, she wore the same fire-themed corset design previously worn by rapper Cardi B, Season 7 contestant Miss Fame and Season 9 and All Stars 4 contestant Valentina.
She participated in the first-ever six-way lip sync, lip syncing against fellow contestants A'keria Chanel Davenport, Honey Davenport, Ra'Jah O'Hara, Scarlet Envy, and Shuga Cain.

Her 8th place finish was the third-highest among the six-way lip sync participants.
Her departure marked the third of four consecutive eliminations among members of the six-way lip sync (in chronological order: Scarlet Envy, Ra'Jah O'Hara, Plastique, and Shuga Cain.)

She reached 1 million followers on Instagram on April 20, 2019, becoming the 20th RuPaul's Drag Race contestant to reach this milestone.
Coincidentally, she and her fellow "Haus of Edwards" members, Laganja, and Season 6 and All Stars 4 contestant Gia Gunn, all placed 8th on their respective seasons (Gunn doing so in All Stars 4).
She released her debut single, "Irresistible", the day after her elimination aired.

Coincidentally, Season 10 contestant Blair St. Clair has a song that shares the same name.

She is open to doing All Stars.
With over 3 million followers, Plastique is the most followed RuGirl on TikTok.
Gallery
Season 11 Looks
Videos
Music Videos
Discography
Non-Album Singles
Filmography
TV
RuPaul's Drag Race, on Season 11 as contestant. (2019)
ㅤ
Web Series
Untucked, on Season 11 as herself/contestant. (2019)
ㅤ
Music Videos
"Irresistible", as herself. (2019)
Tours
Co-Headlining
Pretty Weid Tour (World, 2019). (2019)
Werq The World Tour (World, 2017-Present). (2019-Present)
References
Community content is available under
CC-BY-SA
unless otherwise noted.