'RuPaul's Drag Race' Profile: Raven
Raven is the drag name of David Petruschin, a professional drag queen, makeup artist, performer, and comedian from Riverside, California. He competed in the second season of RuPaul's Drag Race, placing runner-up. He later went on to compete in RuPaul's All Stars Drag Race, paired with Jujubee, but controversially came in second place again.
He is a huge fan-favourite and one of the most popular contestants ever to enter on RuPaul's Drag Race.
Raven was known on the show for his wit, his fashion sense, his fierce runway walks and his performances, including his lip-sync.
He currently is on a web show with Raja, named "Fashion Photo Ruview". It can be viewed on the WOWPresents YouTube channel.
Since Season 9, David has been Ru's makeup artist.
Vanity Fair listed Raven as drag queen of the 2000s.
Drag Name Origin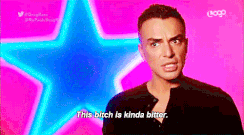 He used to be a gogo boy and went by the name of Phoenix because he likes winged creatures. When he started doing drag he was deciding whether to be Raven or Phoenix. His friends suggested Raven is more unique and androgynous. He also didn't want a female name where people would call him when he is out of drag in the public.
RuPaul's Drag Race
Raven
Statistics
Season 2
All Stars 1
Placement
2nd
(Runner-Up)
2nd
(Runner-Up)
Main Challenges Won
2 (Eps. 7, 8)
0
Mini Challenges Won
3 (Eps. 1, 4, 5)
2 (Eps. 2, 5)
Times in Bottom
2 (Eps. 2, 3)
3 (Eps. 3, 4, 5)
Times as Team Captain
0
0
Episode Eliminated
Episode 11
Episode 6
Elimination
Raven was close to snatching the title of "America's Next Drag Superstar", but lost it to Tyra Sanchez.
The final challenge was to put together a music video for RuPaul's "Jealous of My Boogie" and to show off their final runway outfits for the season.
Raven was positively critiqued for having consistency throughout the whole competition, including his fashion sense and was told he has "superstar" quality.
During the final lip-sync, Tyra gave an over-the-top performance, outshined Raven's act and Raven lost the title of "America's Next Drag Superstar", leaving Raven to be the runner-up.
Trivia
Memorable Quotes
Season 2
All Stars
Gallery
Season 2 Looks
All Stars Looks
(as team with Jujubee)
Plastic Surgery
There have been many rumors going around that Raven has had several plastic surgery procedures not only to her face, but on her body as well.
He has confirmed that he has nothing but small facial work procedures done and that's all. David has only had injections of collagen in his lips and once below his eyes in his cheeks.
David did not get plastic surgery in his lips for drag. David felt that all his life, he never had lips and he did it just to get some more lip.
During an interview, David stated that he would not change his appearance permanently in any way to improve the look of Raven. Any past or future procedures would be for David as David.
Credits
Filmography
As herself
Acting roles
| Year | Series | Role | Notes |
| --- | --- | --- | --- |
| 2012 | The Soup | Cora Crawley, Countess of Grantham | |
| 2014 | Berlin: Animal | Love Slave | |
Music videos
| Year | Song | Song Artist | Notes |
| --- | --- | --- | --- |
| 2010 | "Jealous of My Boogie" | RuPaul | Cameo |
| 2011 | "Diamond Crowned Queen" | Raja | Cameo |
| 2012 | "Queen" | Xelle | Cameo |
| 2012 | "Feed Me Diamonds" | MNDR | |
Other credits
Awards and nominations
Social Media
Community content is available under
CC-BY-SA
unless otherwise noted.