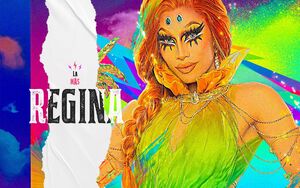 Regina Bronx is the stage name of Luis Arnulfo Peña Gutierrez, a Mexican drag queen and performer, best known for being a contestant on Season 3 of the YouTube show La Más Draga.
Track Record(s)
Regina Bronx
Seasons Competed:
LMD 3
Ranking:
7th Place
Points Total / Average:
95
11.9
Maxi Challenges Won:
1 (Ep. 5)
Mini Challenges Won:
1 (Ep. 4)
Times Placed High:
1 (Ep. 6)
Times Placed Low:
0
Times in Bottom:
3 (Eps. 4, 7, 8)
Episode Eliminated:
Episode 8
Memorable Quotes
"¡Arriba Chihuahua cabrones!" (as a sign of sisterhood after winning the lipsync over Huntyy B).
"Pues Regina Bronx es prácticamente una drag norteña, norteñota, vaquerobvia, drag-grupera"
"Imagínate, yo soltero y me ponen a este papachurro ahí al lado." (being thirsty over Quecho Muñoz).
"Es el momento exacto pa' encuerarme." (being thirsty over Alex Cordova).
Trivia
She started her career imitating Valentina, but ''Regina Bronx'' wasn't created until three months before her participation on the show.

Because of this, Regina was jokingly called "Valentina" by several of her castmastes during the show.

A bottle of Valentina Hot Sauce that appeared in the background was relabeled as "Salsa Regina" (Regina Hot Sauce) instead.

In fact, her run on the show was heavily compared to Valentina's on All Stars 4: both were up for elimination 3 times, won only one challange, were HIGH for one challange, were SAFE for the rest and ultimately placed 7th despite originally reaching the Top 6 after another contestant returned to the competition.
Valentina stated her support towards her, but couldn't recall her last name at first, calling her Regina Sparks.
Valentina lent her the dress she used to announce Season 10 Miss Congeniality for the finale of Season 3 of La Más Draga. She also accompanied her during the event.
Regina is of Tarahumara/Rarámuri heritage, an indigenous tribe from northern Mexico.
Regina is the first contestant to share a win (with Memo Reyri) on La Más Draga 3.
Regina is the first contestant on La Más Draga 3 to survive two lip syncs.
Gallery
La Más Draga 3 Looks
Filmography
Web Series
Social Media
Community content is available under
CC-BY-SA
unless otherwise noted.