RuPaul Andre Charles,[1] better known as RuPaul, is an American drag performer, actor, television host, and recording artist. RuPaul is well known for appearing in several films, and being the host and judge for his own popular reality television series RuPaul's Drag Race, for which he received six Primetime Emmy Awards for hosting.
RuPaul is considered to be the most commercially successful drag queen in the United States. In 2017, he was included in the annual Time 100 list of the most influential people in the world.
Biography
RuPaul, birth name RuPaul Charles, was born in San Diego, California on November 17, 1960. He was named by his mother, Ernestine Charles; the "Ru" came from roux, which is the term for the base of gumbo and other creole stews and soups. Finding global success in the 90s and again in recent years with his TV shows, including RuPaul's Drag Race, and his oversized personality, RuPaul has become a beacon in LGBTQ+ communities.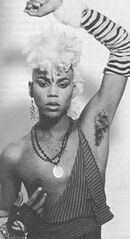 At the age of 15, he moved to Atlanta, Georgia with his sister and her husband. There, he was studying at the School of Performing Arts - though never graduated - and worked in his family's business of selling used cars for six years. By the 1980s, RuPaul began crossdressing and was known to be a "gender bender", performing at Atlanta clubs either as a go-go dancer or with his new wave/punk band, RuPaul and the U-Hauls and later, Wee Wee Pole.
After spending a brief time in New York City, RuPaul moved back to Atlanta and participated in underground cinema, starring in the Starbooty film trilogy alongside his roommate Lady Bunny and DJ Larry Tee. RuPaul decided that he would make a name for himself before moving to New York, pasting posters and selling postcards of himself that said "RuPaul is Everything," among others, all throughout midtown Atlanta.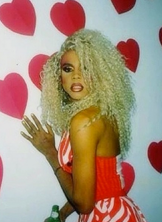 In 1987, RuPaul officially moved to New York City where he would become part of the burgeoning drag scene. RuPaul has said that he changed his image from "punk drag" to "black hooker drag" while in New York. He quickly befriended several Club Kids, a group of counterculture nightlife entertainers known for their flamboyancy and eccentricity, after Susanne Bartsch hired him to appear at her iconic parties. Here, RuPaul would meet Michelle Visage who would become his on-air sidekick and one of his closest friends. He continued to perform in clubs as a dancer and made many appearances at Lady Bunny's annual drag festival, Wigstock, in the East Village. His larger-than-life personality and ease on stage earned him popularity and he, along with Susanne Bartsch and Lady Bunny, became a staple within New York's nightlife. Before the decade was over, RuPaul would be hailed as the Queen of Manhattan.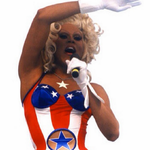 RuPaul gained worldwide fame with the release of his 1993 album, "Supermodel of the World". The album's first single, "Supermodel (You Better Work)", reached the Top 50 of the pop charts and no. 2 on the dance club charts. The single was also nominated for the Best Dance Music Video award in the 1993 MTV Video Music Awards. In 1994, RuPaul landed a modeling contract as the first face of MAC Cosmetic's Viva Glam line. With his new "glamazon supermodel" drag caricature, RuPaul became one of the first drag queens to enter the mainstream and has subsequently become an icon of pop culture.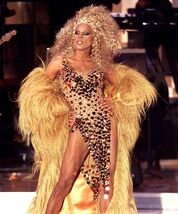 In 1996, he debuted his own TV talk show on VH1, called The RuPaul Show. Co-hosted by Michelle Visage, it was one of the first TV programs in the United States hosted by an openly gay person. His first guest was his number one icon and muse, Diana Ross. Other notable guests included Cher, Bea Arthur, and Nirvana while his show aired for 2 years. RuPaul continued his acting and music career throughout the 90s, though took a step back from the industry and moved to Los Angeles in 1998. Ready to return to show business, RuPaul released his fourth album, "Red Hot", in 2004 and starred in the 2007 film Starrbooty, which served as the fourth film in the Starbooty series.
It wasn't until 2009 when RuPaul truly made his mark on the cultural landscape with the debut of RuPaul's Drag Race, a reality TV game show that first aired on Logo. The success of the show has sparked several spin-off series including Untucked, RuPaul's Drag U, and RuPaul's Drag Race: All Stars. RuPaul has been noted as having a large part in RuPaul's Drag Race's continuous television success. By pioneering queer representation on television, many believe RuPaul to have essentially revolutionised the portrayal of the LGBTQ+ community on screen. He first won an Emmy for his work on the show in 2016, and one year later the show garnered 8 nominations, including Outstanding Reality-Competition Program for the first time in its 11-season run, and a second consecutive win for RuPaul in the Primetime Emmy Award for Outstanding Host for a Reality or Reality-Competition Program.
RuPaul is married to Georges LeBar, an Australian author and painter. The two met in 1994 at the Limelight nightclub in New York City, marrying in January 2017. Together, they live on a 50-acre ranch in Wyoming.
Memorable Quotes
"We're all born naked and the rest is drag."
"You can call me he, you can call me she, you can call me Regis and Kathie Lee, just so long as you call me."
"As the two of us sat watching TV, Kurt Loder popped up on the tube, teasing an MTV News story with footage of me frolicking around a shopping mall in Jersey City. He said "Coming up next, she's er-ah he's 6' 4" and supermodel of the world. Me and Mama both looked at each other, and in that moment we simultaneously realized that her prediction, made 32 years prior, had finally come true. I was a star. That was the last time I saw Mama. " - on his mother Ernestine Charles
"When I got into drag, straight men, straight women, everybody would go, "Bitch, damn.""
"Every time I bat my eyelashes, it's a political act."
"That is the key to navigating this life — don't take it too seriously. That's when the party begins."
"Remember, this country was founded by a bunch of men wearing wigs."
"I've dedicated my career to fighting the mundane. My hope is that my career will be a shining example to children everywhere that life is more meaningful when you are not afraid to see all colors of the rainbow."
"Hey squirrel friend! When one video end just open up another one *laughs* its called binge - viewing. Go Ahead I support you..."
On RuPaul's Drag Race
"She done already done had herses!"
"Hello Hello Hello!"
"Now, just between us squirrel friends, what do you think?"
"Oooohh, pit crew!"
"In the great tradition of Paris is Burning, "Get out your Library Cards!"
"Because reading is what?" (The queens then would say, "Fundamental!")
"Now listen, I gotta tell ya..."
"Hey ladies!"
"Gentlemen, start your engines, and may the best woman win!"
"Racers, start your engines, and may the best drag queen win!"
"How are you going to make it funny?"
"Your country breakfast is ready!"
"Why it gotta be black?"
"Shake the dice and steal the rice, it's Santino!"
"Silence! I've made my decision. Bring back my girls!"
"Bring back my girlseses."
"Bring back my......girls!?"
"Bring back my squirrels."
"Bring back my All Stars."
"Ladies I have to ask, who should I send home tonight and why?"
"I've consulted with the judges, but the final decision is mine to make."
"I've consulted with the judges, but quite frankly, I don't give a fuck what they think."
"Condragulations, you are the winner of this week's challenge!"
"You're a winner, baby!"
"I'm sorry my dear, but you are up for elimination."
"Two queens stand before me."
"Two queens stand behind me."
"The time has come, for you to lip-sync, for your life!"
"The time has come for you to lip-sync for your legacy!"
"Good luck, and don't fuck it up!"
"As it is written, so it shall be done."
"You are and always will be an All Star."
"Shantay, you stay."
"Sashay away."
"If you can't love yourself, how the hell are you gonna love somebody else? Can I get an amen up in here?"
"Now let the music play!"
Season 1
"CAMEROOOOON!"
"Extravaganza Eleganza!"
"Yes, something to wash down the fava beans."
Season 2
Season 3
"RAJAAAA!"
"Ladies, I must admit...that made me feel uncomfortable."
"Drag is not a contact sport."
Season 4
"London, Paris, Milan!"
"May I call you Jiggly?"
"I'll have a Latrice Royale on the rocks."
"No T, no shade!"
"Time to push, ladies. PUUUSSH! Because I'm about to crown … moan … America's Next Drag Superstar."
"I get worried when you do that 'oh it's going to be fine' … there have been times when you've done that and then uh-uh *mumbles*"
"Impersonating Beyoncé is not your destiny, child."
"It has come to my attention that you have broken the rules, rules that are in place to protect the fairness of this competition."
All Stars 1
"That's funny, tell another one!" (to Michelle Visage)
"I say fuck it, we're having a top four!"
Season 5
"Alaska, the 49th state!"
"I can't wait to see how this turns out."
"We as gay people, we get to choose our family, do you know what I'm saying? We are a family here. I love you."
Season 6
"G-G-G-Gia!"
"Blame it on Bianca Del Rio."
"Dip into the cool waters of Darienne Lake."
"Hey ladies! I hate to break up a good time, but I've got company coming in the morning, darlings... so SHUT YOUR STINKING PIEHOLES AND GO TO BED!"
Season 7
"LaGuardia, Newark, Kennedy."
"Wake up, Pearl!"
"Bitches Better Beware" – To Kennedy Davenport after lip-syncing with Katya
"Fu Man Chu Betta Werk"- To Kandy Ho's bearded runway
"Nothing you say matters unless those cameras are rolling"
"Bring back my.. gIrLs..?"
"How's your head?"
Season 8
"Bob The Drag Queen, not to be confused with Bob the (occupation)."
"Neither one of you survived that lipsync."
"I must ask you both to sashay away..."
"I just had to eliminate two queens. How soon can you get here?"
All Stars 2
"The time has come, for you to lip-sync, for your legacy!"
"You're a winner, baby!"
"And when you pinch yourself, can you feel it?"
Season 9
"We've been in touch with the doctor. You need time to heal."
"Valentina, this is a lip-sync for your life, we need to see your lips. Take that thing off your mouth."
"Valentina, I thought you had the stuff to go all the way."
"It's a lip-sync. What part of that do you not understand?"
"Nina Bo'nina Brown...

Zeta Jones."
Nelson Riley."
Joyner Kersee."
Gurley Brown."
Jessica Parker."
Anderson Lee."
Pinkett Smith."
Rodham Clinton."
Faye Baker."
Louise Ciconne."
Earl Jones."
Kennedy Onassis."
Abdul Jabbar."
Miller Boyette."
Bowyer-Chapman."
Tyler Moore."
Ellis Ross."
Champagne King."
Bader Ginsberg."
Stewart Masterson."
Carrington Colby."
Andre Charles... you are part of my family now!" (upon Nina's elimination)
All Stars 3
"Melk."
"Wait, did I leave the iron on?"
"NO MORE WHITEOUT!!" -To the top 5 queens following DeLa's self-elimination.
Season 10
"My safe word is, Chaka Khan!"
"Don't you start with me, Michelle!"
"VANJIE!!!"
"Bring back my gills!"
All Stars 4
"Trust me she is, I've seen her apartment."
"All Star rules are temporarily suspended, until further notice."
"For the first time in drag race herstory, you are both winners baby!"
"Winner Winner...two chicken dinners."
Season 11
"For the first time in drag race herstory, all of you are gonna lip-sync for your lives."
"Dr. Reverend Silky Nutmeg Ganache."
"Meh."
UK Season 1
"Her majesty done already done had herses!"
Season 12
All Stars 5
"Let go, and... let God-"
"The most important thing I've learnt is this. Happiness is in your own back yard." (Introducing the Backyard Ball)
"All Star rules have been suspended... FOREVAH!"
Season 13
"Racers, start your engines, and may the best drag queen win!"
"I'm sorry my dear but you are getting the Porkchop."
"Do you like surprises?"
"Oh goodie! Three queens stand before me..."
"Do re mi, LaLa Ri."
"I'dica??..You'dica!"
"Syracuse, Schenectady, Utica."
"I pity the fool that has to go against you!"
"This bitch is crazy." (referring to Utica Queen)
"Okay, fuck all of you."
"Symone, Symonyay"
"Kandy wait! I'm not ready for you to go yet."
"Middle Fingers" (To Utica).
"Baby Gott Mik!" (Referring to Gottmik's "new single on iTunes")
UK Season 2
"Ello, gov'na!" (Said while walking into the werkroom)
"Lawrence Chaney!" (in Scottish accent)
"The question remains, Tia Kofi."
"Oh brother, it's Sister Sister!"
"I don't want to see any fucking H&M." (about Joe Black)
"Tia Kofi, the question no longer remains. You will always be my cup of tea." (upon Tia Kofi's elimination)
Down Under Season 1
"G'day, G'day, G'day"
"Well Sheila done already done had herses!"
"Aussie, Aussie, Aussie!"

"Oi, oi, oi!" (queens' response)

"Kia Ora queens"
All Stars 6
"Meh!"
"Damn, damn, damn!" (after Laganja Estranja and Trinity K. Bonet's lipsync)
"In accordance with All Star rules, OF WHICH THERE ARE MANY, you will advance in the Rudemption smack-down for the crown."
"So you wanna lipsync for your legacy all by yourself? Aren't you afraid of losing?"
"Oh who am I kidding. Hit it!"
Season 14
"She's not a Big Pill, she's a Wittle Piw!"
"I DON'T WANNA SEE ANYMORE FLIP-FLOPS ON MY STAGE!"
"Oh, my coffee enema is kicking in."
"Is your pussy on fire?"
"Jorgeous, you were born to do drag!"
Discography
| Album Title | Release Date | Cover Art |
| --- | --- | --- |
| Supermodel of the World | June 8, 1993 | |
| Foxy Lady | October 29, 1996 | |
| Ho, Ho, Ho | October 28, 1997 | |
| Red Hot | September 21, 2004 | |
| Champion | February 24, 2009 | |
| Glamazon | May 3, 2011 | |
| Born Naked | February 24, 2014 | |
| Realness | March 2, 2015 | |
| Slay Belles | October 23, 2015 | |
| Butch Queen | March 4, 2016 | |
| Remember Me: Essential, Vol. 1 | February 3, 2017 | |
| American | March 24, 2017 | |
| Essential, Vol. 2 | June 9, 2017 | |
| Christmas Party | November 1, 2018 | |
| Queen of Queens | April 29, 2019 | |
| You're a Winner, Baby | January 10, 2020 | |
| MAMARU | January 7, 2022 | |
Bibliography
Drag Name Origin
RuPaul decided to keep her birth name RuPaul, but without Charles at the end.
Trivia
RuPaul can be seen in the B-52's music video for "Love Shack." He was acquainted with the band during his (and their) Atlanta days.
Bunny revealed in the podcast, Ebony and Irony that RuPaul is a great dancer back in the days where they performed in Atlanta and in the Pyramid Club.

Furhtermore, Bunny also said that they both tried to follow more contemporary dances such as the Running Man.

RuPaul was a part of a band called The Now Explosion.
Other than RuPaul's Drag Race and RuPaul's Drag U, RuPaul hosted his own talk show/comedy sketch show on VH1.
On the week of RuPaul's 40th birthday in 2000, a replica statue of him was unveiled at Madame Tussaud's wax museum in New York City.
He was the surprise guest at the VH1 Divas 2000: A Tribute to Diana Ross in an all star lineup that included Donna Summer, Faith Hill, Destiny's Child, and Mariah Carey, performing Ross's hit song "I'm Coming Out".
He made a media comeback in 1996 after the tabloids dubbed him "The Wicked Witch of MTV" following his Milton Berle issue. He appeared in an exuberantly done gown by fashion designer Bob Mackie, who has appeared as a guest judge on RuPaul's Drag Race, at the 1996 VH1 Fashion Awards.
He ended his affiliation with MTV, shortly after the success of his debut album, which was supported heavily by the network. His departure came after a live telecast of the 1993 Video Music Awards, where he uttered negative remarks to co-presenter comedian.Milton Berle. His representatives later made a public statement that his offense was provoked by Berle's vulgar comments and sexual assault back-stage during the show.
He Scored four #1 singles from his debut album on the Billboard Hot Dance Music/Club Play charts, with Supermodel (You Better Work), A Shade Shadey (Now Prance), Back To My Roots and House Of Love.
He was born at 7:58 PM PST.
His #1 dance single Supermodel (You Better Work) was covered by 80s dance sensation Taylor Dayne for the Lizzie McGuire Movie soundtrack in 2003.

He was voted "Queen of Manhattan 1990" by club owners, promoters and DJs.

He has appeared in five films with actress Stockard Channing in Smoke (1995), To Wong Foo, Thanks for Everything! Julie Newmar (1995), An Unexpected Life (1998) and The Truth About Jane (2000).
In 2002 he recorded "You're No Lady" a dance-club song with actress Brigitte Nielsen as Gitta.
He was featured in Lady Gaga's Christmas special Lady Gaga & the Muppets' Holiday Spectacular and did a duet of her song "Fashion".
In March 2018, RuPaul caused major controversy by making some comments about trans and cisgender women. He later backtracked and publicly apologized, he has since included transgender and cisgender drag queens in the competition.
On March 16, 2018, RuPaul got a star on the Hollywood Walk of Fame. It is located in front of the World Of Wonder Offices on Hollywood Boulevard.
Ru has been impersonated twice on the Snatch Game, by Jessica Wild on Season 2 and Trixie Mattel on All-Stars 3.
Ru voices a character named "Corny the Unicorn" in the WOWPresents+ show Drag Tots. The show also features Bianca Del Rio, Valentina, and many more Ru-Girls.
RuPaul, along with Raja, made an appearance in The Simpsons, Season 30 Episode 7, playing the character Miss Shante, he helps Marge to become confident being a drag queen.
RuPaul appeared in Taylor Swift's music video for You Need to Calm Down.
RuPaul appeared on SNL in February 2020.
RuPaul hosted Drag Race: Live in Las Vegas. Contestants include Aquaria, India Ferrah and Kameron Michaels.
He was kicked out of High School.
He is the first Drag Queen to get a Hollywood walk of fame.
Ru changes into sweatpants after walking the runway.

Utica referenced this during the Season 13 Nice Girls Roast, saying "RuPaul, you are such a fashion icon. If you could stand up for us please?."

Ru could arguably be called the Tyra Banks of drag, due to their similarity in appearance and style, along with their controversy of hosting a TV show.
Gallery
RuPaul's Drag Race Promo Looks
RuPaul's Drag Race Spin-Off Series Promo Looks
Others
Videos
Social Media
References
Winners
BeBe Zahara Benet (S1), Tyra Sanchez (S2), Raja (S3), Sharon Needles (S4), Chad Michaels (AS1), Jinkx Monsoon (S5), Bianca Del Rio (S6), Violet Chachki (S7), Bob The Drag Queen (S8), Alaska (AS2), Sasha Velour (S9), Trixie Mattel (AS3), Aquaria (S10), Monét X Change & Trinity The Tuck (AS4), Yvie Oddly (S11), Jaida Essence Hall (S12), Shea Couleé (AS5), Symone (S13), Kylie Sonique Love (AS6)
Runners-Up
Nina Flowers (S1), Raven (S2, AS1), Manila Luzon (S3), Chad Michaels & Phi Phi O'Hara (S4), Alaska & Roxxxy Andrews (S5), Adore Delano & Courtney Act (S6), Ginger Minj (S7, AS6) & Pearl (S7), Kim Chi (S8) & Naomi Smalls (S8, AS4), Detox & Katya (AS2), Peppermint (S9), Kennedy Davenport (AS3), Eureka (S10, AS6) & Kameron Michaels (S10), Monique Heart (AS4), Brooke Lynn Hytes (S11), Crystal Methyd & Gigi Goode (S12), Jujubee & Miz Cracker (AS5), Kandy Muse (S13), Ra'Jah O'Hara (AS6)
Miss Congeniality
Nina Flowers (S1), Pandora Boxx (S2), Yara Sofia (S3), Latrice Royale (S4), Ivy Winters (S5), BenDeLaCreme (S6), Katya (S7), Cynthia Lee Fontaine (S8), Valentina (S9), Monét X Change (S10), Nina West (S11), Heidi N Closet (S12), LaLa Ri (S13)
See also:
Queens
Judges
RuPaul (S1-), Santino Rice (S1-6), Merle Ginsberg (S1-2), Billy B (S3-4), Michelle Visage (S3-), Mike Ruiz (Guest Judge S1-7), Carson Kressley (S7-), Ross Mathews (S7-), Todrick Hall (AS2)
Pit Crew
Kenyon Glover (S1), Keon Hunt (S1), Preston Taylor (S1), Emanuel Palmer (S2), Max "The Body" Philisaire (S2), Shawn Morales (S3-6), Jason Carter (S3-S13), Miles Davis Moody (S6-9), Simon Sherry Wood (S6), Bryce Eilenberg (S7-S13), Jared North (S9), Yadier Despaigne (S9), Bruno Carvalho (AS4-S13)
Other Series
The Boulet Brothers' Dragula • Queen of the Universe • La Más Draga • Call Me Mother
See also:
Dictionary • Snatch Game • Reading is Fundamental • Makeover Challenge • List of Lip Sync Performances