Spoiler Alert!

This article contains spoilers about a currently airing season, and therefore may be incorrect and will change from time to time. Continue reading at your own discretion.

The second season of RuPaul's Drag Race Down Under was officially confirmed via World of Wonder's Instagram on September 9, 2021.[3] Casting opened the same day, with deadline of October 5, 2021.[4]
On June 21, 2022, it was announced by Stan and TVNZ that the season would premiere on July 30, 2022.[2] The ten contestants competing for the title of Down Under's Next Drag Superstar were revealed on July 6, 2022.[5]
Contestants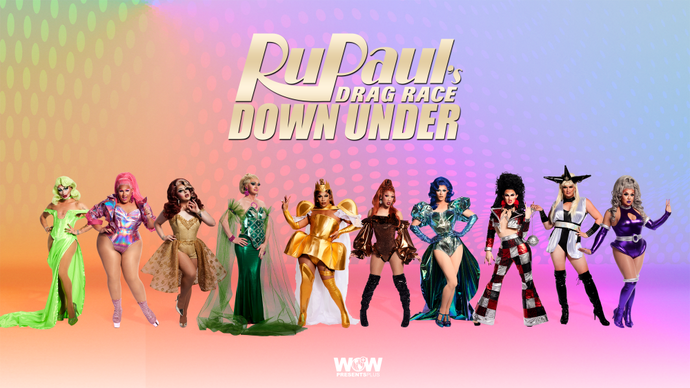 (Stage names, ages and locations stated from during time of contest)
Rank
Contestant
Photo
Age[5]
Location[5]
Ep. 1
Ep. 2
Ep. 3

Design

Acting

Stand
Up
TBA
Spankie Jackzon
37
Palmerston North,
New Zealand
BTM2
WIN
TBA
TBA
Hannah Conda
30
Sydney,
Australia
HIGH
HIGH
TBA
TBA
Minnie Cooper
50[6]
Sydney,
Australia
SAFE
Mini
Chall.
Winner
HIGH
TBA
TBA
Molly Poppinz
30
Newcastle,
Australia
WIN
SAFE
TBA
TBA
Beverly Kills
21
Brisbane,
Australia
SAFE
SAFE
TBA
TBA
Pomara Fifth
28
Sydney,
Australia
SAFE
SAFE
TBA
TBA
Yuri Guaii
25
Auckland,
New Zealand
HIGH
LOW
TBA
TBA
Kween Kong
29
Adelaide,
Australia
LOW
BTM2
TBA
9th
Aubrey Haive
25
Timaru,
New Zealand
SAFE
ELIM
10th
Faúx Fúr
27
Sydney,
Australia
ELIM
Episodes
Series #
Episode #
Episode Title
Airdate
9
1
Grand Opening
July 30, 2022
10
2
Cagey Queens[7]
August 6, 2022
11
3
A Bottomless Brunch[7]
August 13, 2022
12
4
Snatch Game[7]
August 20, 2022
13
5
Bosom Buddies[7]
August 27, 2022
Episode 1: "Grand Opening"
Airdate: July 30, 2022
Synopsis: Mama Ru returns for more shenanigans as ten new queens from all across Australia & New Zealand compete for the title of Down Under's Next Drag Superstar, and this time there's a $50k cash prize at stake! The queens are thrown in at the deep end as they're tasked with creating fashion forward garments out of recyclable and natural materials.
Special Guests: Bindi Irwin and Robert Irwin
Mini Challenge: Photoshoot with sausages
Mini Challenge Winner: Minnie Cooper
Maxi Challenge: Creat an outfit using unconventional materials.
Runway Theme: Down Under, Naturally
Maxi Challenge Winner: Molly Poppinz
Maxi Challenge Prize: A custom prosthetic makeover courtesy of body FX
Bottom Two: Spankie Jackzon and Faúx Fúr
Lip Sync Song: "Get Outta My Way" by Kylie Minogue
Eliminated: Faúx Fúr
Farewell Message: "Sisters forever. The loud niece dies. Aahhhh! xoxo Faux"
Entrance Order
| | |
| --- | --- |
| 1 | Hannah Conda |
| 2 | Faúx Fúr |
| 3 | Spankie Jackzon |
| 4 | Beverly Kills |
| 5 | Minnie Cooper |
| 6 | Molly Poppinz |
| 7 | Yuri Guaii |
| 8 | Pomara Fifth |
| 9 | Aubrey Haive |
| 10 | Kween Kong |
Episode 2: "Cagey Queens"
Airdate: August 6, 2022
Synopsis: The queens are split into two groups before their acting chops are put to the test in original screenplay "Caged Queens" a prison-based dramedy.
Guest Judge: Lucy Lawless[8]
Maxi Challenge: Acting Challenge
Runway Theme: Fly Girls
Maxi Challenge Winner: Spankie Jackzon
Maxi Challenge Prize: A 4-night stay at a Sofitel property
Bottom Two: Aubrey Haive and Kween Kong
Lip Sync Song: "I Touch Myself" by The Divinyls
Eliminated: Aubrey Haive
Farewell Message: TBA
Episode 3: "A Bottomless Brunch"
Airdate: August 13, 2022
Synopsis: TBA
Guest Judge: TBA
Mini Challenge: TBA
Mini Challenge Winner: TBA
Maxi Challenge: Host a drag brunch
Runway Theme: TBA
Maxi Challenge Winner: TBA
Maxi Challenge Prize: TBA
Bottom Two: TBA
Lip Sync Song: TBA
Eliminated: TBA
Farewell Message: TBA
Trivia
Gallery
Check out the

video gallery

to see challenge performances, runways, lip syncs, and more!
References