RuPaul's Drag Race Vegas Revue is a spinoff series that aired in Summer 2020, after the fifth season of the All Stars series.
RuPaul's Drag Race queens Naomi Smalls, Yvie Oddly, Vanessa Vanjie Mateo, Kameron Michaels, Derrick Barry, and Asia O'Hara hit the Las Vegas Strip in "RuPaul's Drag Race: Vegas Revue", which follows its six leading ladies as they prepare to lead the "RuPaul's Drag Race Live!" residency show.[1]
The official trailer announced the premiere date, that was Friday, August 21 at 8:00 p.m. on VH1.
About the Show
"VH1's new series will have you getting your jush and hitting the jackpot. Produced by World of Wonder and Drag Race masterminds Fenton Bailey, Randy Barbato, Tom Campbell, Danielle King, and RuPaul Charles, Vegas Revue is billed as a docuseries that "brings viewers behind the scenes of a jaw-dropping live stage show" through a "deeper look into the lives of their favorite queens as they showcase the charisma, uniqueness, nerve, and talent it takes to pull off groundbreaking performances in front of a live audience," per a press release.[2] Follow Naomi Smalls, Derrick Barry, Vanessa Vanjie Mateo and other queens from RuPaul's Drag Race as Mama Ru leads them through the next level in their careers with a Las Vegas residency.[3]"
Queens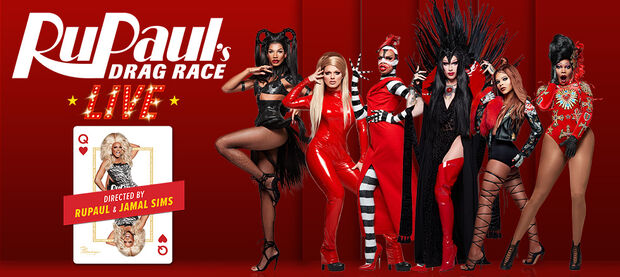 Queen
Photo
Season(s)
Placement(s)
Description
Asia O'Hara
Season 10
4th Place
"Not only does Asia walk downstage every night as the MC of RuPaul's Drag Race Live!, she's also preparing to walk down the aisle! With her fiance Brett back home in Dallas finishing nursing school, Asia must nail every performance for her adoring fans while also planning her wedding remotely. As the pressure mounts of carrying the musical - and her engagement - will Asia reach her breaking point?"
Kameron Michaels
Season 10
Runner-Up
(2nd/3rd Place)
"Kameron has it all: the muscles, the fans and the reputation of being one of the best performers and lip sync assassins in Drag Race history. But there is one thing that still eludes her: love. A career in drag makes relationships hard - the fame, the travel, the distance - but Kameron refuses to give up on true happiness. A new boyfriend could be the one, but he lives in New York City, and Kameron has signed this amazing residency in Las Vegas for months. Will she have to, once again, choose between love and her career?"
Derrick Barry
Season 8
5th Place
"Derrick is the queen of Las Vegas, having lived and performed on the strip for the past 16 years - and she does so with the support of not one but two boyfriends. Three's not a crowd, it's a throuple, and Nick (Derrick's partner of 13 years) and Mack (her partner of eight years) are intertwined with her life, both personally and professionally. This Britney Spears impersonator must now share the spotlight with her former rival, Naomi Smalls. Their relationship has been "Toxic" since Season 8 of RuPaul's Drag Race, and if they can't work out their differences quickly, the musical could get "Crazy.""
All Stars 5
10th Place
Naomi Smalls
Season 8
Runner-Up
(2nd/3rd Place)
"With her legendary legs and her supermodel strut, Naomi was born for the bright lights of the Vegas stage. But her quest for the limelight has other castmates wondering about her team spirit. Now that she's part of a sisterhood, will she be able to play nice, especially with her RuPaul's Drag Race Season 8 nemesis, Derrick Barry? In Las Vegas, there are very few sure bets, but smart money says that when Naomi and Derrick get together, there's going to be lots of drama."
All Stars 4
Runner-Up
(3rd/4th Place)
Vanessa Vanjie Mateo
Season 10
14th Place
"Vanjie won the hearts of millions of fans with her iconic exit line "Miss Vaaaanjie." But she's here to prove she's more than just a meme. Vanjie wants to take this opportunity to not only become Las Vegas's newest sensation but to also find real and authentic love. Without someone to laugh with, she's realizing that life isn't always fun and games. The search is on, and Vanjie may soon learn the answers are closer than she ever realized."
Season 11
5th Place
Yvie Oddly
Season 11
Winner
(1st Place)
"Yvie is excited for her next adventure after being crowned champion of RuPaul's Drag Race Season 11. Life isn't all parades and victory laps for Yvie, however, as her Ehlers-Danlos syndrome (a painful disorder that affects her skin and joints) threatens to derail her career forever. Yvie has avoided going to a doctor in recent years, fearing that they might tell her to retire and give up drag, which is the thing she loves most in this world. With her health in the balance, Yvie lands in Vegas, hoping to prove that nothing will stop her from performing in this musical."
Episodes
| Series # | Episode # | Episode Title | Air Date |
| --- | --- | --- | --- |
| | | | |
| 1 | 1 | Baby, We Made It! | August 21, 2020 |
| 2 | 2 | Opening Night | August 28, 2020 |
| 3 | 3 | The Weakest Link | September 4, 2020 |
| 4 | 4 | Love Is In The Air | September 11, 2020 |
| 5 | 5 | Family Affair | September 18, 2020 |
| 6 | 6 | Leaving Las Vegas? | September 25, 2020 |
Episode 1: "Baby, We Made It!"
Airdate: August 21, 2020
Synopsis: "Six RuPaul's Drag Race fan favorite queens move to Las Vegas to begin working on a brand new Las Vegas Residency. With rehearsals underway, and the pressure from RuPaul to "turn it out", the queens must create a sisterhood and rise to the occasion. As the queens arrive for their Las Vegas residency, a shaky rehearsal creates anxiety for Kameron, Yvie's health is a concern for Ru, and Naomi and Derrick's old feud is revived."
Episode 2: "Opening Night"
Airdate: August 28, 2020
Synopsis: "Opening night is fast approaching and RuPaul is turning up the pressure on the queens. The girls plan a night out in drag to ease tensions but an unwelcome visitor threatens the sisterhood. Tempers flare when Derrick's partner Nebraska crashes girls night out, Ru delivers some last-minute pointers, and the queens hit the red carpet before opening to a sold-out crowd."
Episode 3: "The Weakest Link"
Airdate: September 4, 2020
Synopsis: "After performing to a sell-out Opening Night, can the queens sustain the momentum and win over the Press? A simple conversation about which queen is the weakest link comes to a boiling point at a penthouse party. After the queens' debut show, Asia suggests that Naomi is not a team player, Derrick sets out to find Vanjie a new love interest, and Yvie explores different career options."
Episode 4: "Love Is In The Air"
Airdate: September 11, 2020
Synopsis: "The queens deal with the aftermath of a group get together gone wrong. After a confrontation with Naomi and Derrick, Asia moves dressing rooms, fragmenting the sisterhood. Kameron welcomes his out of town boyfriend. Asia's conflict with Naomi and Derrick carries over to the queens' dressing rooms, Yvie shoots a music video, and Kameron's love life takes an unexpected turn."
Episode 5: "Family Affair"
Airdate: September 18, 2020
Synopsis: "Vanjie's mom comes to Vegas to see the show, and when she notices Vanjie's loneliness, decides to play matchmaker. Meanwhile, with tension still high between Asia and the other queens, Asia's fiancé, Brett, brings some much-needed comfort."
Episode 6: "Leaving Las Vegas?"
Airdate: September 25, 2020
Synopsis: "With tensions still high, Derrick, Naomi, and Asia attempt to move past their issues. Vanjie and Kameron see if there are sparks on a romantic first date. As the global pandemic reaches Las Vegas, what's next for the queens becomes uncertain."
Gallery
Videos
Episode Scenes
Bonus and Deleted Clips
Trivia
References
Winners
BeBe Zahara Benet (S1), Tyra Sanchez (S2), Raja (S3), Sharon Needles (S4), Chad Michaels (AS1), Jinkx Monsoon (S5), Bianca Del Rio (S6), Violet Chachki (S7), Bob The Drag Queen (S8), Alaska (AS2), Sasha Velour (S9), Trixie Mattel (AS3), Aquaria (S10), Monét X Change & Trinity The Tuck (AS4), Yvie Oddly (S11), Jaida Essence Hall (S12), Shea Couleé (AS5), Symone (S13), Kylie Sonique Love (AS6)
Runners-Up
Nina Flowers (S1), Raven (S2, AS1), Manila Luzon (S3), Chad Michaels & Phi Phi O'Hara (S4), Alaska & Roxxxy Andrews (S5), Adore Delano & Courtney Act (S6), Ginger Minj (S7, AS6) & Pearl (S7), Kim Chi (S8) & Naomi Smalls (S8, AS4), Detox & Katya (AS2), Peppermint (S9), Kennedy Davenport (AS3), Eureka (S10, AS6) & Kameron Michaels (S10), Monique Heart (AS4), Brooke Lynn Hytes (S11), Crystal Methyd & Gigi Goode (S12), Jujubee & Miz Cracker (AS5), Kandy Muse (S13), Ra'Jah O'Hara (AS6)
Miss Congeniality
Nina Flowers (S1), Pandora Boxx (S2), Yara Sofia (S3), Latrice Royale (S4), Ivy Winters (S5), BenDeLaCreme (S6), Katya (S7), Cynthia Lee Fontaine (S8), Valentina (S9), Monét X Change (S10), Nina West (S11), Heidi N Closet (S12), LaLa Ri (S13)
See also:
Queens
Judges
RuPaul (S1-), Santino Rice (S1-6), Merle Ginsberg (S1-2), Billy B (S3-4), Michelle Visage (S3-), Mike Ruiz (Guest Judge S1-7), Carson Kressley (S7-), Ross Mathews (S7-), Todrick Hall (AS2)
Pit Crew
Kenyon Glover (S1), Keon Hunt (S1), Preston Taylor (S1), Emanuel Palmer (S2), Max "The Body" Philisaire (S2), Shawn Morales (S3-6), Jason Carter (S3-S13), Miles Davis Moody (S6-9), Simon Sherry Wood (S6), Bryce Eilenberg (S7-S13), Jared North (S9), Yadier Despaigne (S9), Bruno Carvalho (AS4-S13)
Other Series
The Boulet Brothers' Dragula • Queen of the Universe • La Más Draga • Call Me Mother
See also:
Dictionary • Snatch Game • Reading is Fundamental • Makeover Challenge • List of Lip Sync Performances