Santino Quinto Rice (born August 20, 1974) is an American fashion designer and T.V. personality. He was a judge on RuPaul's Drag Race seasons 1-6. He is best known for his appearances on the reality television programs Project Runway, RuPaul's Drag Race, and On the Road with Austin and Santino.
Early life
Rice was born and raised in St. Charles, Missouri. His parents were both multiracial, and his background includes African-American, Italian, Jewish, and Native American.[1] In high school, Rice earned a scholarship to the Fashion Institute of Design and Merchandising in Los Angeles.[1] After attending school there, he reportedly found work in the film industry, including extra roles, voice acting, and costume design.[1]
Career
In 2005, Rice participated as a contestant on the second season of the Bravo reality show Project Runway, in which fashion designers compete against each other in various design-related challenges, judged by a panel of industry experts. Rice's designs produced mixed results on the show. He won two challenges, including one in which the designers created red carpet dresses for Nicky Hilton, and on three other occasions, his designs scored among the top three. However, there were also four challenges in which Rice received low scores, landing in the bottom two. Ultimately, he lasted throughout the season and was one of three finalists selected to show at Olympus Fashion Week in New York City. He finished in third place behind Daniel Vosovic and Chloe Dao respectively.[2]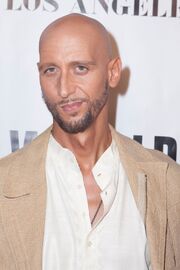 Rice became well known for the charismatic and sometimes abrasive persona that he presented on Project Runway, and he was often cited as the "villain" of the show. He was also known for his humour, including his impersonations of mentor Tim GunnAfter Project Runway, Rice was selected to be one of the judges of the Miss Universe 2006 pageant. He was also asked by MTV VJ SuChin Pak to design her dress for the 2006 MTV Movie Awards. The following year, Rice made a guest appearance in the sixth episode of America's Most Smartest Model, in which he taught the contestants about fashion design.[3] As of 2008, he was creating a new cigarette pack design for Camel, dressing a handful of elite private clients, and working on building his own clothing company.[4]
More recently, Rice has been cast in two main roles in reality television. From 2009 to 2014 he was a member of the judging panel on the Logo reality program RuPaul's Drag Race, a talent competition for drag queens that has enjoyed an eleven -season run, plus an All Stars season, and was a guest judge on Season 7 Episode 11. Rice also starred in the Lifetime show On the Road with Austin and Santino, alongside fellow Project Runway alumnus Austin Scarlett.[5] The show, which premiered in 2010, followed Rice and Scarlett as they visited various American small towns, designing clothing for women who have upcoming special occasions. Rice also played a minor role as a homeless man in the independent queer cinema thriller L.A. Zombie, which premiered in 2010.
Personal life
Rice currently lives and works in Hollywood, California.
Rice has been referred to in the press as bisexual, but has said of his own sexual orientation, "You can just call me gay but I like men and I am attracted to beautiful women. I didn't like the negativity that was attached to being gay growing up so that is why I have problems with the label."
References
BeBe Zahara Benet (S1), Tyra Sanchez (S2), Raja (S3), Sharon Needles (S4), Chad Michaels (AS1), Jinkx Monsoon (S5), Bianca Del Rio (S6), Violet Chachki (S7), Bob The Drag Queen (S8), Alaska (AS2), Sasha Velour (S9), Trixie Mattel (AS3), Aquaria (S10), Monét X Change & Trinity The Tuck (AS4), Yvie Oddly (S11), Jaida Essence Hall (S12), Shea Couleé (AS5)

Nina Flowers (S1), Raven (S2, AS1), Manila Luzon (S3), Chad Michaels & Phi Phi O'Hara (S4), Alaska & Roxxxy Andrews (S5), Adore Delano & Courtney Act (S6), Ginger Minj & Pearl (S7), Kim Chi (S8) & Naomi Smalls (S8, AS4), Detox & Katya (AS2), Peppermint (S9), Kennedy Davenport (AS3), Eureka O'Hara & Kameron Michaels (S10), Monique Heart (AS4), Brooke Lynn Hytes (S11), Crystal Methyd & Gigi Goode (S12), Jujubee & Miz Cracker (AS5)

Nina Flowers (S1), Pandora Boxx (S2), Yara Sofia (S3), Latrice Royale (S4), Ivy Winters (S5), BenDeLaCreme (S6), Katya (S7), Cynthia Lee Fontaine (S8), Valentina (S9), Monét X Change (S10), Nina West (S11), Heidi N Closet (S12)
RuPaul (S1-), Santino Rice (S1-6), Merle Ginsberg (S1-2), Billy B (S3-4), Michelle Visage (S3-), Mike Ruiz (Guest Judge S1-7), Carson Kressley (S7-), Ross Mathews (S7-), Todrick Hall (AS2)

Kenyon Glover (S1), Keon Hunt (S1), Preston Taylor (S1), Emanuel Palmer (S2), Max "The Body" Philisaire (S2), Shawn Morales (S3-6), Jason Carter (S3-S13), Miles Davis Moody (S6-9), Simon Sherry Wood (S6), Bryce Eilenberg (S7-S13), Jared North (S9), Yadier Despaigne (S9), Bruno Carvalho (AS4-S13)

Dictionary • Snatch Game • Reading is Fundamental • Drag Makeovers • "Dusted or Busted" Scoring System • How To Win RuPaul's Drag Race • List of Lip Sync Performances
Community content is available under
CC-BY-SA
unless otherwise noted.