Contestant Spotlight: Sasha Velour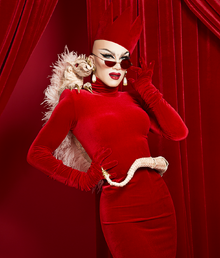 Sasha Velour is the drag queen name of Sasha Steinberg, a performer, visual artist, Brooklyn's monthly "Nightgowns" show producer/host and the Season 9 winner of "RuPaul's Drag Race".
Drag Name Origin
Sasha's parents named her after Alexandra Kollontai, a Russian feminist leader. "Sasha" is a common Russian nickname for either Alexander or Alexandra, and because she was told her whole life that she had a girl's name, she kept it. "Velour" comes from a fabric often used as a cheaper substitute for velvet, which Sasha thinks is the perfect metaphor for drag.
RuPaul's Drag Race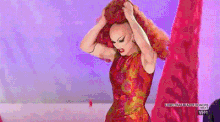 Sasha velour

| | |
| --- | --- |
| Season Competed: | Season 9 |
| Ranking: | 1st (Winner) |
| Mini-Challenges Won: | 1 (ep. 11) |
| Times as Team Captain: | 0 |
| Main Challenges Won: | 2 (Ep. 4 and Ep. 9) |
| Times in Bottom Two: | 0 |
| Episode Eliminated: | N/A |
On the first episode of Season 9, "Oh. My. Gaga!", the queens had to showcase a hometown look and a Lady Gaga look. Sasha's hometown look was inspired by New York's "queer art" and was well received, but criticized for an unnecessary use of props. Her Gaga look was from the "Applause" music video/single artwork and it received high praise. Sasha was one of the top three of the challenge but did not win.
On booth episodes 4 ("Good Morning Bitches!") and 9 ("Your Pilot's On Fire"), Sasha and Shea Couleé shared the challenge win after delivering a great job working together.
Sasha was criticised by the judges and placed low on Episode 7, "9021-HO", for fail on make her character not stand out on a parody of "9021-O". On other comedy challeges like on Episode 8, "RuPaul's Roast", and Episode 5 "Snatch Game" she did better works and placed high.
While considered to be overlooked on many of Season 9 challenges, Velour's unique style, charisma and lip sync (for the crown) astonishing and emotional performance on Episode 14, "Grand Finale", helped her won the title of "America's Next Drag Superstar".
Entrance Quote
"AAAAAAAAAH! *cough* HUUUH."
Memorable Quotes
"Don't joke about that." (to Eureka)
"Jaymes Mansfield looks scared and confused when she walks in. Like, 'am I in the right room?'"
"This is 'RuPaul's Best Group Therapy Race'."
"Thank you, JonBenét Ramsey." (to Farrah Moan)
"We have an out and proud lesbian comedian, thank you so much, Ross Matthews."
"Ross Matthews has the face of a young gay man and a voice of an adult woman, so the opposite of Tamar Braxton."
"Michelle is so Jersey, her idea of classical music is 'Lisa Lisa'."
"You now have lice."
"Mommy is taking you to church for the first time?"
Trivia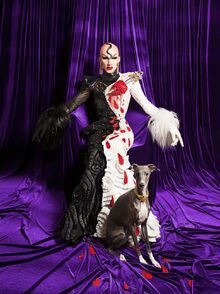 Sasha is known in the drag scene for using audiovisual equipment for her performances;
Sasha is of Russian-Jewish descent and did her Fulbright scholarship in Russia. She was in the airport on the way back from visiting Russia when she received her callback to the show;
Her favorite song to perform is "Wuthering Heights" by Kate Bush;
Velour is the director of a magazine entitled "Velour: The Drag Magazine";
Her bald looks are done in tribute to her late mother, who lost her hair during cancer treatment;
Sasha has a Italian greyhound dog named Vanya (short for Ivan The Terrible);
She is allergic to cats;
She is pescetarian;
Sasha is the 8th contestant to make it to the finale without ever placing in the bottom two;
She is the mother of the drag family "House of Velour." Members include Sasha's boyfriend Johnny Velour, drag kings Vigor Mortis, Mr. Lee VaLone, Dandy Velour and the drag queen Olive d'Nightlife;
Sasha won "Drag Queen of The Year" and "Best Visual Artist" at the 5th Annual Brooklyn Nightlife Awards in 2017. Additionally, House of Velour won "Event Producer of the Year";
She had previously posted on her Instagram account that she had thrown out the dress she wore on the runway for the "Draggily Ever After" challenge in episode 3, which some fans thought was basic and poorly tailored. But, in the first episode of the Logo series "Out of The Closet", she revealed she's kept the dress for sentimental reasons;
Sasha is the first winner not to have won the most challenges on her season.
Sasha is the fourth winner to never place in the bottom two, along with Tyra Sanchez, Bianca Del Rio and Violet Chachki. She was followed by Aquaria;
Sasha is the second winner to not win her first main challenge within the first three weeks of the competition, winning for the first time during week 4 (ep. 4). The first was Jinkx Monsoon, who won her first main challenge on week 5 (ep. 5), and the third was Aquaria, who won her first main challenge on week 4 (ep. 4);
Her favorite piece of art of all time is Keith Haring's "Radiant Baby", which was represented in one of her earrings on her Hometown Look;
Sasha is the first main series winner to never win a solo challenge;
Sasha is the third winner to not have the highest score of the season on the "Dusted or Busted" system. She is preceded by Bebe Zahara Benet and Bob The Drag Queen and followed by Trixie Mattel;
Discography
Singles
ㅤ
Appareances
"Category Is... (Season 9 Remix)" by RuPaul ft. Peppermint, Sasha Velour, Trinity The Tuck & Shea Couleé
Videos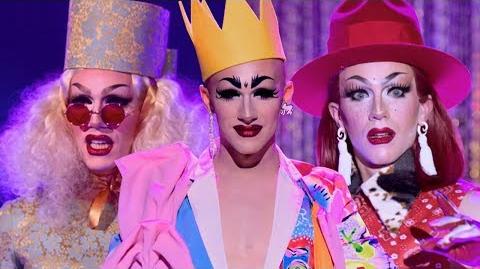 Social Media