Scarlet Envy is the stage name of Jacob James, a drag queen, performer, Brooklyn's drag show "Scarlet Fever" hostess, and one of the Season 11 contestants of RuPaul's Drag Race (placed 10th).
Name Origin
According to Scarlet, her name comes from strong female empowerment representation like "Scarlett O'Hara", character from the 1940 movie Gone with The Wind.
RuPaul's Drag Race
Scarlet Envy

| Season Competed | Season 11 |
| --- | --- |
| Ranking: | 10th Place |
| Mini-Challenges Won: | 1 (Ep. 4) |
| Times as Team Captain: | 0 |
| Times Placed High | 0 |
| Main Challenges Won: | 1 (Ep. 2) |
| Times Placed Low | 0 |
| Times in Bottom: | 2 (Eps. 3, 6) |
| Episode Eliminated | Episode 6 |
During the show, Scarlet Envy was highly praised for her work in acting challenges. She even won an acting challenge, along with Yvie Oddly, in Episode 2, "Good God Girl, Get Out!". However, her struggles with choreography saw her get eliminated in Episode 6, "The Draglympics", after an iconic lip sync against Ra'Jah O'Hara, ironically to "Last Dance" by Donna Summer.
On Reddit, she was broadly praised as having brought an experimental, joyful attitude common in earlier seasons despite her "ice queen" aesthetic. A huge number of fans were outraged at her elimination. Some even compared her ouster to BenDeLaCreme's in Season 6, and Trixie Mattel's in Season 7, making it clear that there's a demand for her to return in a future season of All Stars.
Memorable Quotes
"The world wants me, and the feeling is mutual." (Season 11 entrance)
"I am southern beauty and New York City grit."
"My drag is about embracing the beauty that you were blessed with... and I happened to be very blessed."
"She's Venus with a penis." (referring to herself, explaining her entrance look)
"I feel like I should start looking around for anyone else here." (joking about Vanessa Vanjie Mateo return)
"I didn't really have much of a reaction. It's drag I've seen before, she's sparkling, she's wearing platinum hair and woohoo." *shakes hand like it's holding a tiny flag* (referring to Brooke Lynn Hytes upon her Season 11 entrance)
"I should not be the last pick, especially on an acting challenge. I am Julia Roberts in Pretty Woman. Big mistake. Huge."
"When you feel your own oats so hard, you forget that there are other oats there."
"I feel beautiful."
"A winning look."
"Opinions are like assholes, you know? Most of them are on my face."
Farewell Message
"You know she loves a mirror and she loves you too. Meet you on the late night dance floor. XOXO Scarlet"
Trivia 
Scarlet's birth mother, Sherri, is pansexual and is now engaged to a woman named Sheri. So now she has 2 moms with very similar names!
She has 3 sisters.
Like her fellow Louisville queen, Season 10's Dusty Ray Bottoms, Scarlet spent time in gay conversion therapy in her youth and is now vocal about how harmful it is.
Originally from Louisville, Kentucky, Envy moved to New York City to study at the Fashion Institute, where she graduated.
She's a fan of singer Lana Del Rey and the deceased Princess Diana.
Prior to RuPaul's Drag Race, she performed primarily in Brooklyn, New York and has collaborated with Season 9 winner Sasha Velour.
Her favorite past-contestants are Season 6 winner Bianca Del Rio, Season 7 runner-up Pearl, and Season 5 Miss Congeniality Ivy Winters.
She sewed most of her Season 11 runway looks.
By virtue of finishing in 10th place, she is tied with Madame LaQueer and Mayhem Miller as the lowest placing contestant to win a challenge.
Gallery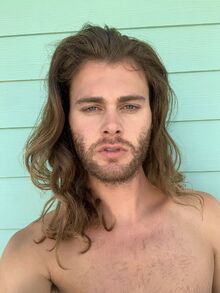 Season 11 Looks
Discography
Non-Album Singles
Filmography
TV
(2017) SNL, durring Katy Perry's "Swish Swish" performance
(2019) RuPaul's Drag Race, on Season 11
ㅤ
Web Series
Social Media
References
Community content is available under
CC-BY-SA
unless otherwise noted.