Serena ChaCha is the stage name of Myron Morgan, a drag performer and contestant who placed 13th on Season 5 of RuPaul's Drag Race.
RuPaul's Drag Race
On Drag Race, Serena was the youngest contestant on Season 5, which she joined shortly after graduating from art school; and constantly reminded everyone of this during her time on the show. Serena claimed that her art school background and the fact that she read books was the distinguishing factor between her and the other queens in the competition. However, ChaCha was the second contestant to be eliminated.
Serena ChaCha

| Season Competed | Season 5 |
| --- | --- |
| Ranking: | 13th Place |
| Mini-Challenges Won: | 1 (Ep. 2) |
| Times as Team Captain: | 1 (Ep. 2) |
| Times Placed High | 0 |
| Main Challenges Won: | 0 |
| Times Placed Low | 0 |
| Times in Bottom: | 2 (Eps. 1, 2) |
| Episode Eliminated | Episode 2 |
Entrance
Season 5
"This is the best quinceañera present ever!"
Drag Name Origin
Her friend gave her the name since he said that she was beautiful in drag but also really loud and energetic.
Memorable Quotes
"Does it bother you I keep saying I'm 21?!"
"I read books."
"The ghetto lexic and language..."
"You know, when you kurrrrr..."
"Speak English."
"I am now trilingual. I can now speak English, Spanish and Ghetto. That's something I didn't know"
"Serena ChaCha is a drag scholar."
Trivia
Serena is the second non-first boot to lip-sync in every episode she was in, after Akashia. She was followed by Vivacious, Laila McQueen, Kimora Blac, Kalorie Karbdashian-Williams, and Kahanna Montrese.
Out of drag, Myron sells wigs and does makeup.
Serena released a single called "ChaCha" in 2013 with audio clips from her season.
Serena is the first queen to be in the bottom 2 the first week, survive, and not compete in 3 total lip syncs.
She released a cover of Cardi B's song "Money", which Serena called "Drag Money."
She owns a hair company called ChaCharina Hair.
She sometimes appears on Spanish TV as a sort-of hair and makeup correspondent.
Gallery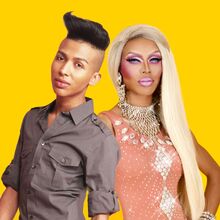 Follow Serena
Instagram [1]
Twitter [2]
Community content is available under
CC-BY-SA
unless otherwise noted.