'RuPaul's Drag Race' Profile: Shangela
Shangela Laquifa Wadley, commonly referred to as Shangela, is the stage name of D.J. Pierce, a professional drag queen, actor, and comedian from Paris, Texas.
Biography
Shangela first competed on the second season of RuPaul's Drag Race, where she was eliminated first, placing 12th in the competition overall.
Shangela returned to compete on the third season RuPaul's Drag Race. After winning two challenges, Shangela was eliminated in Episode 11. Following Carmen Carrera's subsequent return and elimination, Shangela placed 6th in the competition overall.
D.J. grew up as an only child with a single Army vet mom, a hard-working aunt and her grandparents, some of D.J.'s biggest supporters. D.J.'s grandpa was a pig and cattle farmer ranchhand. D.J.'s childhood was spent singing in the church choir, playing Atari Pole Position and tracing dresses from the bridal section of D.J.'s granny's JCPenney catalog. - Quoted from Shangela's website.
One of Shangela's first performances in drag was when she was 16 in the 10th grade. D.J. had to a book report for his English class. The book was Huck Finn, and D.J. re-wrote the lyrics of Tina Turner's "Proud Mary" and performed as Jim from the Book, earning her a high grade.
D.J. attended Southern Methodist University along with Sahara Davenport, who was on season 2 with Shangela. Her drag mother is Alyssa Edwards from season 5.
RuPaul's Drag Race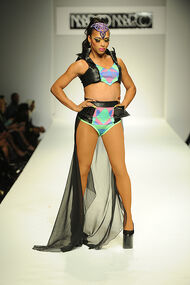 Shangela is the first contestant to have competed in 2 separate seasons of the show (Not including All Stars), the second being Cynthia Lee Fontaine, and the third being Eureka O'Hara.
Season 2
Shangela first started on RuPaul's Drag Race Season 2. Unfortunately for Shangela, she was sent home first. The reasons for her elimination was mainly because she didn't have enough experience. Prior to the 2nd season, Shangela was only doing drag for 5 months. Shangela didn't know how to sew and needed Pandora Boxx's help sewing her outfit. RuPaul quoted during deliberation "This is RuPaul's Drag Race, NOT RuPaul's School for Girls!"
Shangela fell into the bottom two in the "Gone With the Window" Challenge alongside her best friend, Sahara Davenport and was sent home.
Season 3
In a surprise twist on RuPaul's Drag Race Season 3, Shangela returned into the competition in a giant Christmas Box in the 2nd episode "The Queen who Mopped XMas". Shangela is the first queen to ever return to compete from a previous season
RuPaul felt that she was ready to compete and has gained enough experience to rejoin the competition. Since her elimination of Season 2, Shangela has gained a full year of experience. Shangela survived 10 episodes of RuPaul's Drag Race, and made it to the top five.
Sewing however was still not her strong point in the third season. When it came down to the 2nd episode, when she returned, she fell in the bottom two alongside Venus D-Lite, but survived.
On the third episode, when India Ferrah was safe after lip-syncing with Mimi Imfurst, Shangela can be heard screaming/shouting for joy that Mimi is leaving.
When it came to Episode 11, RuPaul's Hair Extravaganza, Shangela had to sew three different outfits, and was seen as the weakest according to the judges. So, Shangela ended up lip-syncing for her life in the bottom two, with her good friend Alexis Mateo in Season 3. Alexis Mateo won the lip-sync battle against Shangela, and Shangela ended up Sashaying Away.
Although Shangela did not win the competition, she made it to the top five and it has changed her life ever since the show's end. Not just in the performing and traveling, but it also gained her more experience.
Season 4 Cameo
In the first episode of RuPaul's Drag Race Season 4 Shangela made once again a surprise cameo appearance. She returned the same way as in Season 3 by jumping out of a box, making it look like she would come back for another season. However, it was just to tease the other Queens and she did not actually re-enter the competition.
RuPaul's Drag Race Stats
Shangela

| Statistics | Season 2 | Season 3 | All Stars 3 |
| --- | --- | --- | --- |
| Placement | 12th | 6th | 3rd/4th |
| Main Challenges Won | 0 | 2 (ep. 2, 8) | 3 (ep. 2, 4, 7) |
| Mini Challenges Won | 0 | 1 (ep. 8) | 0 |
| Times in Bottom | 1 (ep. 1) | 3 (ep. 1, 10, 11) | 2 (ep. 5, 6) |
| Episode Eliminated | Episode 1 | Episode 11 | Episode 8 |
Season 2:
Shangela was the first contestant to be eliminated on Season 2, placing her last.
Season 3:
Shangela, along with Stacy Layne Matthews, are the only two contestants of Season 3 to have won a main challenge after being in the bottom two the previous week. Shangela achieved this in episode 3.
In episode 3, "Queens in Space" Shangela won the main challenge along with Alexis Mateo, making both of them the first dual main challenge winners in series history.
In episode 3, Shangela and Alexis each both won silicone breastplates from Boobsforqueens.com.
Shangela won the mini challenge in episode 8, "Ru Ha Ha" as well as the main challenge.
Shangela was eliminated in episode 11, "RuPaul's Hair Extravaganza", placing her in 6th place for season 3.
Shangela is the second contestant in series' history to have won two main challenges and not place in the top three, the first being Ongina in Season 1. This same scenario later occurred to Latrice Royale and Willam in Season 4, to BenDeLaCreme in Season 6, to Katya, Kennedy Davenport and Max in Season 7, and Asia O'Hara in Season 10. Every other contestant who has won two main challenges has placed in the top three.
Drag Name Origin
She was choreographing Beyoncé's Single Ladies for three guys doing a charity event. One of the guys got sick the night before the show and her friends asked her to fill in. She was running late for the show and they called to ask for her drag name. She didn't have one and thinking that it's going to be a one-time thing, said to just put down anything. Her friend Brad who had worked in telemarketing came up with the name. One time he called this lady and cannot get her name right. The lady said, "Let me tell you something, my name is Shangela Laquifa Wadley and don't you forget it!" Her drag mother is Alyssa Edwards.
Memorable Quotes
"Eat that chicken, you bitch.."
"Some of the other queens are probably looking down on me for doing this for only five months... it just makes me feel more determined to show them that I can do it." – (Upon her surprise return in Season 3, Episode 1 "The Queen Who Mopped X-Mas.)
"THEY SAY LAQUIFA!?! I SAY WHAT!?!" (as her character, "Laquifa the Post Modern Pimp Ho" on the 8th Episode, "Ru Ha Ha" in Season 3.)
"Are pineapples Japanese?"
"I don't have a sugar daddy. I've never had a sugar daddy. If I wanted a sugar daddy, yes, I could probably go out and get one because I am what? Sickening! You could never have a sugar daddy because you are not that kind of girl. Baby everything I've had, I've worked for and I've gotten myself. I built myself from the ground up, you fucking BITCH!" (in the infamous fight with Mimi Imfurst on the 2nd episode's Untucked on Season 3)
"They attacked me with knives. I don't attack with knives. I attack with strategy." (RuPaul's Drag Race, Season 3, Episode 8 "Ru Ha Ha")
"I am the Nancy Drew of drag." (in Season 3, Episode 10 "RuPaul's Hair Extravaganza Untucked.)
"C'mon Miss Tu-Tu-Tulle and fabric and felt!" (referring to Raja's fantasy hair look in Untucked of Season 3, Episode 10 "RuPaul's Hair Extravaganza".)
"I'm a method actress, okay?"
"I'm the Daenerys Targaryen of drag."
"Y'all told her on the internet it was funny. I blame y'all." (about Trixie Mattel's Snatch Game performance.)
"You'll never be glamour." (to Mimi Imfurst in Untucked of Season 3, Episode 2 "Queens in Space".)
Trivia
Shangela is of African-American and Saudi-Arabian descent.[1]
In high school, D.J. became their first male cheerleader since 1968.
Shangela was the first contestant to place 12th (Season 2).
Shangela was the first contestant to compete in more than one regular season, followed by Cynthia Lee Fontaine and Eureka.
She sent in an audition tape for Season 3, but was invited back on the show before the producers had even seen it.

She is one of ten contestants to be brought back for a second chance, the others being Carmen Carrera, Kenya Michaels, Trixie Mattel, Naysha Lopez, Tatianna and Alyssa Edwards, Cynthia Lee Fontaine, Eureka, and Morgan McMichaels.
Shangela was the first queen to compete on 3 different seasons, with the second being both Latrice Royale and Manila Luzon.
All Stars 3 was the first time Shangela wasn't up for elimination in the first episode.
She and BenDeLaCreme are one of 3 pairs to lip sync against each other twice in one season. The other pairs are BenDeLaCreme and Darienne Lake, and Katya and Alaska.

Coincidentally, she was the second queen to lip sync against BenDeLaCreme more than once.

Shangela is the highest ranking member of the Haus of Edwards, placing 3rd/4th in All Stars 3
Shangela is the lowest placing All Star from her original season, coming last on Season 2. However, due to returning the following season, she isn't usually considered a part of the Season 2 crowd. She came sixth on Season 3, thus making Jasmine Masters the title holder if you discredit Shangela's run on Season 2.
Shangela has a drag daughter named Bambi Wadley.
Shangela is the first person to place lower than someone they beat in a lip sync.
Other Works
After Shangela's Elimination from Season 2, Shangela gained more experience and learned new things on her own. Shangela competed in the Miss California Entertainer of the Year pageant, and won the pageant crown, earning her the title of Miss California Entertainer of the Year.
Shangela appeared in a variety of different films and TV Shows after her eliminations from both Seasons of RPDR.
In the TV show Terriers on the Pimp Daddy episode as "Mikalea", a transexual hooker. (2010)
In the TV Movie Mann's World as "Snip" (2011)
In the TV Movie Spring/Fall as "Dion" (2011)
In the TV show Detroit as "Shangela" (2011)
In the TV show Dance Moms as "Shangela Laquifa", being a guest mentor teaching the girls to do her signature move, the Death Drop (2011), later coming back to visit years later (2016)
In the TV show Community on the Advanced Gay episode as "Miss Urbana Champaign" (2011)
In the TV show Two Broke Girls as "Hallelujah" (2012)
In the TV Show Glee as Shangela (2012)
Shangela, Manila Luzon and Carmen Carrera appeared together on a commercial for Orbitz Travel.
Shangela also appeared on the fourth season of RuPaul's Drag Race. At first, she was mistaken/acted to be competing yet again with the Season 4 cast, coming out of an "Explosive Box" on the 1st episode. She was sent back, but reappeared later as Laquifa, the Post Modern Pimp Ho, getting eaten by the Drag Queen zombies.
Shangela appeared in The X Files.
Shangela appeared in the movies Hurricane Bianca and Hurricane Bianca: From Russia with hate as one of Richard Martinez's friends.
Shangela was handpicked by Lady Gaga to cast in her movie A Star Is Born as the drag bar emcee.
Shangela appeared in Ariana Grande's song "NASA".
Gallery
Follow Shangela
References