Shannel is the stage name of Bryan Watkins, a drag queen, character illusionist, makeup artist and showgirl from Las Vegas, Nevada. She was part of the Season 1 cast of RuPaul's Drag Race.
She was best known on RuPaul's Drag Race for her makeup artistry, her costumes, her body, for her tricks on the runway and more iconically, speaking out to the judges about nominating herself for elimination.
About Shannel
One of Shannel's memorable performances was getting the opportunity to audition as the host for the show Zumanity at the New York Cirque du Soleil show. Out of 88 people, Shannel was chosen to be in the top 5 to do the main audition on stage. She had the opportunity to walk on stage in an auditorium that seated almost 3,000 people, to perform in Mugler's finest fashions using a million-dollar microphone.
She gets her inspiration from the pop artist and drags icon, Cher. Shannel's favorite song from Cher is "Believe". Shannel usually doesn't watch much of the way from music videos, because most of Shannel's illusions are based on the women of yesteryear, which was before music videos existed.
In her introduction video for RuPaul's Drag Race, she described herself as exotic, ostentatious and flamboyant, as the queens were required to describe three words about themselves.
Drag Name Origin
The name is from her first Siamese cat which was named Shannel. She thought that it was suiting, sexy, and sensual.
Elimination
Shannel was eliminated on Episode 6.
Episode 6 was the "Absolut Drag Ball". The queens had to create 3 looks for the runway presentation which where Executive Realness look, a Swimsuit look and an Evening Gown Extravaganza look.
Each queen was assigned a color based on an Absolut Flavor by Nina Flowers, who had won the challenge vogue off. Shannel was assigned the Absolut Mandarin flavor, which was the color orange.
At this point, it was evident the competition had started to take its toll on Shannel. Not only was it tiring for Shannel, but Shannel felt she wasn't succeeding as much as she deserved in the competition. Throughout the season, Shannel had yet to win a mini-challenge or the main challenge.
At the final line-up, Shannel questioned the judges on their lack of praise for her overall performance on the show. When the queens were asked who deserved to go home, Shannel nominated herself aggravated by the lack of approval she seemed to receive from the judges.
Shannel and Rebecca Glasscock fell into the bottom two with Shannel being the one sent home.
RuPaul's Drag Race Stats
Shannel

| Season Competed: | Season 1 | All Stars 1 |
| --- | --- | --- |
| Ranking: | 4th | 3rd/4th |
| Maxi Challenges Won: | 0 | 3 (ep. 3, 4, 5) |
| Mini Challenges Won: | 0 | 0 |
| Times as Team Captain: | 0 | 0 |
| Times in Bottom Two: | 2 (ep. 3, 7) | 1 (ep. 1) |
| Episode Eliminated: | Episode 7 | Episode 6 |
All-Stars
Shannel was announced to be one of the twelve queens who would be competing on the first season of RuPaul's Drag Race All Stars. In the first episode, she and Chad Michaels chose each other as their partners. The team's name was Shad. The two of them have a history and friendship going back fifteen years.
Trivia
Shannel was the first-ever queen to walk into the Werk Room.
When Bryan is not in drag and not performing, he likes to sit down at home and watch the Golden Girls and Roseanne on Nick at Nite.
In her acts and performances, Shannel can do tricks such as juggling, tightrope, stilts, etc.
Shannel is not only a female impersonator/drag queen but she is also a character illusionist. Shannel can successfully create the illusions of many celebrities such as Joan Crawford, Judy Garland, Cher, Dolly Parton, Madonna, Lucille Ball, Catwoman, Evil Queen of Snow White and even Boy George.

Shannel, along with Ongina, Bebe Zahara Benet, Nina Flowers, and Tammie Brown are the five Season 1 contestants to be a professor at RuPaul's Drag U.
Shannel, Chad Michaels, Alaska, BenDeLaCreme and Manila Luzon are the only queens to win the main challenge in three episodes in a row. Shannel and Chad are the first to do this.
Shannel is the first queen to place 4th.
Shannel got eliminated on the same episode in two different seasons, being sent home in week 6 during both Season 1 and All Stars 1.

Shannel is the first queen to get eliminated the same week on two different seasons.
She is the highest placing Season 1 queen to never win a main challenge in the season.
She is the first queen to win three Maxi Challenges in an All-Stars season without winning a Maxi Challenge in their first season.
She is the first queen to lose her wig during a lip-sync. It was during her lip-sync against Akashia in episode 3.
She made an appearance in the show "The Arrangement".
She lip-synced alongside Mayhem Miller during the Season 10 finale.
Shannel is very good friends with Chad Michaels. The two ended up being a team on All-Stars 1.
Her along with Chad Michaels in Team Shad are the only queens to win three challenges in a row.
Memorable Quotes
"Holler!" - From Episode 2 when Ongina chose Shannel to be on her team for the Girl Group Challenge.
"I got a whole roll of duct tape with your name on it, kitten!" - To Ongina because she had to tuck.
"I am amazed at myself; In my mind... I've already won."
"I love you too baby. You're going down!" - To Rebecca Glasscock after voting for Shannel to go home.
"Oprah, for me, is God." To Bebe Zahara Benet when preparing for the Oprah challenge (Season 1, Episode 3).
"I'm here because I am a professional entertainer. I want to be able to give and create showmanship; for the world to be able to see that the art of drag is not about putting on a dress and prancing around. There is so much more in what we are and who we are, as men, and as well when we are women."
"I'm so glad you asked me this question! I nominate myself because I don't want to be here anymore."
"Since day one, I have been judged really hard, and I'm very frustrated that you can't see the personality, Because I am so fucking real, you have no idea. And I don't feel that I am being understood here. I am beautiful. I'm a beautiful person internally and on the outside, and its so, so frustrating to me that that image does not seem to be conveyed. Week after week when we come into elimination round, I am so negatively critiqued."
"That sounds so nice to hear."
Other Works
Shannel was a drag professor on Logo's RuPaul's Drag U – a spinoff reality TV show where everyday women compete in a series of challenges to unleash their inner diva. The show is hosted by RuPaul and a team of Drag Professors. Shannel is one of the five Drag Race Season 1 contestants to be a professor at Drag U.
Gallery
Season 1 Looks
All Stars 1 Looks
Credits
Filmography
As herself
Music videos
| Year | Song | Song Artist | Notes |
| --- | --- | --- | --- |
| 2009 | "Cover Gir" | RuPaul | Cameo |
| 2012 | "Queen" | Xelle | Cameo |
| 2013 | "Applause" (Lyric Video) | Lady Gaga | Cameo |
Lip Syncs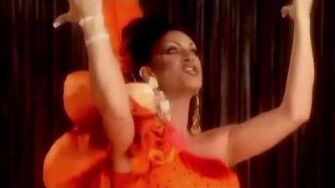 Follow Shannel
Community content is available under
CC-BY-SA
unless otherwise noted.