'RuPaul's Drag Race' Profile: Sonique
Kylie "Sonique" Love, also simply known as Sonique, is a drag queen, performer, actress and one of the Season 2 contestants of "RuPaul's Drag Race" (placed 9th).
Drag Name Origin
Sonique's drag name comes from a same named British artist. She likes it because sounds powerful (like sonic powers) and it's a one word name, just as she wanted.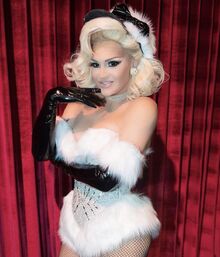 RuPaul's Drag Race
Sonique

| Statistics | Season 2 |
| --- | --- |
| Placement | 9th Place |
| Main Challenges Won | 0 |
| Mini Challenges Won | 0 |
| Times in Bottom | 1 (ep. 4) |
| Episode Eliminated | Episode 4 |
On Season 2, Sonique was declared safe in the 1st 3 episodes. However, on Episode 4, "Snatch Game", the contestants had to do a funny celebrity impersonation, Sonique atended to do a funny Lady Gaga, but ended in the Bottom 2 with Morgan McMichaels. They lip-synced to "2 of Hearts" by Stacey Q. but, while Sonique was doing a gymnastic number, Morgan focused on a praised coreography, which made Sonique be eliminated.
Entance Quote
Holi-Slay Spectacular
"Looks like you were naughty this year... 'cause you got a bad bitch for Christmas."
Memorable Quotes
"It looked like Mortal Kombat." (referring to Sahara Davenport vs. Shangela lip-sync)
"Five dollars, try something new."
"She showed up looking like Holiday Heart."
"My time is valuable too, so hit it!"
"Trust!" (as Lady Gaga on "Snatch Game")
"Money, honey." (as Lady Gaga on "Snatch Game")
Farewell Message
Season 2
"☮♥ XO, Son!que "Trust""
Trivia
Sonique went to a military school when she was a kid. Later, she started take gym classes and also learned sing live;
She's a transgender female;
She has a drag mother called The Goddess Raven;
She's currently part of the "Dreamgirls Revue", a group that features some of the best female/celebrity impersonators;
She's pursuing an acting career in Hollywood and has done quite a few appearances on other TV shows, including Jay Leno's "Tonight Show", Gene Simmons "Family Jewels", "The Mentalist", "LA Hair", "Joan and Melissa" and "Joan Knows Best";
She was an alternate cast member for Season 1;
She was the first contestant to be eliminated from the "Snatch Game";
She was the 1st contestant from "RuPaul's Drag Race" who has come out as a transgender female and was already transitioning prior to the show, but got off hormones before left to the show. She was followed by Carmen Carrera, Stacy Layne Matthews, Kenya Michaels, Jiggly Caliente, Monica Beverly Hillz, Gia Gunn and Peppermint;
As of "Holi-Slay Spectacular", Sonique is the first fully transitioned queen to compete on the show. Also, due to the entire cast winning the special, she's also the 1st transgender winner;
Following the Christmas special, on her Instagram and Twitter, Sonique has been strongly advocating for her return to the show, along with Mayhem Miller for a future season of "All Stars".
Discography
Singles
"Santa Please Come Home" (2018)
Social Media