Thorgy Thor (pronounced as in "th with an orgy" according to Thorgy) is the stage name of Shane Thor Galligan, a drag performer from Brooklyn, New York. She is one of 12 contestants to compete on the eighth season of RuPaul's Drag Race. Thorgy is a self-taught performer and never had a drag mother to teach her the tricks of the trade. She says she has always had a clear vision of what she wanted Thorgy to be, and still performs numbers she created 10 years ago.
Entrance
Season 8
"Woo! Thorgy with a T H and orgy and I feel incredible!"
All Stars 3
" Woo! Haha, I think I just broke my ankle doing that."
Career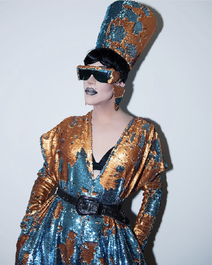 Thorgy began dressing up as a kid, but her first performance-based drag was as Frank N. Furter in The Rocky Horror Picture Show. She then entered and won drag competitions, and later moved to New York, working nightclubs like Sugarland and FWORD. She won a Glammy Award for her work there.
While Thorgy has said she loves the show RuPaul's Drag Race, she has also said the show makes it tough for every single queen not on the show, compared to what it was like for "pre-race queens." Because it has inspired so many new and inexperienced performers, it makes the market for drag performers rather crowded. Still, Thorgy celebrates and welcomes new talent.
Thorgy hopes drag will take her "out of nightclubs, into theater." She wants to perform as Carnegie Hall, tour with a cabaret-style show, and conduct a full orchestra.
"As an artist, I think it's important to understand that good work comes in waves. Every time you are on top of the world, know that the wave will subside, then come back again. Keep going. Keep creating. And be ready for that wave. Don't lose yourself during a low tide, but rather throw your energy into preparing for the opportunity around the corner. Treat everyone you meet with respect on your way to the top, because you may need their help on the way down... and please wear deodorant and have good breath while working in nightlife."[1] —Thorgy Thor
Awards
Glammy Award for her work hoating at FWORD and "SALIVA Tuesdays" at The Ritz, which is now called "YOU'RE WELCOME."
LEGEND award at the 2014 Brooklyn Nightlife Awards.
Controversy
The episode leading up to Thorgy's elimination in All Stars 3 sparked an outcry among fans, and even some fellow queens. Thorgy had claimed that her role as Stevie Nicks in the Divas Lip Sync Live lacked any real opportunity to stand out, and when compared to her fellow competitors' roles, she would be destined to fail.
The show seemed to attempt to portray this as Thorgy being paranoid, however, many fans and fellow queens agreed with her. Fans claimed that guest judge and choreographer Todrick Hall neglected to give Thorgy any chances to shine, dooming her to fall into the bottom two regardless of how well she performed. Some fans and other queens even went as far as claiming that Thorgy didn't deserve to be in the bottom two in the first place, and that some of her fellow contestants performed worse than her.
Thorgy has even gone on record stating that in an attempt to make her role as Stevie more exciting, she asked production for some props, which they refused to provide.[2] Outraged by the events that transpired, many viewers criticized the show, claiming the episode was a clear example of production manipulating the competition in favor of certain queens and that Thorgy's elimination was unjust.
Memorable Quotes
"Okay, I am obsessed with mustard. I can't believe I just said that out loud!"
"Oh, hi! I'm just eating fruit snacks."
That was a messy mess." (referring to Naysha Lopez's Drag on a Dime look in Untucked Season 8, Episode 1.)
"Lord, it's gonna be the shit show"( Thorgy talking about Acid Betty)
"Don't borrow anything from Thorgy, because it has voodoo. You will go home, or lip-sync for your life if you borrow something from me."
"You better think again Ru-Ru kitty!"
"Now take this orange shit off my body!"
"I definitely, definitely want Party."
"Woo!"
"Witty catchphrase, you know what I mean?"

''Nobody wants the bitch who was kicked off to come back, so I was glad to beat the shit out of her with this dirty broom.''
"Spanish women don't shave their legs. Right?"
"Into the dust, into the darkness, cue the smoke." (walking backwards during Untucked)
"I'm open to alliances"
"Aww. Jesus. Gross." (Reaction to being eliminated by Shangela)
"Is this gonna explode? Please don't explode"
"Oh, werk bitch." (Reaction to Shangela's AS3 finale look.)
Trivia
Her original drag name was Shananigans.
Thorgy's mother died when she was 19 years old.
Her grandfather was an Olympic ski-jumping champion from Norway.
Her drag name was derived from her real middle name, Thor (she was named after her grandfather).
In an interview shortly after her elimination, she said that she would like to see Aja on the show[3]. Aja then appeared on Season 9, where she came in ninth place. Thorgy and Aja were both contestants on All Stars 3.
Before Drag Race, she hosted a weekly show with Ruby Roo, her drag sister.
Despite Reddit rumors suggesting a villain edit prior to the airing of All Stars 3, many fans viewed her as a victim of the producers rather than the villain.
On Season 8, Thorgy Thor was similar to Pandora Boxx on Season 2, having done well in all of the challenges but never winning.
Thorgy wants to set up an orchestra which she will accompany on the violin (in full drag). She calls it her "Thorchestra". She has asked Michelle Visage to perform with her.

The "Thorchestra" became real in 2018.

Thorgy was a frontrunner for the "Miss Congeniality" title of Season 8.
Thorgy is the first and only Caucasian contestant to have dreadlocks.
Thorgy's elimination from All Stars 3 ignited a large conversation and debate on social media about producer manipulation on the series.
She is one of the 4 queens to compete on more than one season, but only lip-sync one time. The other three being Pandora Boxx, Nina Flowers and Milk.
Thorgy starred in Trinity The Tuck's music video for 'I Call Shade' as "Buck the Ganitor".
Thorgy is on "Drag Me Down the Aisle" together with Drag Race-alumni Jujubee, Bebe Zahara Benet and Alexis Michelle.
Thorgy gave BenDeLaCreme Wite-Out, which BenDeLaCreme later used to write her own name on a lipstick and eliminate herself.
Thorgy is the 100th queen to be eliminated on RuPaul's Drag Race
Follow Thorgy
References
Community content is available under
CC-BY-SA
unless otherwise noted.