Trinity The Tuck, formerly known as Trinity Taylor, is the drag queen name of Ryan Taylor, a performer and one of the Season 9 contestants of "RuPaul's Drag Race" (placed 3rd/4th alongside Shea Couleé), as well as one of the "All Stars 4" winners along with Monét X Change.
Drag Name Origin
"Trinity" comes from the same named character from the movie "Matrix". "The Tuck" is a reference to Trinity's tuck, which is known for it's perfection. "Taylor" comes from her real surname and the fact that she is part of the "House of Taylor", founded by Bob Taylor.
RuPaul's Drag Race
 Trinity The Tuck

| | | |
| --- | --- | --- |
| Season Competed: | Season 9 | All Stars 4 |
| Ranking: | 3rd/4th | Winner |
| Mini-Challenges Won: | 0 | 0 |
| Times as Team Captain: | 1 (ep. 4) | 1 (ep. 2) |
| Main Challenges Won: | 3 (ep. 3, 7, 10) | 4 (ep. 1, 3, 7, 9) |
| Times in Bottom Two: | 1 (ep. 4) | 1 (ep. 5) |
| Episode Eliminated: | Episode 14 | N/A |
Season 9
On Season 9's Episode 1, "Oh. My. Gaga!", for the main challenge, the contestants had to compete pageant, serving up a hometown and a Lady Gaga-inspired look. For her hometown look, Trinity used a huge circular pop up with a theme park on it, representing Orlando, Florida in the front, as well as a Sun in the back. For her Gaga look, she chose Lady Gaga's "Countess Elizabeth" look from "American Horror Story: Hotel". Besides the fact she did well, Trinity ended being safe, what also happened on episodes 5, 6 and 12.
Overall, Trinity placed low twice, but only lip-syced once on Episode 4, "Morning Bitches!", where she was chosen as team captain as she had won the last challenge. However, as her team was disorganized, she was put into the Bottom 2 and had to lip-sync for her life against Charlie Hides. She was told to shantay after a high-energy performance against Charlie's lack of movement.
Trinity had her first win on Episode 3, "Draggily Ever After", where the contestants had to create a fairytale princess and a sassy sidekick. At the runway, her aquatic princess and comedic starfish sidekick were praised by the judges, which made her won the challenge. After that, she won 2 more main challenges on Episode 7, "9021-HO", and Episode 10, "Makeovers: Crew Better Work".
On Season 9's finale, the Top 4 contestant had to compete against each other to be crowned "America's Next Drag Superstar". Trinity chose to lip-sync againt Peppermint. They lip-synced to "Stronger" by Britney Spears, but Peppermint stole all atentions with a outfit and wig reveal, which made Trinity lost.
All Stars 4
On the 1st episode of "All Stars 4", the main challenge was a tallent/variety show. Trinity did a praised comedic tucking tutorial and put her into the Top 2 with Monique Heart. They lip-synced to "Emotions" by Mariah Carey, Trinity won and chose to eliminate Jasmine Masters.
After winning the 1st episode of the season, Trinity was safe on Episodes 2, what, later, also happened on episodes 4, 6 and 8.
On Episode 3, "Snatch Game of Love", the contestants had to do a funny celebrity impersonation on a date show. Trinity did Caitlyn Jenner and placed in the Top 2 with Manila Luzon, but lost the lip-sync. Later, this happened again on Episode 7, "Queen of Clubs," but with Latrice Royale.
Overall, on "All Stars 4", The Tuck only placed once in the bottom. On Episode 5, the main challenge was to roast Lady Bunny. Trinity wasn't funny and ended in the Bottom 4 with Naomi Smalls, Monique Heart and Valentina. However, the rules were suspended and no one was sent home.
Trinity's last win was on Episode 9, "Sex and The Kitty", where the contestants had to act on a parody of "Sex in The City". Trinity placed in the Top 2 with Monique, they lip-synced to "When I Think of You" by Janet Jackson, once again Trinity won and eliminated Latrice Royale. With this track record, she guaranteed her spot in the final Top 2 alongside Monét X Change, they lip-synced to "Fighter" by Christina Aguilera and both were declared winners.
Entrance Quotes
Season 9
"The body is here, bitches!"
All Stars 4
"Yes! The body is back!"
Memorable Quotes
"I call shade!"
"No, you're done, because I'm gonna tell you why you're done." (to Eureka)
"I have 50 units of botox in my face. I don't know what y'all want from me."
"I went from a pancake to a Kardashian."
"Aja's makeup is just really rough around the edges, but she comes off as confident. Does she know what she looks like? 'Cause if not, I need to tell her."
"You crazy, bitch. That's some crazy shit." (referring to Valentina and her Virgen of Guadalupe candle)
"Nobody wants to be the bridesmaids, everyone wants to be the bride." (after losing Episode 2's challenge to Valentina)
"Girl, where are the jokes? Where are the jokes!?" (referring to Cynthia's Sofia Vergara impersonation on "Snatch Game")
"I love her, but bye bitch!" (referring to Cynthia after her elimination)
"♪(Category is) Trin-tastic-plastic injectable realness! The body is here! I'm the mother-tucker, what can I say? There can only be one, and I'm feeling the fantasy! My name is Trinity and can't you see? I've got a lot of plastic parts up in me. Crowns and gowns and tiny thongs, too. Other bitches wishin', but you ain't me, boo! The talent I've got, you just can't replace, even with injectables in your face! The time has come to win 100g's, you think you're gonna beat me? Girl, please.♪" (Trinity's verse on "Category Is..." remix)
"PENIS!"
"It kinda looks like gay birds shit on her arm." (referring to Shea Couleé's "Rainbow She Betta Do" look)
"YES! Get her Jade!" (referring to Aja's rant towards Valentina)
"This is All Stars hunny... fuck your feelings."
"She's not the same person. She's worse!" (referring to Gia Gunn)
"Malibu, baby!" (as Caitlyn Jenner on "Snatch Game of Love")
"HA!" (as Caitlyn Jenner on "Snatch Game of Love")
"Bunch of democrats!" (as Caitlyn Jenner on "Snatch Game of Love")
"You better believe, I always get my man."
"♪1, 2, 3, 4. She walks the fashion when it hits the floor. 5, 7, back to 6. She's got the talent, don't need the splits. 8, 9 and she's giving you 10s. Let's see the finals scores, bitch, it's Trin' for the win. She's got the tucking moves with the looks so lean. You already know her name, she's a super queen.♪" (Trinity's verse on "Super Queen" remix)
"Money can't buy everything, but sure can buy A LOT of plastic surgery!" (winner acceptance speech)
Trivia
Trinity dropped out of high school in order to care for her dying grandmother, who had raised her after her mother passed away when she was a child;
She has had plastic surgery and doesn't feel the need to pad. In the past, she even considered transitioning in order to further her career;
Her drag parents are Jordan Kenney (a retired pagent queen) and Bob Taylor. Also, she has a drag daughter called Shontelle Sparkles;
She won the title of "National Entertainer of the Year" in 2014, with Alyssa Edwards as 1st alternate and Eureka as the 2nd alternate;
She was mentioned in a skit on "Saturday Night Live";
She has the same first drag name of Trinity K. Bonet (from Season 6) and same first real name as Ongina (from Season 1);
She's the 2nd contestant of Season 9 to win 3 challenges;
Due to her Season 9 promo shot not doing her justice, there have been several edits;
She's the second queen to be sent home after lip synching to "Stronger" by Britney Spears, 1st being Ongina;
She's the 2nd contestant to win 3 challenges in her regular season as well as "All Stars", after Manila Luzon;
She is tied with BenDeLaCreme and Manila Luzon for most challenge wins in all of her seasons combined, with a total of 7. She is also tied with Kameron Michaels for participating in the most lip-syncs in a single season (6). However, Trinity, overall, has lip-synced 9 times;
Monét and her are the 1st contestants to share the winner title.
Gallery
Season 9 Looks
All Stars 4 Looks
Videos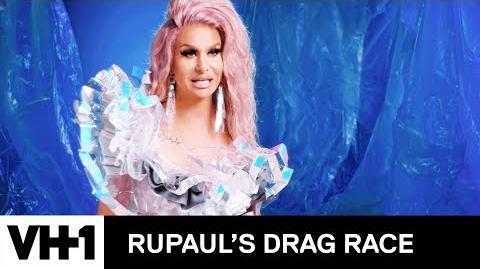 Discography
Albums
"Plastic" (2019) (Tracklist: 1. The Face, The Body 2. Dear Diary (Interlude) 3. I Call Shade ft. Peppermint 4. The Bitch 5. 2 for 1 Special (Interlude) 6. Under The Knife ft. Aja 7. She's Werkin' 8. Private Dick (Interlude) 9. Where Are the Jokes? ft. Alaska 10. 2 B Free 11. ...And World Peace (Interlude) 12. M.I.E. 13. The Perfect Tuck)
ㅤ
Appearances
"Category Is... (Remix)" (2017) by RuPaul ft. Peppermint, Sasha Velour, Trinity The Tuck & Shea Couleé
"Don't Funk It Up" (2019) by RuPaul's Drag Race: All Stars 4 Cast
"Super Queen (Remix)" (2019) by RuPaul ft. Monét X Change, Monique Heart, Naomi Smalls & Trinity The Tuck
Social Media