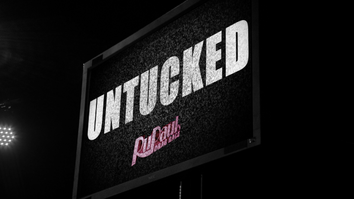 The Untucked Lounges are backstage locations where the queens go to socialize during the judges' post-critique deliberations. Untucked was previously shown on television after the airing of each episode, but now World Of Wonder uploads it to their YouTube channel.
The Untucked Lounges were sponsored by Absolute Vodka. They had a Gold Interior Lounge and a Silver Interior Lounge. The Silver Interior Lounge was where the queens first went after they were critiqued or safe. After they talked, Ru would tell them to head to the Gold Interior Lounge, where the queens opened pink boxes filled with surprises.
This was the first season to not have the Interior Illusions Lounge, and also the first season where Untucked was not aired on television or Logo's website. In addition, Untucked was moved to the back of the stage, but queens still received alcohol and water. The Lounge also added makeup vanities, where queens either fixed up their makeup or practiced their lip sync songs. The queens also had a lot of space to move around.
The Untucked Lounge was very dull. The couches were brown and they had a few chairs.
The Untuck took place in The Werk Room. The lights were dimmed and the queens decided who they were going to eliminate. Most queens also discussed with the bottom 2/3 queens as to why they should stay.
The Untucked Lounge is more vibrant this season, containing a long white couch with purple circular pillows. They also have circle black seats and large circle lights hanging from the ceiling. This is also the first season to receive food on the Untucked episodes.