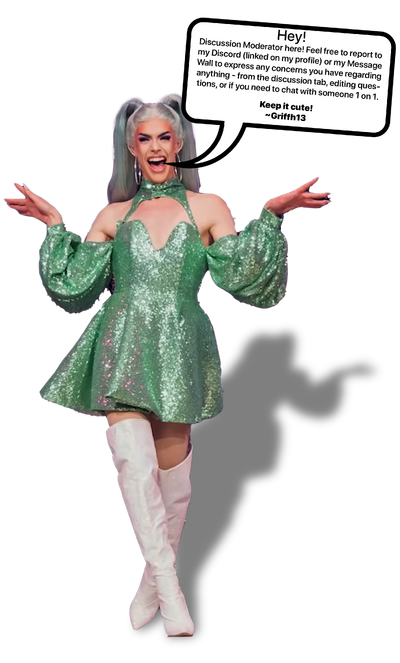 I may or may not be a Jan stan...
Discussion Moderator and Administrator of the RPDR Wiki!
Hey there

<insert name here>

! I'm Griffh13, and I'm one of the administrators as well as one of the discussion moderators for the Drag Race Wiki. Feel free to report to my Message Wall or my Discord (which is linked above on my profile) if you have any concerns regarding the Discussion Tab, have editing questions, or just need a safe space to chat with someone one-on-one.
Oh, and have you used the fan race category today?
---
---
I joined the community in June of 2020, mostly appearing on the Discussion Tab and actively taking part in the Fan Race community under a few different names - most notably Dee Pression. I soon after began hosting my own (albeit, looking back... bad) show and have since expanded from there. Currently, I tell people when to use the proper categories on the discussion tab, partake in a fan race


In terms of the Fan Race community, I have competed on... a boatload of shows to say the least. You can read about my Fan Race placements somewhere if I actually decide to keep it up to date.
(Currently a work in progress!!!)

I was promoted to the role of Discussion Moderator in August of 2021, and was promoted once again to the role of Administrator soon after. My main goal is to be a source of communication between the editing staff and Wiki userbase, as well as be a staff presence in the Discussion Tab community.
Bart if you are reading this, yes, I finally made my page pretty.

Outside of the wiki, I currently moderate the Home of Phobia server, a Discord consisting of over 6,000+ members of the LGBTQIA+ community and Drag Race fans. I also am a full-time university student working towards a Music Degree with a minor in English, and I love all things related to photography and graphic design. I spend too much time in Photoshop... probably more than I should.
---
╔══════ °• ♔ •° ══════╗
Favourite Queens
╚══════ °• ♔ •° ══════╝