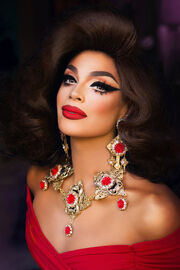 Valentina is the stage name of James Leyva, a drag queen, performer, acting artist, and one of the Season 9 contestants of RuPaul's Drag Race (placed 7th and the winner of the "Miss Congeniality" title), as well as one of the All Stars 4 contestants (once again placed 7th).[1]
Name Origin
"Valentina" comes from a same named Mexican hot sauce brand.[1]
RuPaul's Drag Race
Valentina

| Season Competed: | Season 9 | All Stars 4 |
| --- | --- | --- |
| Ranking: | 7th Place | 7th Place |
| Mini Challenges Won: | 1 (Ep. 8) | 0 |
| Times as Team Captain: | 0 | 0 |
| Times Placed High | 3 (Eps. 3, 4, 7) | 1 (Ep. 4) |
| Main Challenges Won: | 1 (Ep. 2) | 1 (Ep. 2) |
| Times Placed Low | 0 | 0 |
| Times in Bottom: | 1 (Ep. 9) | 3 (Eps. 3, 5, 7) |
| Episode Eliminated: | Episode 9 | Episode 7 |
Season 9
On Season 9's premiere, the contestants were challenged to make a look inspired by their hometown and remake their favorite Lady Gaga look. For her hometown look, Valentina did a mariachi-themed outfit. While for the Gaga outfit, she chose Gaga's CFDA Awards 2011 dress. She was praised by the judges, but didn't win.
Valentina had her 1st win in Episode 2, "She Done Already Done Brought It On", after a cheerleader routine challenge. She was praised both for her performance, and runway look, fact that happened again in most of the consecutive episodes, where she placed high again 3 times (in Episodes 3, 4, and 7), and was, also, safe 3 times (in Episodes 5, 6, and 8).
In Episode 9, "Your Pilot's on Fire", the main challenge was to create their own TV show pilot. Valentina and Nina Bo'nina Brown were paired together and struggled with filming their TV pilot as they had not prepared a script and had to improvise. Although Valentina received some positive comments on her runway outfit, she and Nina were criticized for their lack of planning and organization, which ultimately landed them both in the Bottom 2. Valentina initially attempted to lip sync with her mouth covered by her runway mask, but RuPaul made her remove it, revealing she couldn't remember the lyrics to the song and she was eliminated. Much like Trixie Mattel's, and BenDeLaCreme's, her elimination was a shock to most viewers, as she was considered to be one of the stronger contestants of Season 9.
On Season 9's reunion, several of the other contestants (most notably Aja and Farrah Moan) objected to Valentina winning the "Miss Congeniality" vote. They argued that the "Miss Congeniality" prize is more of a popularity contest and Valentina should be crowned "Fan Favorite" instead as she wasn't seen to be the most congenial contestant, largely because she didn't speak out about the hate her fans sent to other contestants following her elimination[2]. Following the controversy, Valentina suggested her fans to leave rose emojis in her fellow Season 9 contestants' comment sections to show them that they're not all hateful. This led to many of her followers flooding many drag queens' social media with red rose emojis.[3] While some responded positively to this as a nice gesture, many others saw it as an annoyance and spam, with some asking fans to stop.
Valentina later on addressed this controversial topic on the talk show Hey Qween!, agreeing she won the "Miss Congeniality" vote because her fans want her to "win something" at that time even claiming that Cynthia Lee Fontaine or Peppermint should have won the title instead.
All Stars 4
On All Stars 4 premiere, the contestants were asked to roast each other in the show's "Reading is Fundamental" mini challenge. Valentina did well but didn't win. Similarly, Valentina's lip sync performance during the variety/talent show main challenge was also declared safe.
In Episode 2, "Super Girl Groups, Henny", the contestants auditioned for RuPaul's new supergroup, "Henny!", writing their lyrics, singing, and performing choreographed numbers, featuring RuPaul's Drag Race legend Stacy Layne Matthews. Valentina was praised by her performance as well as her runway look, ending up on top with Monét X Change. After they lip sync to "Into You" by Ariana Grande, Valentina was declared winner and eliminated Farrah Moan.
On All Stars 4, Valentina placed for the 1st time in the Bottom in the Episode 3, "Snatch Game of Love", alongst Gia Gunn, after a unfunny Eartha Kitt impersonation in the romantic twisted version of "Snatch Game". However, Gia was chose to be eliminated by Manila Luzon, so Valentina could participate on Episodes 4 (where she was safe), and 5 (where she placed again in the Bottom but was safe as all the other contestants there).
In Episode 6, "LaLaPaRUsa", the remain contestants take part in a lip sync tournament allowing the eliminated ones to gain re-entry into the competition. Farrah Moan lip synced against Valentina to "Kitty Girl" by RuPaul. Valentina won and stayed in the competition until Episode 7, "Queen of Clubs", where the contestants were tasked to come up with their own night clubs. She was paired with Naomi Smalls, they created the "Club 96", but unfortunately, both ended in the Bottom 2, while Latrice Royale won the challenge as well as the lip sync against Trinity The Tuck and chose to eliminate Valentina.
Memorable Quotes
Season 9
"Hello, it's me: Valentina!" (entrance quote)
"I'm glad these girls see me as a threat."
"I was literally shaking, but I said to myself: 'Valentina, when in doubt, smile!'" (on Season 9's cheerleader challenge rehearsal)
"I'm Valentina, I'm also corny!" (on Season 9's cheerleader challenge)
"Escandalo!" (Spanish for "scandal"; Said to Farrah, after she explain the rapper Tyga's relationship with the Kardashian family)
"Alexis Michelle, you're oh so ♪BROOOADWAAAY♪, but you're also very broad." (on Season 9's "Reading is Fundamental" challenge)
"Trinity Taylor, I once told you you were beautiful inside and out, I lied you ugly stripper!" (on Season 9's "Reading is Fundamental" challenge)
"Ladies, we're gonna do an exercise. Everybody raise your arms up to the sky, and Shea this is for you, one word: DEODORANT, BITCH!" (on Season 9's "Reading is Fundamental" challenge)
"Peppermint. You need one." (on Season 9's "Reading is Fundamental" challenge)
"Steve Harvey!" ( to RuPaul, as Ariadna Gutierrez on "Snatch Game")
"In my country, we're known for beautiful women, and I think, also... COCAÍNA." (as Ariadna Gutierrez on "Snatch Game")
"I can never win anything!" (as Ariadna Gutierrez on "Snatch Game")
"You remind me of a cute hamster, I just want to shove you up my butt!"
"I'd like to keep it on, please." (when asked by RuPaul to remove her mask for the lip sync)
"Hasta luego, los quiero mucho." (Spanish for "See you soon, love y'all"; exit quote)
"Farrah Moan, just shut up already!"
ㅤ
All Stars 4
"Fan favorite is here!" (entrance quote)
"Who's a booger now, bitch?" (reading Manila Luzon).
"Ru, Mystique was a mistake. Oh I'm sorry, it's Latrice! I love you girl!" (referring to Latrice Royale during All Stars 4's "Reading is Fundamental" challenge)
"So you think I can go home tonight?" (to Trinity The Tuck)
"I'm sending your ass home, bitch, because sending Latrice? That's too much." (to Trinity The Tuck)
"Ladies I'm boiling, my blood is simmering through my veins and I have some things to say, okay? I am DEEPLY and UTTERLY offended, that judge with the bun and the gold, I do not appreciate her non-constructive criticism of my beautiful outfit."
"Can't you see her now, with a juicy red apple in her mouth and Satan's finger up her ass?" (referring to Lady Bunny, during her roast)
"You think this is cute? This story of let's just get rid of the bitch. Well you know what bitches I still got another motherfucking week!" (to Manila Luzon and Monét X Change after they reveal their elimination choice was her)
"Sending me home doesn't make sense with my fantasy."
"But all I can say is that no matter what... we're still in our heels." (to Naomi Smalls)
"I'll always remain... your diva with a heart. But bitch, let it be known: she left with a crown." (exit quote)
"I love you so much, mi amor, so much I wanna die! If you were to hurt me, baby, I'm leaving tonight. Eres mi amor y te regalo mi coochie-coo! When loving you, baby, no me hagas go crazy, 'cause I am not the fool!" (verse in Don't Funk It Up)
ㅤ
Extras
"Am I the villain? Villaintina? Me?" (said on All Stars 4 "Meet the Queens")
"I know I'm a lot. It's, like, a privilege but, like, a curse." (said on All Stars 4 "Meet the Queens")
"Valentina is the diva of the season. The rumors are true: I take a long time to get ready. The rumors are true: I have high expectations, like my heels." (said on All Stars 4 "Meet the Queens")
Farewell Message
Season 9
"Ladies, I love you with all my heart. If ever you need me, I'm yours. Con amor, Valentina" ("con amor" being Spanish for "with love") ㅤ
All Stars 4
"UGH! I had to pack. Love you all, Valentina"
Trivia
Valentina worships the Virgin of Guadalupe (an apparition of the Virgin Mary that occurred in Mexico during colonial times) as the mentor of her life and drag career.
At the Season 9 reunion, Valentina's title of "Miss Congeniality" was renamed "Fan Favorite" by her fellow castmates, however she is still officially the Miss Congeniality of Season 9.
She's trilingual (speaks Spanish, English, and Brazilian Portuguese).[4] Thus, she's one of the 3 RuPaul's Drag Race alumni able to speak at least 3 languages alongside Gia Gunn and Katya.
In 2015, she won the club version of the Boulet Brothers' DRAGULA [1].
She was featured in the fashion magazines Vogue and Vogue México [1].
She was the 1st contestant revealed for Season 9, being interviewed by Michelle Visage during a Facebook live-stream.
She claimed to have only been performing professionally in clubs for 10 months at the time of Season 9's filming, and was accepted on her 1st time auditioning for the show.
During Season 9, she revealed she was struggling with an eating disorder.
Nina Bo'nina Brown and her are the only contestants so far to be stopped by RuPaul during a lip-sync. RuPaul later said that Valentina's lip sync is one of his Top 3 shocking moments on the show, with the other two being Roxxxy Andrews' abandonment story and Ongina's announcement of her HIV status [5].
Her lip-sync against Nina Bo'nina Brown was ranked number 1 in MsMojo's "Top 10 Moments from RuPaul's Drag Race Season 9" [6].
Her elimination became a popular meme, inspiring All Stars 2 winner Alaska to create a parody of Luis Fonsi's song "Despacito" called "Valentina", and the cosmetics company Lush which referenced for advertising on one of their face masks [1].
She is the 1st contestant to participate in a lip-sync with her mouth covered.
Like Farrah Moan's and Nina Bo'nina Brown's, her elimination was leaked online prior to the episode's airing.
She is the youngest "Miss Congeniality" title winner and is tied with Season 5 contestant Ivy Winters as the 2nd-lowest "Miss Congeniality" placement, as both came 7th on their respective seasons. Cynthia Lee Fontaine is the lowest-placing one, coming in 10th on Season 8.
She was invited to return for All Stars 3 along with Aja after Trinity The Tuck, and Shea Couleé declined, but reportedly turned it down.
Her All Stars 4 track record is similar to her Season 9 track record (won her 1st and only main challenge in Episode 2, never placed low before declared safe, was eliminated after paired with a fellow contestant, and placed 7th). 
She is sometimes known as Valentina Bagini. 
Valentina is the only contestant to be eliminated twice (both Season 9 and All Stars 4) right before a Makeover episode. 
Gallery
Season 9 Looks
All Stars 4 Looks
Videos
​​​​​​Discography
Non-Album Singles
"A Prueba de Todo". (2018)
ㅤ
Appearances
"Don't Funk It Up" by The Cast of RuPaul's Drag Race: All Stars, Season 4. (2018)
Filmography
TV
RuPaul's Drag Race, on Season 9 as herself/contestant. (2017)
America's Next Top Model, as herself on Cycle 24. (2018)
RuPaul's Drag Race: All Stars, on Season 4 as herself. (2018-2019)
RENT: Live, as "Angel Dumott Schunard". (2019)
AJ and the Queen, on Season 1 as one of "The Box" club drag queens. (2020)
ㅤ
Web Series
ㅤ
Music Videos
Tours
Supporting
References
Community content is available under
CC-BY-SA
unless otherwise noted.