Vanessa Vanjie Mateo (also known as Miss Vanjie or simply Vanjie) is the stage name of José Cancel, a drag queen, performer and one the Season 10 contestants of "RuPaul's Drag Race" (placed 14th) as well as one of the Season 11 contestants, where she placed 5th.
Name Origin
"Vanessa" was the name given by Vanjie's drag mother, Alexis Mateo (from Season 3 and "All Stars 1"), because Alexis thinks she looks like "Vanessa", the human form of "Ursula" from Disney's "The Little Mermaid" movie.
Because she has a "banjee attitude", Vanessa received "Banjee" as her middle name, but since Alexis couldn't pronounce it, this became "Vanjie". Also because of her drag mother, she got "Mateo" as her surname.
Sometimes, she's simply called Miss Vanjie, or just Vanjie.
Drag Family
Vanessa is the drag daughter of Alexis Mateo and her husband Jeffrey Kelley. This makes Vanessa a member of the "Mateo Empire," alongside her drag sisters Jenavive and Victoria Mateo.
RuPaul's Drag Race
Vanessa Vanjie Mateo

| Season Competed | Season 10 | Season 11 |
| --- | --- | --- |
| Ranking: | 14th | 5th |
| Mini-Challenges Won: | 0 | 1 (Ep. 10) |
| Times as Team Captain: | 0 | 0 |
| Times Placed High | 0 | 3 (Ep. 1, 3, 11) |
| Main Challenges Won: | 0 | 0 |
| Times Placed Low | 0 | 2 (Ep. 4, 8) |
| Times in Bottom Two: | 1 (Ep. 1) | 3 (Eps. 9, 10, 12) |
| Episode Eliminated: | Episode 1 | Episode 12 |
Season 10
For the 1st maxi challenge, the contestants were tasked with creating a runway outfit from miscellaneous items found at a variety store (inspired by the first challenge on Season 1). On stage, Vanjie was criticized by the judges for her look. Although she was praised for her energy and charisma, she landed in the Bottom 2 with Kalorie Karbdashian-Williams. They lip-synced against each other to "Ain't No Other Man" by Christina Aguilera, Kalorie won, and Vanessa was eliminated.
As Vanessa exited the stage, she backed away and said her name 3 times in different tempos: "Miss Vanjie... Miss Vanjie... Miss... Vaaanjie!". This clip from her elimination lead to the creation of a popular Internet meme.
Opinions were divided between whether Vanessa or Kalorie should have gone home 1st. While some fans claimed that Vanessa deserved to stay as she was a contestant of great charm, many others considered her performance less entertaining than her opponent during the lip-sync.
Season 11
"Miss Vanjie. Miss Vaanjie. Miss… Vaaanjie!". Never have more iconic words been uttered by a departing queen. Despite being 1st eliminated from Season 10, Vanessa Vanjie Mateo's mesmerizing backwards exit inspired memes, tweets and celebrity shout-outs, and an overwhelming demand to see more of this charismatic alumni.
Vanjie delivered an exceptionally strong start to the competition, in part due to her legendary charisma and sense of humour, but her limited wardrobe of 'swimsuits' soon became the subject of numerous critiques from Michelle Visage in particular. Despite delivering hilarious performances in Week 2 and Week 3's acting challenges, she soon started to place low in various performance challenges (including Snatch Game). She managed to stay out of the bottom 2 until Week 9, where she eliminated Plastique Tiara with her energetic lip-sync. The week after, she delivered an emotional lip-sync to 'No More Drama' by Mary J. Blige and eliminated Shuga Cain.
In Week 11, she finally redeemed herself in the makeover challenge, where she was challenged to make eliminated contestant Ariel Versace look like her drag sister. She received exceptional praise and was expected to win this challenge by her fellow contestants (which would have been her first win), but her boyfriend Brooke Lynn Hytes instead snatched her third challenge win; much to both Vanjie and Brooke's shock. Nevertheless, Vanjie made the final 5 of the season, but was sadly eliminated in the next episode - the week before the final - after a jaw-dropping lip-sync against Brooke.
She appeared in New York City , the series premiere of this Netflix Original in a cameo as an unnamed Queen working at The Box, a drag club in the city that never sleeps. Her memorable line being, "And that's why she's named Ruby Red, 'Cause when she reads you, you've been read" after Ruby Red puts Tony in his place.
Entrance Quotes
Season 10
"10s, 10s, 10s across the board!"
Season 11
"Bitch, I'm back."
Memorable Quotes
Season 10
"Like a hooker on Rodeo Drive: she's kinda Ghetto but still like, you know, eloquent." (referring to herself)
"I got the call, bitch, I got the call!"
"Get these cookies, baby!"
"Bitch. RuPaul walks into the werkroom. I was gagged. It's like seeing the Loch Ness Monster. You hear a lot about it, but you never see it. So when you see it, bitch, you done."
"Bitch, are we on big brother"
"I'm not Project Runway ready, but I got my patterns in my clutch so if you want me to make you a swimsuit, holla at ya girl."
"Stop the press! Xtina is in the building, baby!"
"Miss Vanjie. Miss Vanjie. Miss... Vanjie." (upon being eliminated on Season 10)
"What, bitch?" (to Kalorie Karbdashian during Season 10's reunion)
"I'm glad I have a catchphrase. Who are you again?" (to Kalorie Karbdashian during Season 10's reunion)
Season 11
"I was humilita- humilitated... I was embarrassed."
"Get those cookies, get those cookies"
"The circus is in town Mary!" (to Yvie Oddly, during her entrance)
"You gamble, girl?" (upon Kahanna Montrese entrance.)
"Oh, so she's Coco Montrese daughter. She got a reputation to live up to. Let's see if she lives up to that."
"Don't tell me you're coming to fight!" (to Soju, during her entrance.)
"Do you watch the show?" (to Scarlet Envy)
"WORK BERTHA!"
"Kahanna's flipping and I'm ducking and diving. Bitch, don't hit me, whore!"
"♪Faaace... child...♪"
"Soficsta-, sofic-, solicam-, soficmicaleted."
"Thank you Miss Vanjie. Hold on, I just thanked myself!" (on Episode 3's Diva Workship maxi challenge)
"Did somebody order an extra side of extraness?"
"What you rolling your eyes for?"(to Yvie Oddly on Episode 7's "Untucked")
"BITCH I'M NOT HIDING HOE!" (to Yvie Oddly on Episode 7's "Untucked")
"Hi I'm" *looks at cue cards* "...Vanessa Vanjie Mateo" - Book Pitching Mini Challenge
"Burn the wigs! Burn those fucking wigs!" (During an Untucked! fight about the wigs Ariel left in the Werkroom)
"Now, I'm gonna go ahead and get my little stance. Miss Vanessa Vanjie Mother-fucking Mateo, thank you. Love ya. *comes back on stage* I might come back, don't turn off the spotlight yet! I might come back baby… I could come back again, be like HEEEY, I'm at the finale, too!! Y'all never know bitch, they might spin the wheel, land on me again bitch! AaaAAaAAAAAAaAaaAAAaaaaA! See ya later! Miss Vanjie!! DEUCES!!" *comes back on stage again* That's how you go viral, take note, hollah! Cut the check, bitch!" *from backstage* Miss Vanjie..." (exit quote)
"Hello Hello Hello Christine! I'm not a regular dad, I'm a cool dad. I watch drag race every night! And I've been to DragCon three times. Okur ku kurr ku kurr! (episode 2 performance in Good God Girl, Get Out!)
Season 12
"You know, I'm known for going in the werk room and walking out with a piece. "
"I ain't no sugar momma , but I can give you a Lunchable or somethin'."
Lip Sync Battles
Farewell Message
Season 10
"Ladies I ♡ U The Vanjie way! xoxo Vanessa ♡!"
Season 11
"Bitches! I ♡ you all! Not just The Vanjie way! But the Vanessa Vanjie Mateo way! xoxo "Suck it" $ Cut the check!"
Trivia
Vanjie's quickly became a fan favorite when Season 10's 1st episode aired. Viewers call her the most iconic first-to-be-eliminated contestant in "RuPaul's Drag Race" history;
She's the most followed 1st eliminated contestant on Instagram (surpassing Season 2 first-boot Shangela in January 2020).
She's the 1st contestant to be mentioned in nearly every episode of a season without being present past Episode 1;
According to other Season 10 contestants interviews, she said "Miss Vanjie" much more than what was shown in the edit. On the beginning of Episode 2, you can hear a 4th "Miss Vanjie" in between the 1st and 2nd "Miss Vanjie" in the episode 1 edit;
She's the 1st ever contestant to be the sole focus on a MsMojo top 10 list, ranking the best of the "Miss Vanjie" meme;
She's the 3rd ever contestant to be eliminated on a "Drag on a Dime" challenge. The 1st one to be sent home was Victoria "Porkchop" Parker on Season 1, and the 2nd being Naysha Lopez on Season 8. She was followed up by Vinegar Strokes on UK Season 1 (where the challenge was known as "Posh on a Penny").
RuPaul was spotted wearing a "Miss Vanjie" necklace in honor of her;
She lip-synced alongside Victoria "Porkchop" Parker during the Season 10 finale;
A leaked photo of her in "Untucked" confirmed her presence in Season 11;
She's the 2nd 1st-eliminated contestant to return in another regular season, the 1st being Shangela;
She's the 2nd contestant from the "Mateo Empire" to appear on the show, the 1st being her drag mother Alexis Mateo;
Her favorite past-contestant is Season 10 winner Aquaria;
She was paired with Farrah Moan for Season 11's 1st mini challenge, a photoshoot;
She and Brooke Lynn Hytes are the 1st ever contestants to have a romance, or "showmance" as referred to by some, during the show.

The pair were nicknamed Branjie by the other Season 11 queens
Brooke Lynn revealed at the finale that they dated for four months after the show but broke up due to their conflicting schedules.
On May 14th, she reached 1 million followers on Instagram, being the second season 11 queen to do so, after Plastique Tiara,  also the second season 10 queen to do so, after Aquaria. She became the 22nd RuPaul's Drag Race queen in herstory to reach this milestone.

She is also the second queen from season 11 to reach a million followers while still being in the competition (after Plastique Tiara) and the second first eliminated queen to reach a million (after Shangela).
She is also the first queen to be the second queen from two regular seasons to hit one million followers.

She's the seventh contestant (after Shannel, Pandora Boxx, Jujubee, Carmen Carrera, Dida Ritz, and Kenya Michaels) to reach the Top 5 without winning any challenges.
Gallery
Season 10 Looks
Season 11 Looks
Videos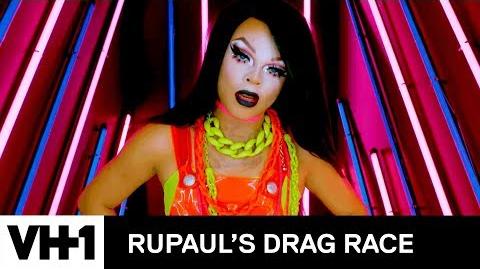 Discography
Singles
Social Media
Community content is available under
CC-BY-SA
unless otherwise noted.