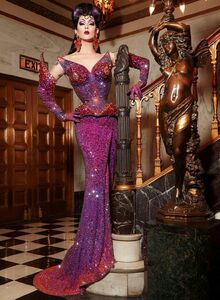 Violet Chachki is the stage name of Jason Dardo, a drag queen, performer, model, content creator and the Season 7 winner of "RuPaul's Drag Race".
After winning, Chachki became even more famous for touring around the world doing aerial and/or burlesque performances, modeling and working with Adult Swim, Dita Von Teese, Prada, Moschino and others.
Name Origin
Originally named Blair, Violet, after watching the movie "Bound", changed it. She was inspired by the devious, sensual and mysterious character "Violet", played by Jennifer Tilly. "Chachki" comes from a slang spelling of "tchotchke", a Yiddish word for a strictly decorative collectible object.
Drag Family
Violet has 2 drag mothers: Gender Monster (a fashion designer and retired drag queen) and the Season 8 contestant, Dax ExclamationPoint. Also, she has a drag sister called Brigitte Bidet.
RuPaul's Drag Race
Violet Chachki

| | |
| --- | --- |
| Season Competed: | Season 7 |
| Ranking: | 1st (Winner) |
| Mini-Challenges Won: | 1 (ep. 10) |
| Times as Team Captain: | 0 |
| Main Challenges Won: | 3 (ep. 1, 10, 11) |
| Times in Bottom Two: | 0 |
| Episode Eliminated: | N/A |
Initially unpopular amongst the other Season 7 contestants due to her snobbish attitude, Violet was frequently picked last for team challenges. She had some struggle with acting and comedy challenges but always was close to win or actually won fashion and performative challenges like on Episode 2, "Glamazonian Airways", in which was named as one of the Top 3.
Just like Ginger Minj, Violet won 3 main challenges (on Episode 1 "Born Naked", teamed with Katya on Episode 10 "Prancing Queens" and Episode 11 "Hey, Kitty Girls!"), but she is the only one who didn't have to compete in any lip-syncs to don't be eliminated on Season 7. These facts, her eye-catching looks and unshakeable confidence made Chachki, on Episode 14, "Reunited", be the 7th crowned "America's Next Drag Superstar".
Entrance Quote
"Ooh, la la la la la."
Memorable Quotes
"YAAAAAAS! COME THROUGH!"
"I am one-a-kind-collectible."
"I've seen Miss Fame's work. I'm pretty impressed but... not that impressed."
"No one says that but yes." (to Jasmine Masters, after she said "gatlanta")
"I hate Michelle Visage! [...] She probably has a bigger man body than me without her implants."
"Ew, Michelle!"
"Serving 2 looks in 1 is... a talent."
"I get it, I'm a bitch."
"Always bitchy, never butchy."
"She looks like Tony The Tiger on crack." (referring to Kennedy Davenport's "Death Becomes Her" runway look)
"Pain is beauty, and I'm the prettiest."
"SHOW US YOUR DICK!"
"I'm not not a dancer, but I'm not a dancer."
"Boner killer." (as a cameo on Season 8's Episode 1, referring to Naomi Smalls' toes coming out of her heels)
Trivia
Violet Chachki was enrolled at SCAD-Atlanta for fashion design, but dropped out to focus on drag, what she has been doing since 2011;
When performing as a drag king, Chachki's known as "Victor Chachki";
Her favorite songs to perform are from Kylie Minogue;
Her waist can be cinched to 18" (45,72 cm) or a little less;
Photos of her, untucked, taken by Blake England were shown on the "Legendary Children art show", which caused quite a stir;
Lucinda Bunnen (Godmother of Southern photography) featured a series of photos of her in a photo exhibit;
She has a short past in pornography under the name "Frankie Malone", much like Jade Jolie and Detox;
She's the 1st drag queen to ever front a major lingerie campaign and "RuPaul's Drag Race" contestant to perform in India;
Prior to Season 7, she worked in a pizzeria, as well as a dominatrix, and won a few titles in Atlanta, Georgia;
There's rumors she stole Season 4 winner Sharon Needles crown;
She appears in the 1st edition of "RuPaul's Drag Race" christmas special album "Christmas Queens";
The preview Season 7 trailer featured many of her runway looks;
Her favorite past contestants are Season 3 winner Raja and Season 5 runner-up / "All Stars 2" winner Alaska;
She's the 3rd youngest winner in history after Season 2 winner Tyra Sanchez and Season 10 winner Aquaria;
Like Roxxxy Andrews, she has the longest gap between challenge wins, both taking 9 episodes to win their 2nd challenge;
She's currently the only main series season winner to win 2 consecutive challenges;
She and fellow Season 7 contestant Max, were the 1st contestants to impersonate an alumni on "Snatch Game". She portrayed Alyssa Edwards from Season 5 and "All Stars 2";
She's the 2nd youngest Season 7 contestant, being only 11 days older than youngest, Max;
Her statistics throughout Season 7 are very similar to Aquaria's. She was safe from 4 and Aquaria for 5 challenges, both never landed in the Bottom 2, were at the Bottom 3 twice, won 3 challenges, won the ball challenge, won the last challenge and were crowned "America's Next Drag Superstar".
Gallery
Season 7 Looks
Videos
Discography
EPs
"Gagged" (2015) (Tracklist: 1. Bettie; 2. Harlequin; 3. La Petite Mort; 4. Vanguard; 5. Show Off)
ㅤ
Singles
ㅤ
Appearances
"Drop That Pimp" (2015) by RuPaul ft. Violet Chachki & Miles Davis Moody
"I Run The Runaway" (2015) by Miss Fame ft. Violet Chachki
Social Media
Community content is available under
CC-BY-SA
unless otherwise noted.